Features
Lollapalooza 2011: Sunday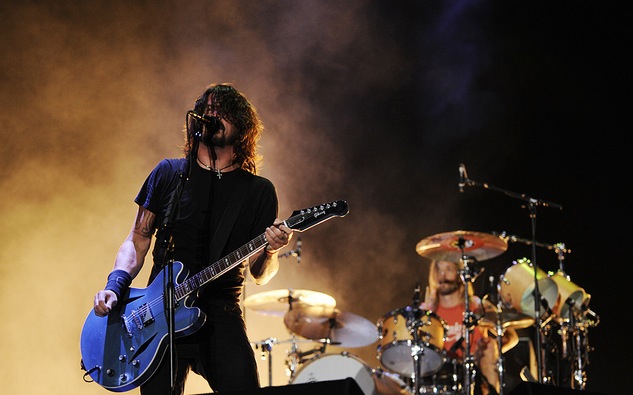 Your Heave contributors are:
AD – Amy Dittmeier
DM – Dominick Mayer
Titus Andronicus (Music Unlimited, 12:45-1:30)
New Jersey's Titus Andronicus are easily one of the hardest-playing bands currently touring, and their Lolla set continued their run of excellent Chicago shows. Sticking exclusively to material off last year's breakthrough The Monitor, Titus ripped through a blistering 45-minute set that cut into the third-festival-day malaise. The only questionable call was playing "The Battle of Hampton Roads" in its 15-minute entirety during a pretty short set. Otherwise, a great set that began and ended (as is now custom for them) with "A More Perfect Union" and "Four Score and Seven." The only question is when those awesome speech readings off The Monitor will see use in their live show. DM
Daedalus (Perry's, 2:00-3:00)
I haven't given the revamped Perry's much love this weekend, just because of the stacked nature of the main/side stage lineups this year. That said, the massive tent (partially open-air after the stifling humidity it created on Friday) is a perfect venue for the array of EDM acts that Lolla pulled down this year. Among them, the ridiculously prolific L.A. native Daedalus is chief among them. Merging every conceivable style into one bass-heavy monolith, Daedalus put on a damned fine dance set, if one that belonged in a later-day setting. At times his beats verge on dirge-like, and this felt incongruous with a then-sunny day, but this is a small complaint for a mostly solid set. DM
The Pains of Being Pure at Heart (Sony, 3:00-4:00)
It's a shame that The Pains of Being Pure at Heart really only have one weak point, and more so that this one weak point is an essential part of the band: lead singer Kip Berman. Overpowered by an otherwise uptempo and fun set, Berman's vocals were frequently lost; where on record they take on a dreamy quality, in concert he makes no attempts to turn them up in any way to meet his band. That said, Pains are coming into their own as both a nostalgic late-80s-to-mid-90s revival act; their newer material particularly recalls early Smashing Pumpkins, and occasionally even alt-rock top 40 radio from 15ish years ago. There is a place in the upper echelon of current indie rock for Pains if Berman can step his game up, though, I have absolutely no doubts about that. The volume of heads dreamily nodding along on Sunday testifies to this. DM
The Cool Kids (Perry's, 3:00-4:00)
The Cool Kids have only just started playing and I'm already bored. I've seen these guys play a couple of times now (it's hard not to when you live in Chicago) and I rather enjoyed their newest album When Fish Ride Bicycles. However other than the addition of a live band to their set, nothing has changed. This is the same Cool Kids playing the same tracks they always play in exactly the same way they always do. These guys are not a big stage duo. They're a small club kind of duo where their crowd interaction and witty banter can be much better appreciated. From 30 feet away none of this can really be appreciated. Their rhymes that I know are good get muddled by the distance and the sound system, and even when they bring out a friend to sing with them it sounds terrible. I'm glad these Chicago kids are getting the attention they deserve but I'll stick to seeing them in indoor venues from now on. AD
The Cars (Music Unlimited, 4:00-5:00)
Normally, "it is what it is" serves as either a cop out or an admission that the thing you're describing was bad and you can't say so. However, I believe an exception is in order for The Cars' afternoon set, because it was just that. They played all of their hits, without any real changes (the biggest one was a more prominent piano on "You Might Think") and Ric Ocasek was able to pull in a crowd that mostly knows his band for "Just What I Needed," the official theme for Circuit City commercials. That said, there wasn't a whole lot of flash going on. This is a band that's been through the good, the bad and the New Cars and has emerged on the other side still successful, when most of their contemporaries are now playing suburban food festivals. Plus, I mean, who doesn't get excited for "It's Magic"? DM
Switch (Perry's, 4:00-5:00)
My lackluster experience with the Cool Kids is saved by Switch. Switch aka Dave Taylor aka one half of Major Lazer takes the stage and with his first digital chirp has my interest again. Most of the crowd cleared out after the Cool Kids which baffles me, but Switch brings them all back with teasers of "Pon de Floor." It's hard to characterize a good DJ from a bad DJ, but Switch is from the former category. The way he's able to command the audience in front of him by changing the beat or adding a new sample to the mix is incredible. Obviously he has to play some Lazer because why the hell not. Everyone and their mom samples that drum beat, so the man that wrote it might as well play it. But Switch makes sure to play mostly original material, scattering morsels of "Pon de Floor" along the way until launching into the track towards the end of his set. Switch needs to come to Chicago more often. I love me some Diplo but it would be nice to see his better half in Major Lazer up in our hood once in a while. AD
Explosions In The Sky (Sony, 7:15-8:00)
Cut a bit short by the first of two massive rainstorms, Explosions In The Sky's Munaf Rayani promised the crowd that they would get an hour's worth of rock in 45 minutes. And oh, how they did. Every bit as rich and resonant as you'd expect from the foremost band in the instrumental post-rock scene, EITS started with "Catastrophe and the Cure" and were relentless from then on. Giving time to "Last Known Surroundings" and "Let Me Back In" off this year's Take Care, Take Care, Take Care, EITS established themselves yet again as a band with a singular gift. Though some of their songs admittedly follow the same formula of a slow crescendo into a cathartic purge, when they're this good that's not particularly troublesome. DM
Damian "Jr. Gong" Marley & Nas (Bud Light, 6:15-7:30)
Post-rain storm, Damien Marley and Nas take the stage. It's muddy all about the north field but people don't care. Puffs of smoke rise from the crowd, and every so often you'll see a mud-covered man dancing about and flailing his limbs to the beat. I've never gotten reggae and I've never been the biggest fan of Nas. I'm not even sure why I'm here. Or why the majority of the white suburban crowd was singing along to "Africa Must Wake Up" and "Exodus" when they probably know very little about the apartheid, African politics or being black in America. But people seemed to be enjoying it and as always, Marley and Nas keep their set interesting with flag wavers and sexy female vocalists. It may not be my cup of tea, but obviously I'm outnumbered at the Bud Light stage. AD
Deadmau5 (Bud Light, 8:30-10:00)
All weekend I have mocked the ravers at Lollapalooza. They stay at Perry's and dance in the mud, moving their bodies in ways that are (mostly) unpleasing to the eye. But at Deadmau5 I kind of became one of these people, minus the bumping and grinding on dudes and the whole not wearing a shirt thing.
The sky was looking pretty ominous before Deadmau5 took the stage and me and my friend Steve were just waiting for the downpour. Which of course happened when Deadmau5 starts his first note. A deluge of rain and bits of hail fell upon us and I just didn't give a shit anymore. I don't think Deadmau5 did either. I've seen the DJ play many times before, mostly in indoor venues, and it didn't seem like he was playing on all engines. But it's understandable. Here's a DJ that's known for his fantastic live show, full of lights and mau5 heads and geekery. And it's pouring. I'm not sure about the intricacy Joel Zimmerman had planned for his Lolla set, but I expected more on stage action. According to Time Out's interview with Deadmau5, so did he.
But when life gives you lemons, you turn that shit gold. The crowd and Deadmau5 still trudged on through the mud and the mist, and we dutifully pumped our fists to "Ghosts N Stuff," an excellent Daft Punk remix, and "Sofi Needs a Ladder" with Sofi herself coming out on stage to sing a couple songs. Zimmerman didn't don the mau5head for too long, probably because it's dangerous to wear a LED head while it's raining, but he did his best to make it enjoyable for all. His light show was still memorizing and the songs he played kept everybody moving. Really I didn't mind that this wasn't the best Deadmau5 show I've seen. I was soggy, I had a glowstick, and I was dancing my ass off. We all banned together to make the best of a soggy situation and we still had fun. Walking home mud-stained and damp though, that was not the most fun. AD
Foo Fighters (Music Unlimited, 8:00-10:00)
For as much opining as there tends to be in some circles about the lack of true "rock stars" left in music today, Dave Grohl is the indisputable king of them. Tearing into a blistering two-hour headlining set to close Lollapalooza, he managed to make every single song ring with an unadulterated power, while also having a hell of a lot of fun. Though the crowd was stuck in a swamp (more on that in a second), Grohl kept things lively, mixing material from Wasting Light with a majority of the band's greatest hits (only "All My Life" was notably missing), this was the headlining set many had waited for. Lacking the pomp of Coldplay and Muse or the gimmickry of Eminem, the Foos simply rocked for two straight hours.
Grohl, who's notorious for being heavy with his stage banter, kept things to a lean minimum, only stopping to acknowledge and briefly bring out Perry Farrell and talk a bit about the anniversary of both Lollapalooza and Nevermind. From the turning down of every stage light during "Monkey Wrench" to a cover of Mose Allison's "Young Man Blues," there was not a dull moment in the set. Refusing an encore (or as he put it: "We're not going to walk off and wait for an encore, we're just going to play until they fucking tell us to stop"), they closed with "The Best of You" and "Everlong," summoning an exhausted crowd to scream as much as they could manage.
The Foos also gave Lollapalooza its money moment for the 20th anniversary. About four songs into the set, an even harder (if briefer) rainstorm hit, sending much of the crowd running as massive winds blasted the stage. Grohl, in response, dove straight into "My Hero" as the band were soaked, and only paused to inform the audience that "This is fun as shit!" before continuing forth. As the man said at the set's end, long live rock and roll. DM
Photo courtesy of Lollapalooza's Flickr. Photo of Foo Fighters taken by Dave Mead.