Music
The Roundtable: Upcoming Releases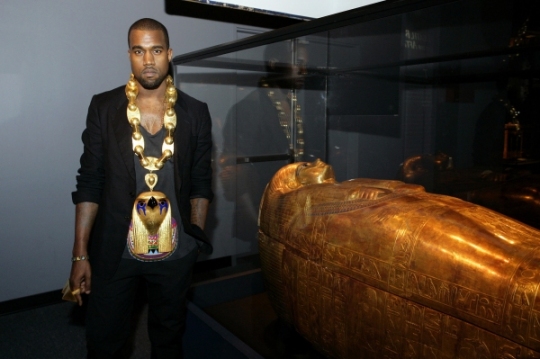 Christmastime is upon us.  All over the city workers are busy stringing lights and putting up glittery snowflakes to encourage city dwellers to shop til they drop.  But the end of the year means more than being the ultimate consumer and trudging through pounds of snow on unshoveled sidewalks.  There's still a month and a half for musicians to release some sweet morsels of new music.  We asked our writing staff about what upcoming releases they're looking forward to closing the year with.  Here are their answers:
Dominick Mayer – You can't start discussing this without mentioning Kanye. I wish it wasn't such an easy answer, but it's likelier than not that My Beautiful Dark Twisted Fantasy is going to be all kinds of excellent. Say what you will about Yeezy, but he has yet to put out an album that's anything less than great. And yes, I include 808s and Heartbreak in that category. It's actually an overwhelming month for heads like myself, because you have the murderer's row of Kanye, Ghostface Killah, Young Jeezy and T.I. all putting out new LPs. Even R. Kelly is back, and though he is wont to piss on a lady from time to time, he still makes some of the best R&B out there. And the great stuff doesn't stop at hip-hop or R&B. My Chemical Romance are back, and I for one welcome them. Daft Punk's Tron: Legacy soundtrack sounds promising so far, and I won't even act like I'm not going to be getting Ke$ha's new one too. We all dig it; those of us who front are just dishonest. Hell, Springsteen is just putting out B-sides and most of the early tracks are excellent.
But, on a serious note, November 30th could ruin all this seasonal goodwill, and that of the holidays at large. Soulja Boy and Flo Rida have new material coming. America, you know what to do.
Andrew Macnider: Easy: I can't wait to hear what Yeezy has to say on My Beautiful Dark Twisted Fantasy. How could you not? The guy took a year of in 2009 to gather his thoughts and busted into 2010 with something to prove. Free music every Friday loaded with stars, the dopest presentation a musical artist has put on for SNL (he hired a whole Russian dance troop!), a beautifully shot 35-minute "Runaway" video; Kanye knows how to keep folks entertained. And have you read his twitter feed? Guy does nothing but make me laugh! So yes, Kanye's new album will be the only thing in my ears until the end of the year (at least).
Alyssa Vincent: Since I love nothing more than good hype machines, I can't wait to say goodbye to 2010 while listening to Kanye West's new album. Frankly, I'd feel like some kind of fraud if I wasn't excited about this. I love nothing more than rap/hip-hop that isn't TOO incredible (I'm looking at you, Flying Lotus), so I'm basically left with Taio Cruz and Kanye West. And I'm not complaining! I'm simply looking forward to having some new material from Mr. West. It's been too long since his last album, in my humble opinion. Now if you all will excuse me, I've got to get back to listening to that Taio Cruz/Ke#ha song about erotic photographs.
Mark Steffen – T.I. – No Mercy – December 7
There is absolutely nothing to be excited for this holiday season other than T.I.'s comeback album, No Mercy. 1. He obviously was writing it in jail, so it has to be awesome. 2. There's nothing that picks me up out of winter depression more than the reiteration of classic summer jamz like "Live Your Life" and "Whatever You Like." Shut up, snow, I got stacks on deck and Patrone on ice. 3. After that whole talking a guy out of jumping off a building scandal, T.I. looks either ridiculously awesome or ridiculously desperate for attention. Either way, it's the makings of a great rap comeback album. No Mercy? No problem.
Amy Dittmeier: Since the new Kid Cudi is already out, my answer is plain and simple: the new My Chemical Romance album.  I join the staff's sentiments in saying the new Kanye West album is going to be awesome.  I'll probably spin that at work for several months after its release.  But there's this small part of me, a part I've kept buried deep inside since I graduated high school and entered the big person world that holds a flame for My Chemical Romance.  I know their new album Danger Days: The True Lives of the Fabulous Killjoys might be terrible.  Hell even the name is terrible.  It doesn't matter.  I'm totally and utterly pumped for this to come out next week.
Further down my pipeline of expectations (and something to up my street cred), I have five glorious words for you: Tron Soundtrack by Daft Punk.  BOOM!