Culture
The Hipster's Cookbook: This Is What Fall Tastes Like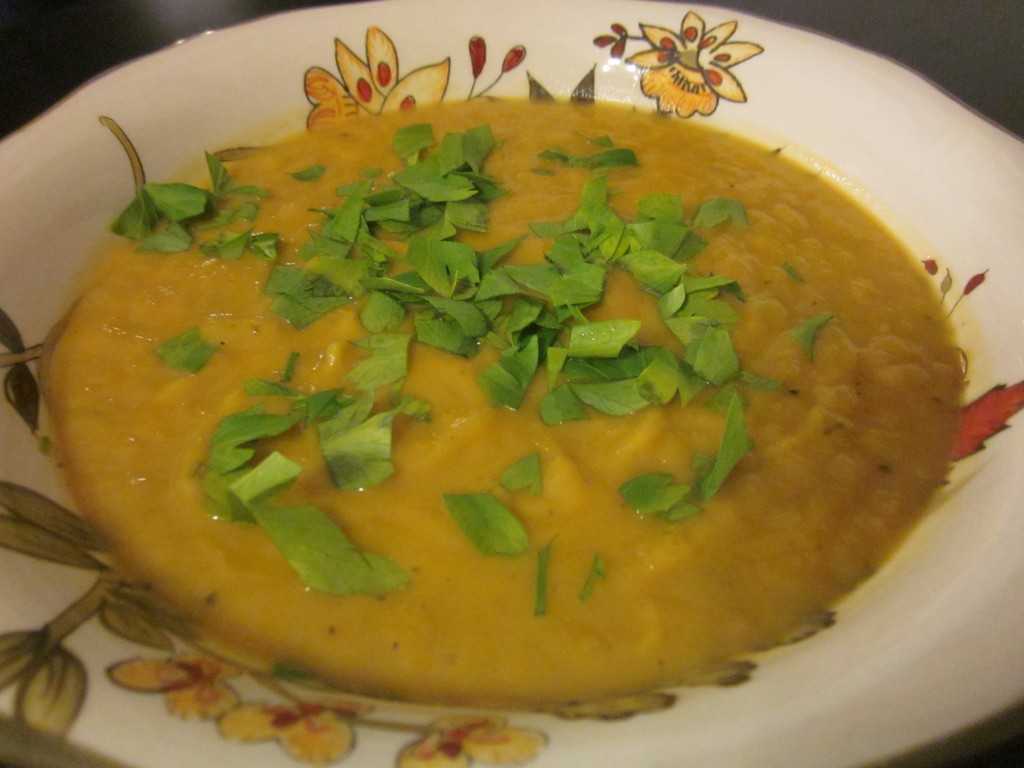 Every week in The Hipster's Cookbook, Meghan Bongartz shows you how to make delicious food on a tight budget.
It got cold. For a lot of people, that means that it's pumpkin spice latte weather, but there's also another camp that argues that pumpkin flavoring is a fad, and fall tastes like apples. I love both pumpkin and apples (and I've eaten A LOT of apples this season), but I'd actually like to make a case for winter squash. The name is misleading – they ripen at the end of summer and through the fall – and refers to several varieties of squash, including acorn, spaghetti, Calabaza, and (my favorite) butternut. Once, harvested, though, they do last through the winter. This is nice, because one squash can be pretty filling. Growing season aside, I can't think of anything more versatile or delicious for fall eating.
Most varieties of winter squash can be cooked in enough ways that it'll take you awhile to get bored of them. Over the past month or so, I've had squash roasted and stuffed with rice and vegetables, in chili, in stir fry, mixed with pasta, chopped into something resembling french-fries, and pureed into a spread for crackers or toast. With the exception of spaghetti squash – which you should eat anyways because it's fun to have a vegetable that works like pasta – you can interchange acorn, butternut, and a lot of other squashes, including pumpkin, in all of these recipes. Fun fact: when you buy canned pumpkin, it's usually actually butternut squash. So, you know, you could make Calabaza pie instead of pumpkin pie, and probably no one would notice a difference.
My personal favorite way to use up squash, though, is soup. I love soup in general, but squash soup really does taste like fall, and it's perfect for warming up from the inside when the days get shorter. This recipe uses a little bit of cream, but even without it, the squash makes for a rich, smooth, and creamy soup that's hearty enough to fill you up on a chilly night. I used acorn squash here because it's what I had on hand, but you could certainly experiment with other options. If you use a larger sized squash, you'll just want to make sure to add additional broth so that the texture remains soupy and not mashed potato-like. Roasting the squash and sweet potato before adding them to the soup enhance their sweetness and depth of flavor, but you could also add the peeled and chopped squash after adding the stock and let it boil if you'd like to avoid washing a pan. It's much easier to scoop the roasted squash out of the shell than to peel it with a knife, though, so I don't really recommend this unless you're better at not cutting yourself than I am.
——
Roasted Squash and Sweet Potato Soup
1 medium acorn squash
1 large sweet potato
1 tbs unsalted butter
1 tbs olive oil
1 large leek (white and pale green part only), chopped
3 cloves garlic, crushed or minced
2 tbs cooking sherry
4 cups vegetable stock
1 tsp thyme
1 tsp sage
Salt and pepper to taste
½ cup heavy whipping cream
Fresh parsley or green onion to garnish
1) Preheat oven to 350 degrees. Cut the squash in half lengthwise and place cut sides down on a baking sheet with sides at least 1 inch high. Fill bottom of pan with water so that it begins to go up the sides of the squash. Prick the sweet potato a few times with a fork to allow the steam to release, and wrap in aluminum foil. Bake both the squash and the sweet potato at 350 degrees for 30-40 minutes, or until soft.
2) Remove squash and sweet potato from oven and set aside. In the bottom of a stock pot, melt the butter in the olive oil over medium low heat. Add the leek and garlic and sautee until softened (about 5 minutes), stirring frequently.
3) Add the sherry and cook for 2-3 minutes longer. Add the vegetable stock, increase heat to medium high, and bring to a boil.
4) While the soup is boiling, peel and roughly chop the sweet potato and scoop the squash in chunks out of the rind. Add both to the boiling soup. Add thyme, sage, and salt and pepper. Cover and boil for 10 minutes.
5) Remove soup from heat and use a ladle to transfer to a blender (or use a hand blender, which I don't own, but I imagine would be much more convenient). Puree until smooth, about 20 seconds.
6) Return to pot and set heat to low. Add cream and cook for 2-3 minutes, stirring to combine completely.
7) Let cool slightly and garnish with chopped parsley or green onion to serve.