Culture
The Hipster's Cookbook: Exciting Weeknight Dinners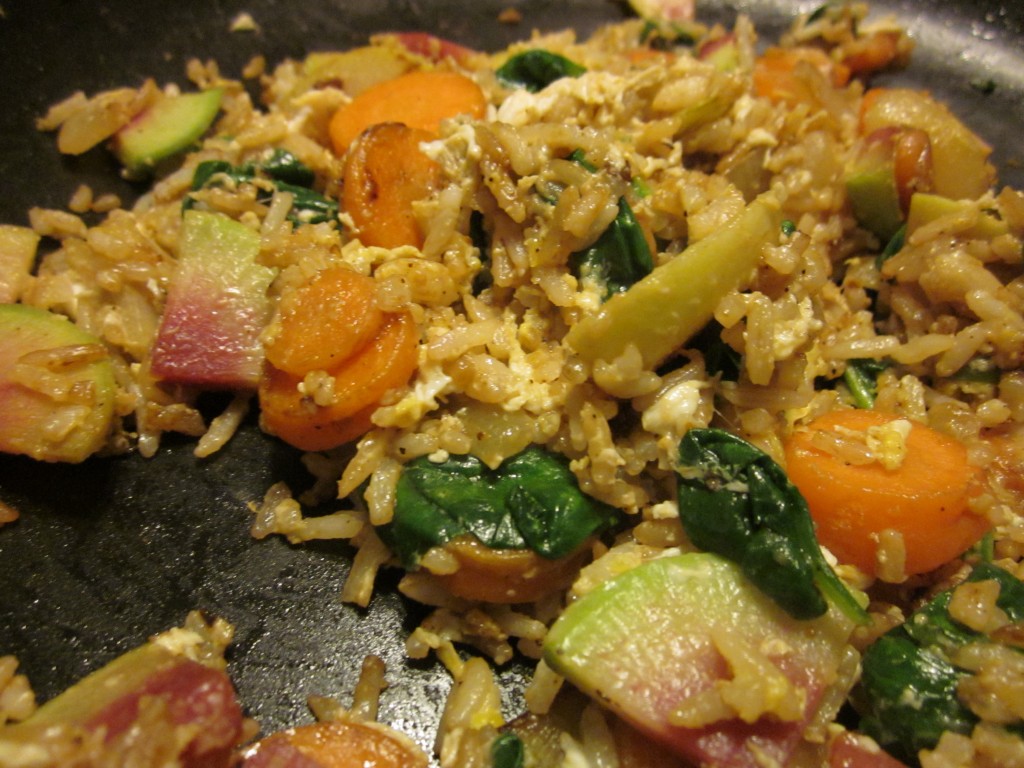 Every week in The Hipster's Cookbook, Meghan Bongartz shows you how to make delicious food on a tight budget.
Many of the recipes I share here are on the elaborate side, or are at the very least things that look impressive even if they're not difficult to make. I try not to use recipes with a million steps or really expensive ingredients if I can help it – after all, this is The Hipster's Cookbook, and if I'm not thrilled about buying 40 dollars worth of crème fraiche, I don't imagine that anyone else will be, either – but most of the meals that I make on a daily basis feel like cheating. They're recipes where I guesstimate the measurements or adjust the ingredients depending on what's in my fridge at the moment.
I forget, though, that I'm able to improvise like this with my dinner because I already know how to cook. I've worked my way through enough recipes that I have an idea of what flavors will complement each other well and at what point to add things to the mix so that nothing is over or undercooked. I forget that I haven't purchased pre-made pasta sauce or salad dressing in ages, and for many of my friends, cooking is putting tomato sauce on noodles.
I have one friend in particular who constantly complains about eating pasta or rice, both of which he has decided are unforgivably boring. He will almost always order delivery if the other option is making pasta for himself. If I'm willing to come over and make him pasta, though, he's all over it. I thought that this was mostly laziness, but he recently explained it: "Well that's different because you make exciting pasta. I don't know how to make it nice." "Exciting pasta" usually means that I've mixed in fresh tomatoes and some cheese. Exciting rice often has ginger or Sriracha (can't get much more exciting than rooster sauce) and some radishes and greens. Anything with an egg on it is automatically better. Seriously, the next time you're feeling bad about yourself for calling instant ramen dinner, poach an egg in it. Suddenly it's real food and people will be impressed.
So, in honor of weeknight dinners that aren't boring and my attempt last week to use up every vegetable in my refrigerator, here's a recipe for a quick and easy veggie fried rice. The best part is that fried rice works better with old rice, so you can use what's left from dinner yesterday (even if you ordered Chinese food).
——
Winter Vegetable Fried Rice
1 ½ tbs toasted sesame oil
1 small onion, chopped
1 clove garlic
1 large carrot, sliced into rounds
½ cup radish, thickly sliced (I used a watermelon radish, which is why it's red and green. Regular radishes will work)
1 cup baby spinach
1 ½ cups cooked white rice (day-old will work better than fresh)
½ tsp ground ginger
1/8 tsp salt
½ tsp black pepper
1 ½ tbs soy sauce
1 egg
1) Heat the sesame oil in a large frying pan over medium low heat. Add the onions and garlic and sauté until they begin to soften.
2) Increase the heat to medium and add the carrot and radish to the pan. Cook for 2-3 minutes, stirring occasionally.
3) Add the spinach and allow to wilt slightly in the pan before adding the rice. Season with ginger, salt, pepper, and soy sauce and stir with a spatula to combine.
4) When the rice has heated through, crack the egg over the pan. Using a spatula, immediately break the egg and mix it rapidly with the rice mixture. Allow the egg to cook through, but do not overcook. This should only take about a minute.
5) Allow to cool slightly before eating.