Culture
The Hipster's Cookbook: The One Vegetable I Don't Like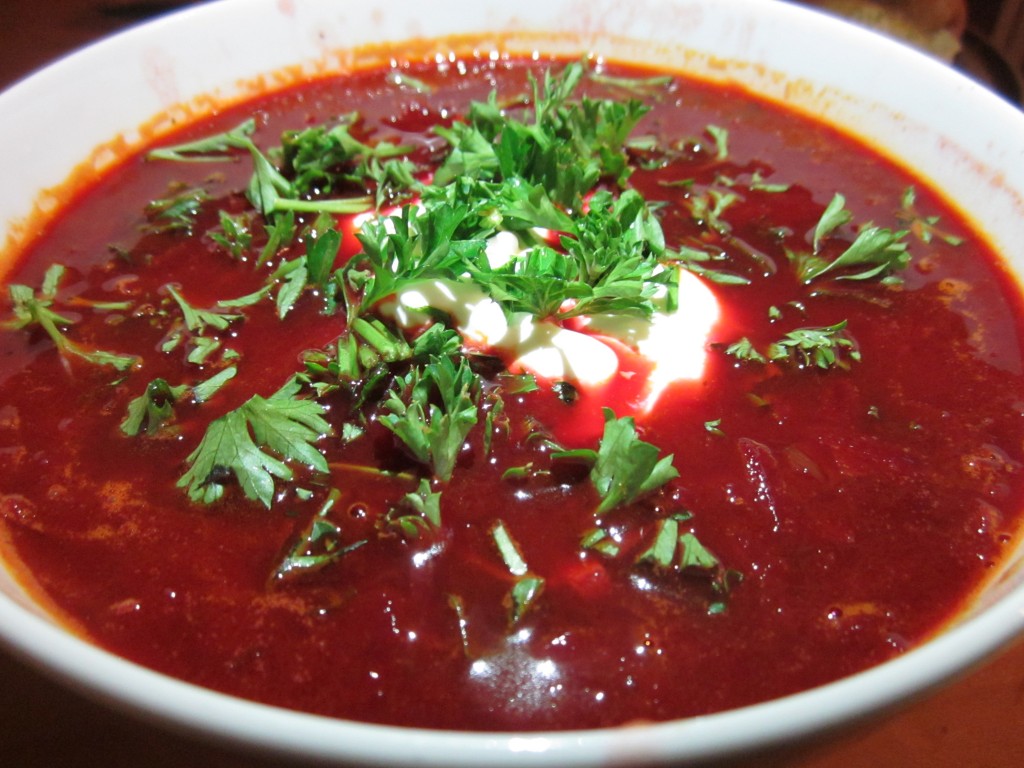 Every week in The Hipster's Cookbook, Meghan Bongartz shows you how to make delicious food on a tight budget.
As a general rule, I'll eat any vegetable. Mushrooms, kale, and broccoli are all fair game. I was genuinely offended a couple of weeks ago when Parks & Recreation spent a significant chunk of an episode making fun of chard. I like chard! And I don't need scantily clad dancers to convince me to eat it! One of my friends asked me a couple of months ago if I had ever considered that celery might be my spirit animal… And the thing is that she wasn't wrong. I am celery.
I don't like beets, though, and that's a problem because I want to like them. They're good for you, and they add color to your plate in winter when fresh things sort of don't exist. When I was growing up, my siblings and I were each allowed to choose one food that we didn't have to eat when it was served. Mine was Brussels sprouts, which I will now happily eat. My sister also went with Brussels sprouts, while my brother opted to avoid broccoli. Beets were never on the table because my dad didn't like them, and for that, I am mostly grateful – except that maybe if I had had to eat them I would have developed a taste for them.
Now I'm left with a very Polish family and a Lithuanian best friend, all of whom think that beets are great and beet soup is the best possible thing to do with them, and no desire to eat them myself. They also keep showing up in my CSA delivery, though, which means that I have to eat them whether I like them or not. I keep hoping that one day I'll wake up and suddenly think they're wonderful, but haven't had any luck yet no matter how I cook them. In the meantime, I'm feeding everyone else a whole lot of borscht. They seem to like it.
——
Polish Borscht
1 medium yellow or white onion
1 leek (white and pale green portion only)
2 celery stalks
3 cloves garlic
2 tbs olive oil
8 cups vegetable broth
1.5 lbs beets, peeled and grated
2 tsp dill
2 bay leaves
Salt and pepper to taste
Sour cream to serve
Fresh parsley to garnish
1) Finely chop onion, leek, and celery. Crush or mince garlic. In a large stock pot, heat olive oil over medium flame. Add onion, leek, celery, and garlic and sauté until slightly softened and translucent, or 3-5 minutes.
2) Add vegetable broth to pot. Increase flame to high and bring to a rolling boil. Add grated beets, dill, bay leaves, and salt and pepper. Return to boil and reduce flame to a simmer.
3) Cover and allow to simmer over low heat, stirring occasionally, for 1-1.5 hours, or until the beets are very soft. Add additional water as needed if the liquid seems to be evaporating too quickly.
4) Remove from heat and allow to cool for a few minutes before serving. To serve, garnish each bowl with a spoonful of sour cream and fresh parsley. The cream should be stirred into the soup to give it a creamy texture before eating.