Culture
Nerd @ Work: Dress like a Dalek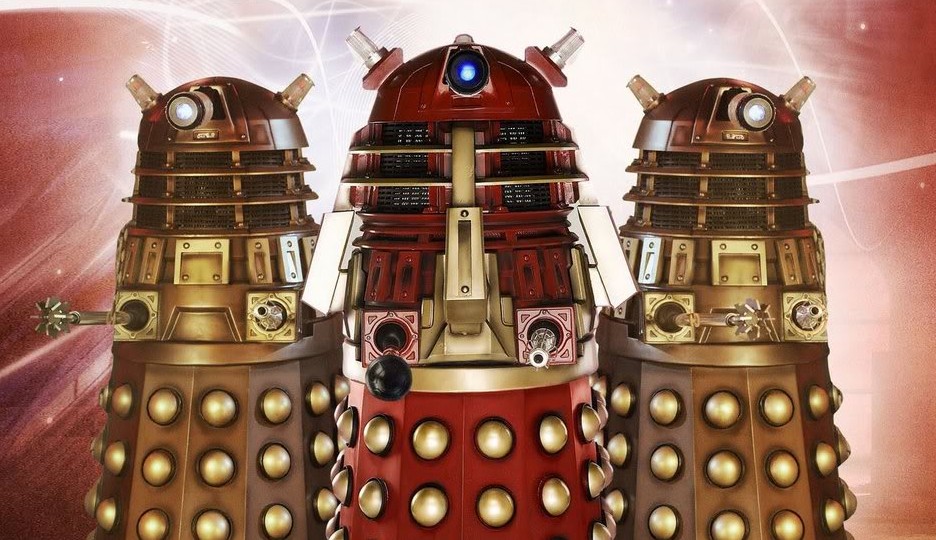 Welcome to HEAVE's latest column – Nerd @ Work! Starting in two weeks, and every other Friday after that, Amy provides styling tips for the nerd in the workplace – all for under $150.
I recently started a new job at a company that requires "business casual" attire. My previous place of employment was at a very casual company, where wearing t-shirts and a hoodie was the norm and if you wore Converse, you'd fit right in. Unfortunately, my cool attire didn't equal cool pay. So I did the grown up thing and sold my soul to get a Big Girl Job, silently sobbing over the decreased usage of my magnificent t-shirt collection as I filled out paperwork. For a brief time I panicked at the thought of dressing up to go to work. I'd have to wear skirts, button downs, the works. It was even suggested I purchase a PANTS SUIT. THE HORROR. Though the new job offered some exciting prospects, the very long article about the company dress code gave me some hesitation.
However, after I calmed down and starting thinking like a rational human being, I realized that I didn't have to sacrifice my nerd-saturated sense of style just because I was working in a more formal environment. I could wear my fandom on my sleeve (quite literally at times), and still be appropriate for the workplace. I breathed a sigh of relief, then I immediately spent $400 purchasing clothes for my new job.
The last episode of this season of Doctor Who came out a couple of weeks ago, and I'm still swimming in the sea of emotions it left me in. For those of you who haven't watched it, I won't spoil it for you. For those of you who did – SERIOUSLY WHAT IS HAPPENING HOW AM I SUPPOSE TO WAIT UNTIL NOVEMBER TO HAVE MY FEELINGS RESOLVED GOD DAMMIT. For those of you who don't watch Doctor Who, I'm sorry but I'm going to talk about Doctor Who now and a lot of the things I'm going to say are going to be confusing. Please bear with me.
This season was interesting to me mainly because it brought back a lot of Who monsters from the older seasons, mainly because this is the Doctor's 50th anniversary. We got to see creatures and aliens that haven't crossed the Doctor's path since the 70s. One of these was the Red Dalek, as seen in episode one "Asylum of the Daleks." I took this old school-turned-new school villain as a source of inspiration for a new work outfit:
1. Dalek dress — $26.50 (I got it for $18.55 during a sale ::puts on cool shades::) 2. Black tiered sleeve blazer – $27.80 3. Opaque black tights – $10.18 4. Black combat boots – $51.99 TOTAL – $116.47
I LOVE that this Dalek dress is red and not the standard bronze gold Dalek that we've been seeing the past couple of seasons. When they introduced the brightly colored Daleks in season five's "Victory of the Daleks," the part of my nerd heart reserved for classic Who skipped a beat. This bold color scheme and design stems all the way back to the 60s, when the Doctor Who series started experimenting with new and unusual Daleks in their first movie Dr. Who and the Daleks. The red Dalek is usually portrayed as a commander of sorts, so what better version to emulate at work than these guys?
This dress on its own couldn't fly in a more formal office setting. I've quickly found out that most items in my closet (this dress included) can be dressed up with a blazer. V-neck with a blazer and a cute pin on the lapel? BAM fashionable and work appropriate, and the pin is a nice touch to show your fandom pride. Spending some money on a couple of basic colored blazers is a smart idea. Same goes with tights. I have a lot of sheer black tights at home, but sometimes showing some skin isn't the best idea when you're meeting a client for the first time or having lunch with your boss. Buying a bunch of neutral colored tights is a great way to embellish that summer dress you have in your closet as well. I usually get black because it goes with everything.
I don't know what I did before I bought my pair of combat boots. They're super comfy, they go with jeans and dresses and really everything, and they look kick ass at the workplace. Plus, they give an air of authority with this dress. Something the Daleks desperately needs after getting their asses handed to them by the Doctor time and time again (haha get it, TIME?!).
And there you have it! A great outfit for in the office. Dress it up with some gold bracelets to complement the Dalek's gold rivets, and a work appropriate shade of red lip gloss. You'll be exterminating your paperwork in no time.