Culture
Monday Afternoon Roundtable: Warm Weather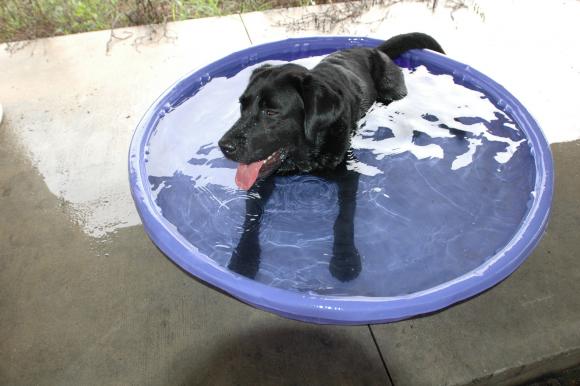 This week, the Heave staff was asked:
What's your favorite warm-weather activity?
(Editor's note: When you look up "warm weather activities" on Google Images, that dog is one of the first things that appears. Technology is wonderful.)
Ben Kessell
Waving my penis at traffic. I feel like I'm doing the commuters a service by brightening their days.
Jonathan Mondragon
Swimming in a pool, because Lake Michigan and its various wastes is where the monster "Herman Melville" from Doug was probably created, and because when the warm weather hits North Avenue Beach is a nightmare.
Quinn McGee
Starting a jogging regimen and tweeting about my jogging progress nonstop for the first week before never jogging again. (Wait, that's everyone's favorite warm weather activity.) I guess mine would have to be feeding the people who feed birds in the park. You just hide in a tree above a bench and throw M&M's at them.
Adam Cowden
Drinking beer…outside.
Tim Munroe
Frolfing. Because it's a) usually free, b) one of the only sports that you can smoke while playing and c) more fun than regular golf. It's the simple man's dream sport. Usually played on a quiet, outdoor course, there are no officials, no regulations and nobody to tell you you're not allowed to smoke a blunt in the woods after the fourth hole. It's also a pretty easy sport to get a hang of.
Johnny Coconate
Sitting inside with the air conditioner blasting as I watch videos of people playing outside. I'd go, but then I'd have to put pants on and get off the couch and it just becomes a whole thing. Also, there's bugs outside. Enjoy hearing a buzzing around your ear only so you can whip your head around and look like an idiot while I'm inside eating all the ice cream! By the way, we're out of ice cream. Can you pick some up?
Meghan Bongartz
I think existing is just generally more enjoyable when it's warm out, but I might be slightly biased after the Narnian winter we're coming out of. I'm mostly happy to be able to run outside without freezing, and at this point I'm looking forward to running 20 miles in 85 degree heat. Really.
Trent Zuberi
Favorite warm-weather activity is definitely bike riding.
Dominick Mayer
I find the act of riding a bike weirdly soothing, in large part because I've only had a driver's license for a cumulative month of my life. I'm glad that's back, but more importantly, I'm a sucker for summer movie season. I return to a childlike state in anticipating a plethora of movies in which things go boom, and as I talked about during last week's roundtable, this year will also offer a lot of good indie stuff to offset the pure comedy of Will Smith being directed by M. Night Shyamalan. It's a beautiful time of year.