Music
Live review: Foxygen, Unknown Mortal Orchestra @ Lincoln Hall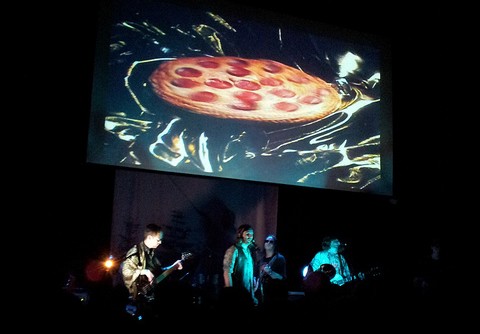 While grocery shopping the other day, I noticed an end display of "Mega-Stuf Oreos." I bought a package, and sure enough, there's more sugar-cream sandwiched between those two chocolate cookies than ever before. It might have even been a little too much, but I loved it.
The exact same thing happened last night at Lincoln Hall. Two good bands were sandwiched around something crazy. Unknown Mortal Orchestra was the solid headliner, and Wampire opened the night with a spinning pizza projection, but Foxygen was the performance.
Before I get into Foxygen, here's a quick recap of the other two acts. Wampire was a band of burnouts. Or if not burnouts, guys that wanted you to think they were burnouts. Everyone at the front of the stage wore baggy clothes and dark sunglasses, barely moving as they strummed their jangly-druggy garage rock. I'm anticipating a lot more of this sort of thing at SXSW next week. And then came the drum solos and guitar solos of Unknown Mortal Orchestra. It was guy-rock. They are a talented trio, but live they actually come off as orchestrated, as their name indicates. But, this was probably because they played after Foxygen, who lived and died by the visceral.
Foxygen was the entirety of rock and roll. Watching it, I didn't see people playing instruments – it felt more like an abstract time warp into every era of every genre. Conjuring up the spirits of The Kinks, The Rolling Stones, The Doors, Frank Zappa, The White Stripes, The Stooges, David Bowie, and The Zombies, the band played no covers. Oh, and the guitarist looked exactly like a young Bob Dylan, the drummer a young Petty, and the bassist a young Springsteen. The most unique thing about Foxygen though, is their terrifying singer. From chirping merrily to baroque pop, then switching instantaneously into a scowling monster with his fists flailing in the air, it was a sight to behold. Think Krusty the Clown singing "Break on Through"–and yes, the audience was asking, "What is he on?"
Their stage presence was transcendent. They glued my eyes to the stage with their energy and spontaneity. I didn't know what sound I would hear next, or what emotion the singer would suddenly display. It was fantastic, even when they messed up. After the singer forgot the lyrics to a song, I brushed it off assuming that it very well could have been a part of the show. They were a train off the tracks, but not crashing. Still, Foxygen is a young band, way too young to destroy themselves with drugs. At times I felt nervous that the singer might already be getting too deep into something. But then again, maybe he's just a weirdo. I'll hope to God he's just a weirdo, because I want to go to as many Foxygen shows as I can from this day forward. Foxygen is the Mega-Stuf.