Music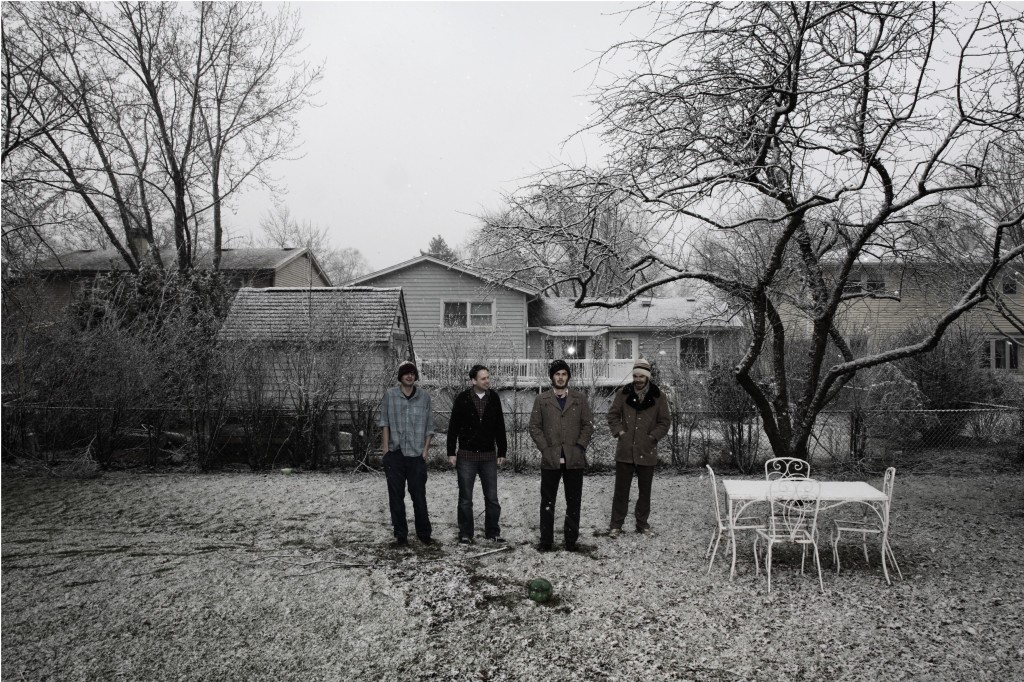 Every week in 45 RPM, Jonathan Mondragon breaks down the discography of an essential artist or band. This week, short-lived Chicago noisemakers Make Believe.
Make Believe EP (2004)
Make Believe's curious genesis can be traced back to the 2003/2004 era of Joan of Arc, the constantly-shapeshifting Chicago experimental rock collective fronted by Tim Kinsella, and including the rest of Make Believe as well, who were on tour, wrote some songs and decided a stylistic shift toward more aggression and immediacy meant that this project deserved a different name. The band established a set of rules upon forming, which would separate it from Joan of Arc; namely, the songs would be recorded and written live, with no overdubs or effect pedal. They would be limited by the possibilities of a standard rock lineup, one that would practice 40 hours a week, whose songs would have shared ownership. Last, there was a long-term commitment to keep a consistent lineup.
Thus, this EP was born. Consisting of five technical, energetic, quirky and fun tracks, it is widely considered to be the most accessible release of theirs, as well as the best representation of their sound. In it, we are introduced to the warped, mesmerizing zig-zag fingerstyle/tapped guitar figures that Sam Zurick would become known for, Nate Kinsella's baffling simultaneous melodic/rhythmic Wurlitzer/drum playing, Bobby Burg's lumbering and groovy basslines (providing a reliable rhythmic backbone for most of the tracks) and Tim Kinsella's raw yelping vocals and abstract, goofy lyrics. Highlights from this release include: "We're All Going To Die" and "Temping As A Shaman," perhaps two of the most fun songs Kinsella is responsible for writing, talking about everything from patriotism to reincarnation to heavy metal. Still, the focal point of this band is the guitar, as it's sometimes impossible to tell if Zurick is fingerpicking or tapping, or at times both. All in all, this EP is a great time, with fantastic musicianship, five rockin' mathy tunes, and would prove to set the stage for the rest of Make Believe's catalog.
Shock of Being (2005)

The proper debut album from Make Believe is a different beast altogether from the joyous, eccentric shredfest that was their self-titled EP. Shock of Being was recorded by legendary and ubiquitous producer Steve Albini of Shellac fame, who has recorded everyone from Nirvana to Neurosis to Pixies. Recorded and released a year after their EP (a yearly release by Make Believe was a thing until their breakup), there are immediately some noticeable stylistic shifts, especially an increased emphasis on unpredictable arrangements, discordance and unusual rhythms. Tim Kinsella's lyrics focus a bit more this time on supernatural elements (still chopped up and presented in a very abstract fashion) such as    television cemeteries and "zombies, hillbillies, vampires, UFOs, and Clinton at McDonalds."
Certain tracks, more so than on their other releases, are a bit "difficult" to absorb, but in the end prove infectious and positively peculiar. "One Zero" has a winning chorus, declaring "I'm making the bed with you in it," which humorously prompted fans to send the band pictures of them tucked into an already-made bed. "Can't Tell Cop From Cab" is an infectious, hilarious, and impressive instrumental, with the sound of a madman and a wonderfully unmelodic harmonica part. The humor and technicality is still here by the heap, and fans of anything else will enjoy this album's raw, live-centric production, instrumentation and lyrical content. Some may be weirded out, but in the end, the band never really catered to the faint of heart.
Of Course (2006)
Their third year into being a band, Make Believe already had three releases under their belt, with 2006's excellent Of Course being the third, again on Chicago's highly regarded and now-defunct Flameshovel Records. Production duties this time around went to local Greg Norman, known for working with everyone from Andrew Bird to Neurosis to 90 Day Men. The sound of the record is still a very engaging and likeable math-y indie rock with a disjointed, unpredictable and oftentimes unusual twist. There are still more baffling and oddly melodic tapped and fingerpicked guitar parts, though now a tad more accessible than some of the more out-there songs on Shock of Being. Tim Kinsella's songwriting is still often humorous, abstract, and uniquely expressive, with lyrics like the opening line of "Bisect Duality": "When the Puerto Rican twin sisters introduced their tongue twisters/My stomach and brain swam as one and the same," later in the same track declaring "Kurt Cobain lives."
Meanwhile, Nate Kinsella is pounding away powerful, fractured rhythms on the drums and comic, unsettling overdriven Wurlitzer flourishes, often at the same time, Bobby Burg is playing plucky, groovy, thumping basslines, and the frenetic, kooky, and at times, cartoony guitar parts Zurick is conjuring up have rewired your brain. To quote a 2008 AbsolutePunk review, "How many more ways can one journalist describe guitarist Sam Zurick's erratic style?" The formula is better than ever on this album, with some extremely catchy and lasting tunes, such as the aforementioned "Bisect Duality" and "Political Mysticism," both about The British Calendar Act of 1751 and a neighborhood kid's big sunglasses, as well as the interestingly named semi-title track "Pat Tillman, Emmett Till," with the recurring lyrics "Of course, of course, of course, of course." Norman's straightforward, minimally-invasive production style really lets Make Believe get wild and unhinged, while making them sound superb.
Going To The Bone Church (2007)
From the title of the album, and the spooky, howling, and discordant opener "OOO, Yum," you already know you're in for a warped and wild ride. This one is mostly composed of music the band had composed during, and soon after, Tim Kinsella's short departure from the band. During this time, the band decided to continue writing similarly-minded instrumental tunes; however, Tim decided to return, added lyrics and vocals to the material, and the band recorded again with Greg Norman at Steve Albini's Electrical Audio Studios, what would end up being their dynamic and highly diverse final release. Though in part suffering from a lack of coherence and a lesser inclusion of vocals in the writing, due to Kinsella's limited involvement in some of the writing, this is still a really damn good collection of songs that, while still sounding like the past four years of Make Believe, take a bit more risks and move into new creative directions.
There are moments where some of the cartoony eccentricities of Sam Zurick's guitar playing animate a musical picture in your head. Specifically, I chuckled when hearing people laughing overdubbed over a guitar riff that sort of sounds like it, in the song (wait for it…) "People Laughing." Beside those two, "Garden Stencil" has a pretty awe-inspiring guitar part and particularly impressive dynamics from the rhythm section, mostly a bass and a shaker. A few tracks on this album, like some on their other releases, can be inaccessible at first (the spoken-word part on "People Laughing"), but over time prove to be some of the record's finest, and it's usually hard to acquire a good understanding of some of the complexities of each song on your first listen. It's a shame Make Believe isn't around anymore because their material, these tracks included, amount to a rewarding discography, and some of the most original music to come out of Chicago.
(Cover photo by Chris Strong)