Culture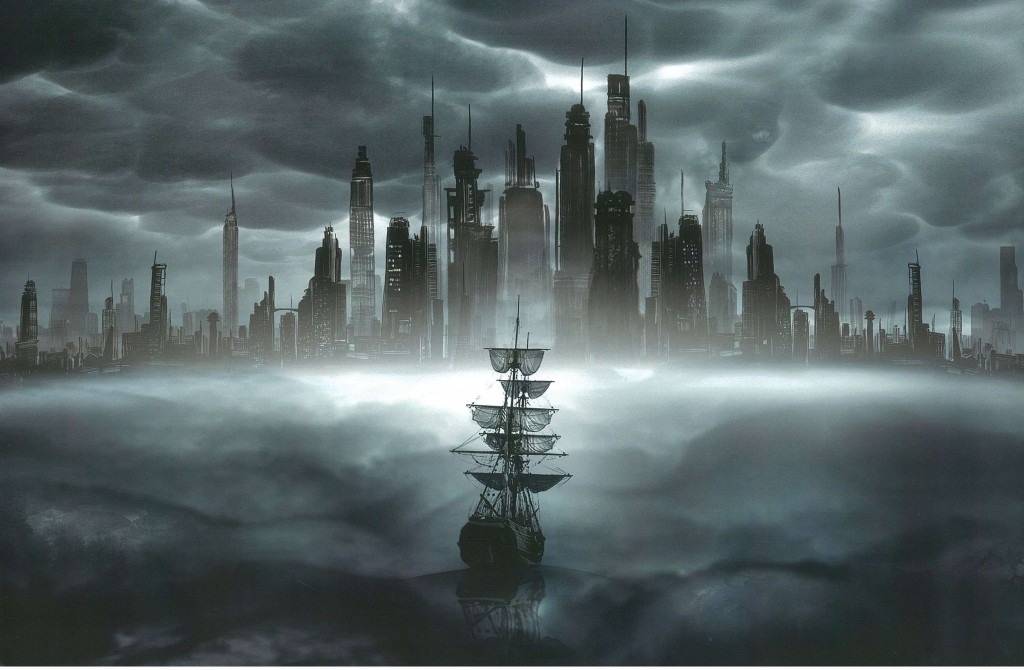 Marissa Morales
I can't get enough of this. It's Nick Offerman, Alison Brie and Megan Mullally. I mean, this video speaks for itself.

Shelby Shaw
Liars came through Chicago last Thursday for a show at Metro, with an opening set by Unknown Mortal Orchestra and a special "Joan of Arc (solo)" set, or simply put, Tim Kinsella with his guitar and himself, first thing for the night.Brooklyn Vegan Chicago got a slew of snappy photos from the night, but I got a taste of music that put me in a trance I haven't broken out of yet. While all three acts were worthwhile (if only I could have gotten one of UMO's albums), something about Liars really pulled me into the music, closer to the stage than I already was, since it wasn't too packed up in there. It was punchy and unnerving, it was syrupy and slow, it was methodically produced and artistically curated – just get your hands on their $5 zine to get a glimpse into the unorthodox recording methods, like biting into plugged-in apples and letting water drip into pans beneath which microphones caught the splats. Since the show, I've only listened to one song, from their new album WIXIW, "No.1 Against The Rush." So far, my plays are at 129 and counting. See why, just note that the video is "mildly" NSFW for a single swear word and disturbing imagery. Enjoy.
Ryan Peters
So, I loved David Mitchell's Cloud Atlas. It was incredibly inventive and moving. That said, I am a little nervous about the big screen adaptation. Tom Hanks will be great, but were the Wachowski brothers the only choice for directors? The last two Matrix films were a pseudo-philosophy clusterfuck. And Speed Racer was like watching a bag of Skittles on an acid trip (which is far less entertaining than it sounds). But I am trying to go into the film without preconceptions; instead, let's focus on the stunning 5-minute extended preview that just dropped on Thursday. It's gorgeous.
Ben Kessell
One of my All time favorite webcomics, Questionable Content is headed by the very talented Jeph Jacques. Not only is he a funny dude and a capable cartoonist but he's a bitchin' musician. The fictional band Deathmole has become reality with the help of Jacques' delicious brain. The most recent release, Advances, has been on repeat at my office; helping me post-rock my day away.
Bill Jones
Life, on the Line: A Chef's Story of Chasing Greatness, Facing Death, and Redefining the Way We Eat by Grant Achatz and Nick Kokonas – OK. So, this is not new at all. It actually came out early last year, but it is what has been capturing my attention most lately. The book is written by Grant Achatz, the chef behind Chicago's Alinea Restaurant, recognized as one of the best restaurants in the world. It is also written (in sections) by his business partner Nick Kokonas. It tells the harrowing tale of the chef's battle with cancer, but that is only a small portion of the story. It is also fascinating when it gets into his methods of cooking, as well as when it addresses what had to happen for this restaurant to be created. Foodies may also know Achatz from his newer Next Restaurant. Anyone who considers themselves a Chicago foodie should give this book a read, even if that means borrowing it from a boss and not returning it for a year.
Michael Alexander
So, for some reason on my twitter feed, I was informed that Kreayshawn had a new video out. I haven't liked music videos since grade school learning dance moves from the R&B group 112. But I was in a "What the hell ever I'll check it out" type of mood. Sigh. To sum it up, she lays out the instructions on how to "go hard." The one thing I took away from the video is that drugs makes you see strange animals like groovy dinosaurs, dancing giraffes or wolves with the ability to "dougie." Trippy shit man.

Dominick Mayer
Lollapalooza starts in a week. My first time seeing Sigur Ros is in nine days. I am so full of feelings about this. Therefore, I've been listening to this for the past week, and marvelling at how Sigur Ros manages a drop that puts any dubstep artist at this year's festival to SHAME.

Meghan Bongartz
If I'm going to watch movies with subtitles, usually they're Korean horror films, but I recently ventured outside the box and watched Let the Bullets Fly instead. I didn't know what was happening half the time because it took awhile to be able to differentiate among the characters, but I highly recommend it. The title more or less says it all.