Culture
On The Bandwagon: "Parks & Recreation"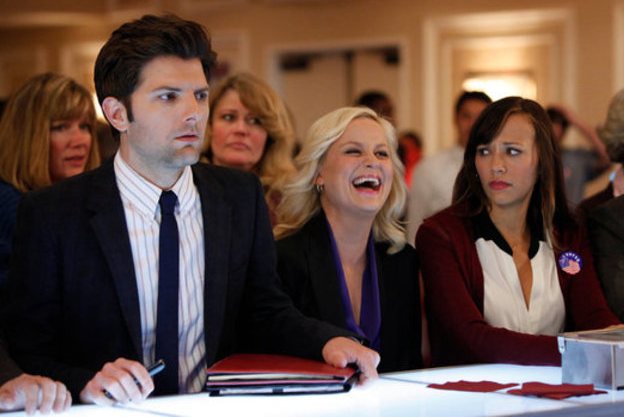 Welcome to the re-debut of On The Bandwagon, Heave's TV column in which Marissa Morales talks up all the TV that you really should be watching by now. We'll be running coverage of some of Heave's favorite returning shows all week, so check back with us on the regular.
Do you really not watch NBC's Parks and Recreation yet? Wow, um, okay.
Where to begin, then…
Parks and Recreation follows a parks and recreation department in Pawnee, Indiana. Leslie Knope (Amy Poehler) is queen and has the best cast of characters surrounding her. Her boss Ron Swanson (Nick Offerman) has become a cultural icon, imparting life lessons like "Give me ALL the eggs and bacon you have." Surrounding her are her co-workers and generally amazing people: Donna Meagle (Retta), Tom Haverford (Aziz Ansari), April Ludgate (Aubrey Plaza), Andy Dwyer (Chris Pratt) and "Damn-It" Gerry Gergich (Jim O'Heir). She also regularly encounters uber-optimist Chris Traeger (Rob Lowe) and Ben Wyatt (Adam Scott), not to mention her ultimate best friend Ann Perkins (Rashida Jones).
It may sound like your run-of-the-mill NBC comedy, but the show is pure gold. It's the brainchild of ex-Office writer Michael Schur, and you can see that in the show's heart. Knope's relationship with all of the people in her life always leads to great stories, and Poehler's portrayal of the hardcore perky politician is spot-on. Poehler also writes an episode or two per season; "The Fight" from season 3 may be one of the best-ever episodes of TV comedy, period.
While at the end of the day it's mainly about the comedy of small-town problems, you'll become invested in every single character, even the side characters that inhabit their world (Jean Ralphio 5ever). Parks also does the running gag better than most. Swanson's string of "Tammys," Lil' Sebastian, and effing EAGLETON are among the standouts. It's a great glimpse into Midwestern dynamics, and it's also funny as hell.
Oddly enough, after a first watch Season 1 seems forgettable. It's short and bears stark similarities to The Office. But after you've made it through and after inevitably rewatching the series when you're done, season 1 is funny! TV magic! Season 2 is where the show really begins to hit its stride, with everyone meshing and P&R  introducing both Lowe and Scott into the mix. The dynamic between everyone is beautiful, and while introducing new cast members so far into a show typically results in complete disaster (see: NBC's Up All Night), their transition is seamless. There's also Ron's ex-wife, Tammy 2 (Offerman's IRL wife Megan Mullally), who pops in and out of the show as an aggressive, sexed-up librarian.
Season 3 is truly the standout;  the show gets just far enough off the wall, but doesn't go overboard. The show also has a great way of drawing out plotlines without running too long, and letting them run a comfortable course. Season 3 also has one of the most understated, sweetest TV weddings ever. So many classic episodes occur in season 3, episodes that really encapsulate what the show is and allow the cast to truly showcase their talent. For instance, everything about Rob Lowe in "Flu Season."
By the 4th season, Leslie is moving up in the Indiana political world, and brace yourself for some of the best guest spots the show has seen, including Paul Rudd, Patricia Clarkson and the triumphant return of Louis C.K. Then, Season 5 sees Leslie making a lot of important decisions and a lot of her Pawnee crew figuring out what they want from their futures. While some found it less stellar, it can't be argued that it's the season with the most heart. (I may have cried. Twice.)
Parks is a show that will live on far after NBC tries to kill it, which it's done once already now, so please support this show. Marathon it on Netflix, watch it when it airs, and join the cult. You don't want to be the only one not singing the latest MouseRat song, do you? That's what I thought, now grab that remote and treat yo self!
(Parks and Recreation returns on NBC tomorrow night [Thursday, September 26] at 8/7c.)