Features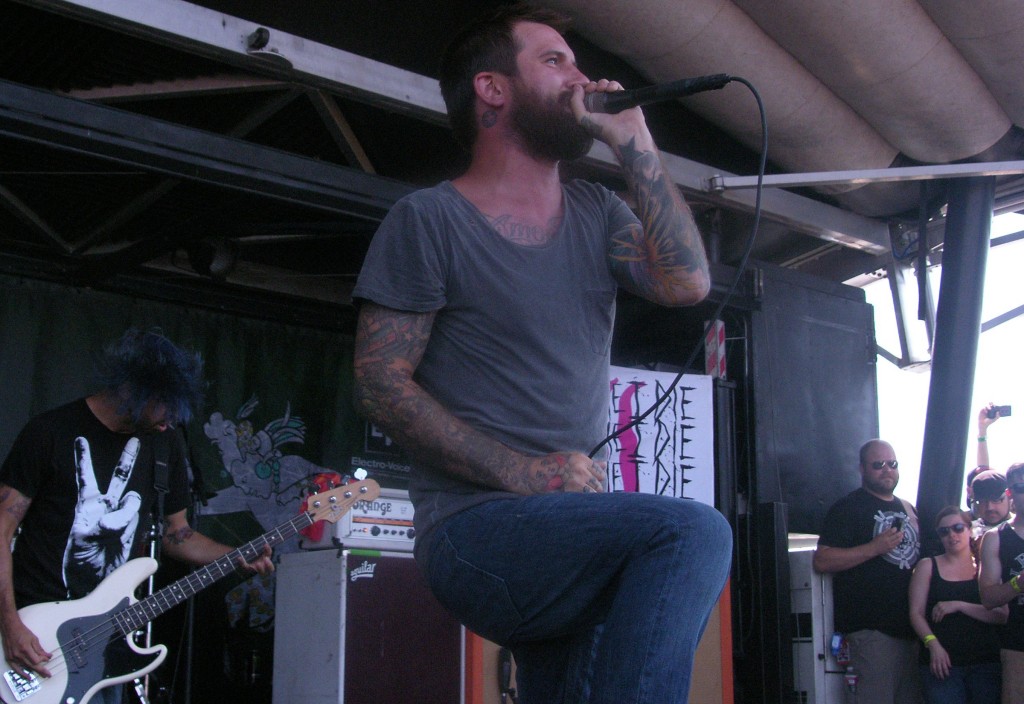 Last weekend, Heave writers Dominick Mayer and Marissa Morales returned to their old concert stomping grounds, the First Midwest Bank Ampitheatre in Tinley Park, Illinois, for the 2012 installment of the Vans Warped Tour. Rather than straight coverage of a one-day music fest, they've opted to take a more eye-on-the-parking-lot approach to covering the stalwart traveling festival. Today, Dominick wraps things up.
In a lot of ways, I had the exact opposite experience as Marissa while at Warped 2012, except that we both reached the same conclusion: this shit is still pretty fun. All I could see, for much of the day, was the people. I went in with the mindset of not approaching Warped with a studied distance, aiming to lament all the ways in which it sucks now because I don't understand glamcore and the Bouncing Souls weren't playing anyway and et cetera. For five straight years, Warped was one of the highlights of my summer; I would buy the two-disc compilations, pore over lineup bands and eagerly await the day when my mom would drive my friends and I out, so I could change T-shirts upon arrival into something more offensive and inherently PUNK RAWK for nine hours, and get a taste of what I knew was so close and yet still so far away in the form of Chicago club shows.
That said, about twenty minutes after we arrived, I started feeling a bit old for a good while. I know, I know. I'm 23 and complaining about age is nothing if not a supreme indulgence. Between Wavefront two weekends ago and this, though, I've been experiencing too much of a kinship lately with the narrator of LCD Soundsystem's "All My Friends." After all, I wasn't drunk at Warped (fuck an $11 can of Miller Lite), but the kids left impossible tasks in the form of going as hard as they could for nine straight hours in an oppressively hot parking lot, and for those first few hours I couldn't help but think, over and over, "Hey, I'm finally dead."  I kept noticing the subtleties, like how the circle pits were just a bit smaller for Every Time I Die and how the chaos I recalled seemed a bit more contained, or how the new general vibe of the audience (more on this in a moment) led me to uncomfortably realize that Warped, which over time I've started holding as this bastion of earnestness amidst the suffocating stiffness of too-cool show crowds too much of the time, has for some teenagers become a place to practice their disaffected stares at Keith Buckley flailing about onstage.
This wasn't helped by the sudden encroachment of EDM culture on a portion of the Warped crowd. Like Marissa mentioned, the sex and drugs and sex and drugs and no sleep and seriously a lot of fucking sex and fucking drugs fetishizing of dance music's latest mainstream breakthrough has extended its reach to all corners of live music fandom. I saw way less four-colored teased hair and trucker caps this year, replaced by shirtless dudes and bikini-clad girls covered in body paint, which often offered bon mots like "FUCK ME." Realistically, Warped has always been a place where suburban kids could go and act like whatever version of a grownup they wanted to be for an afternoon, or just act like the snotty badasses that they couldn't at home because their nice Midwestern parents would've been appalled to see them in a "Not My President" T-shirt. Now, though, it's where people go to mack on people, bro out (seriously, the amount of dudes in backwards baseball caps talking about "fucking bitches" was more staggering than anything else I saw on Saturday) and sometimes, not always but sometimes, get really into the music that's ostensibly the whole point.
Let's set the fatalism aside for a moment, though. As return trips go, you can't do much better than this year's lineup, one that merged the current generation (Pierce The Veil, Ronnie Radke's post-jail band, an inexplicable "House of Marley" stage full of weed-friendly reggae/posi hip-hop acts) with the last generation's headliners. Even if seeing an incredibly swole, thirtysomething Adam Lazzara was probably the day's most inexplicable experience, it was oddly reassuring to see that what to some in attendance is now the "old guard" is still going strong. I've discussed with quite a few friends over the past few years the odd feeling of realizing that the bands you liked as a teenager are still making music. Just because you got older and decided to listen to grownup music like the Dirty Projectors doesn't mean that the world stopped turning. For the former denizens of the Warped circuit, it might be surprising to know that Yellowcard is still cranking out records, or that New Found Glory has based their image around being the defiant torch-carriers of pop-punk.
In a moment of mutual point-missing, we became alarmed as the day went on by the number of bands discussing the finality of this year's Warped, to say nothing of one of the official tour shirts, which ran down this year's lineup along with a cryptic  "Warped 2012: The Last One?" Suddenly, a sadness fell over the place. It became a lot more important to savor Streetlight Manifesto and Anti-Flag. Who knew if one of the essential pillars of our respective childhoods would suddenly be gone? How could Kevin Lyman let this happen? Then, reality set in: It's 2012. Everything is supposedly ending. Goddammit. I think the reaction is pretty telling, though. Warped may not make sense the way it once did. The guitars are chunkier, the vocalists are more aesthetically pleasing and the screen-printed merch is more ostentatious than ever before. And yet, I would lament this place if it went. For a lot of the people that go (not all, but many), this is more than just a pop-up festival in a parking lot. It's everything.