Music
Can't Stop Won't Stop: 4/13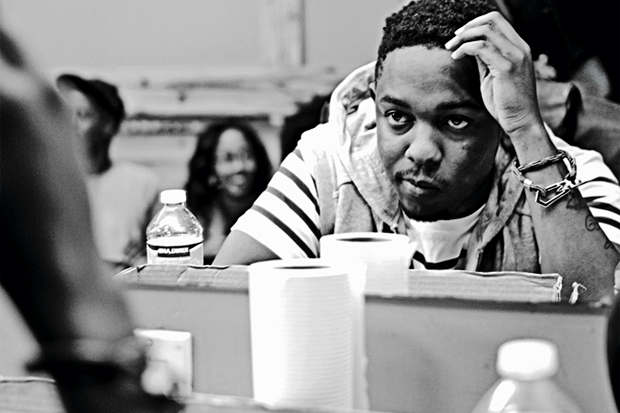 Today sees the debut of a new weekly feature on Heave, Can't Stop Won't Stop, in which Michael Alexander runs down the top five hip-hop tracks of the past week, as well as an essential mixtape or album. This week, he looks at Kendrick Lamar, The Game, Kanye West and more.
5) Jay Electronica – "Dear Moleskine" (prod. Just Blaze)
I don't give a damn if it's one verse and the actual lyrics come in at 1:30 into the track; the soulful production of Just Blaze and lyrics laid down by Jay Electronica were too much for me to overlook. Initially created in 2009, Jay put the project on hold. The fact that Jay Electronica releases music over long gaps in time may subtly add value to the tracks, or perhaps he has to get the green light from the music execs. Whatever the case may be, I find myself saying this time and time again: I need more new Jay Electronica. Hopefully he drops his anticipated project Act II: The Patients of Nobility soon. Like, real soon.
Pros: Lyrical flow, production by Just Blaze, substance.
Cons: Length, length, length.
4) Kanye West, Big Sean, Pusha T, 2 Chainz – "Mercy" (Prod. Lifted, Mike Dean, Mike Will [Kanye's verse])
Ladies and gentlemen, he's back! Similar to the GOOD Friday release series Kanye West started two years ago in anticipation of his solo album My Beautiful Dark Fantasy, Kanye and crew dropped another banger: "Mercy." Let's get one thing straight first and foremost: the beat is insane. The opening vocals of the late Jamaican dancehall legend Fuzzy Jones are coupled with the monstrous beat produced by newly signed GOOD Music member Lifted. The hook is also catchy, with the phrase "swerve" sprinkled in. A better-than-average verse is delivered by Big Sean, followed by a solid verse from Push. Things then get a little strange with the creative/different/weird verse by Kanye, where the beat switches up to one created by Mike Dean and Mike Will. Part of me really wishes he stuck to the original beat and ripped it. 2 Chainz comes in at the end to close out the track out; nothing extraordinary and just about what you expect from 2 Chainz, to be honest.
Pros: Beat, hook, creativity.
Cons: Production that accompanied Kanye's verse.
3) Kanye West – "Theraflu" (Prod. Hit Boy)
In what some are calling an anthem, Kanye West delivers some blatant jabs in his new joint "Theraflu." As it hit the internet last Thursday, whether he was lining up Amber Rose or Kris Humphries in the crosshairs, Kanye's punchlines left the masses, including myself, laughing and dumbstruck by the lyrical prowess he displays, especially on the second verse. The lyrical flow and arrogance that Kanye is renowned for is on display, whether he's talking about his $6,000 shoes, his style/clothes or his ability to have Humphries booted from the New Jersey Nets due his connection to Jigga man (a part owner of the team). The bravado that makes people love and hate Kanye can be found on this track, but I digs this. A lot.
Pros: Punchlines, beat, flow.
Cons: The last verse's "cough attack."
2) Nas – "Don" (Prod. Saleem Rami, Internz, Heavy D)
Let me start off by saying R.I.P. to one legend we lost this year: Dwight Arrington Myers, better known as Heavy D, at the early age of 44. He made a beat, passed it on to Saleem, and Nas just absolutely ripped this shit to shreds. The intro of the song is a few lines from another Jamaican dancehall legend, Super Cat, who lays the foundation about how people from the ghetto, streets and projects struggle and more often than not are only able to listen to music. This lays the foundation for the massacre Nas commits on this track. Over what some would characterize as a New York-style beat, Nasir spits three verses comprised of pure fire and lyrical flow that took me back to my Illmatic phase. If this is what Nas is back to doing on his upcoming album Life Is Good, Nastradamus might be positioning himself on top of the game, again.
Pros: Flow, NY beat, an homage of sorts to Heavy D.
Cons: ?
1) Kendrick Lamar f/Dr. Dre – "The Recipe" (Prod. Scoop DeVille)
Sampled from Twin Sister's "Meet the Frownies," Scoop DeVille shapes and molds the track for K Dot and the legendary Dr. Dre. "The Recipe" is a tribute to the duo's beloved L.A. and what they deem as the three major attractions that keep visitors coming back to the West Coast: women, weed and weather. I don't want to speculate and say K Dot might have helped Dre with his verses, but the mad Doctor delivers yet again. I was so surprised the first time I heard him that I thought it was someone else rapping on the first verse. I dubbed K Dot the west coast Lupe Fiasco (pre-Lasers), and on the second verse he shows just why he's got my attention. The content, wordplay and lyrical genius this young man possesses is something special, people, really special. The tag team they perform on the third verse is magical, and for some reason reminded me of when the Doctor got his hands on a young talent from 8 Mile. Signed to Aftermath, K Dot and Dr. Dre seem like they have the perfect recipe (pun intended). Sprinkle in some Slim Shady, and Lamar's upcoming album Good Kid in a Mad City could do big numbers.
Pros: Everything. Flow, production, the resurgence of Dre blowing minds.
Cons: ?

—
Mixtape review: The Game, California Republic
Oscar the Grouch blowing good over the L.A. skyline seems like the perfect harmony to me, and it's the artwork chosen for The Game's new mixtape California Republic. The mixtape is comprised of 24 tracks, which Game did before in early 2011 on his two-part mixtape series Purp and Patron (which was 29 total tracks strong). His guest features are heavy hitters from top to bottom, such as Fabulous, Pharrell, Slim Thug, Trey Songz, Rick Ross, Lupe Fiasco, Snoop Dogg, Ace Hood and Meek Mill, to name a few. Production is top-notch as well, with contributions from Neptunes, Just Blaze, Trey Songz and Lex Luger.
Game has always been known for the punchline delivery and emotion he pours into his music. On "Red Bottoms Boss," featuring Rick Ross on the hook, he opens up by mistakenly taking shots at Jay-Z and shouts out his newborn baby girl: "That's just the father in me/Don't think I'm trying to be cool with you." But on some of the features like "Drill," while Game's verse is not subpar, it could be argued that Ace Hood and Meek Mill's verses steal the show. Some tracks could be described as filler, like "Yonkers Freestyle" or "Pussy Money Weed." Like every musical compilation, there is a joint for the ladies like "Tonight," featuring Mele. My favorite tracks on the album (I mean, mixtape) are "Death Penalty" featuring Fabolous, Trey Songz, and Slim Thug; "The Drill" featuring Ace Hood and Meek Mill; "Red Bottoms Boss" featuring Rick Ross; and "Skate On," featuring Chitown's own Lupe Fiasco.
Overall, many of the tracks on California Republic could have been easily stored away and put on a CD for the future, but Game has never been reluctant to share his music, a reason why most of his fans (like me) really relish and appreciate artists like him. This impressive project from the Game,currently puts him atop the current 2012 mixtape hierarchy. GAMETIME.