Music
Underrated Classics: Flat Duo Jets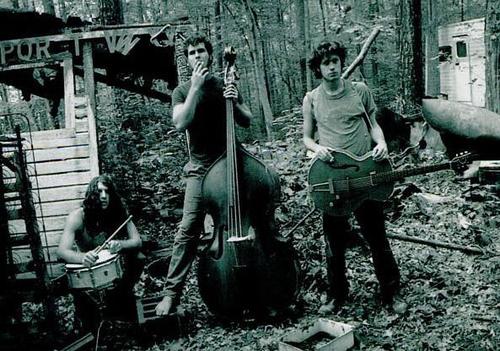 Overlooked. Esoteric. Obscure. Forgotten. Cult following. I've heard all of these said about bands and albums. I grew up in Pittsburgh, where the underground is deep underground, so being a slacker-but-outsider type of child growing up, I had to do some thorough searching for music that would freak out and mystify more than just the average cheerleader or physical jerk. Sure, I liked the mainstream hip-hop and pop-punk that flooded the airwaves, but there was invigoration in knowing that I was the only teenager for miles who had their hands on a CD that most didn't have their hands on.
The willfully obscure can be a plight for some, though. Many like to cache their cultural findings to claim as "theirs." I try my very hardest to not be one of those people.The willfully obscure, in my eyes, provides me with a mission to somehow catapult this cultural obscurity into something everyone around me could like. Unfortunately, it doesn't always work, but I'll always keep trying. With regard to albums, I like to introduce obscure albums that I love as "Underrated Classics." The very first of these underrated classics that I'd like to introduce is by Carolinian rockabilly band Flat Duo Jets.
During the 1990s, if you were a rock band that made music that was even just one component different from any popular rock band in the 1980s, you were cool or "alternative." This way of thinking became even more relevant after the eminent death of Kurt Cobain. Unfortunately, if you fell under a kitsch umbrella, it was very hard to defend drops of Seattle rain, no matter where you were. Therefore, if you were a band like Flat Duo Jets in 1991, and you were about to release your second rockabilly record the same year that grunge would explode, it might be very tough for you to find a wide audience.
For Dex Romweber (singer, guitarist, bassist and main songwriter of Flat Duo Jets) and Chris Crow Smith (drummer), their second album would be their very first "professional" release. After a few years of shuffling around their debut, it got into the hands of Florida-based indie label Doggone Records for a proper release. This time around, the band had signed a record deal with bigger indie label Sky Records (home to Swans, Pylon, and Velvet Underground's Maureen Tucker), and even more excitingly had hired famed producer Jim Dickinson (producer for Big Star, The Replacements, Flamin' Groovies, and tons more) to upgrade from their originally lo-fi sound.
Go Go Harlem Baby is 16 garage-rock-meets-rockabilly-meets-Everly Brothers songs that are wonderfully retroactive yet well-produced. It's such an exciting record that it ought to be a blueprint for all future bands that hope to recapture a similar style/era. The album opens with one of the finest songs in the Jets' catalogue, the catchy and twangy "Flat Duo Jets Anthem," where Romweber's shuffling guitar fights with itself as he sings "this love will keep shinin' on." Several other upbeat, wild tracks like these show the terrific transition that the Jets would eventually make from simple-yet-speedy tremolo picking into complex guitar virtuosity, all while still remaining very rockabilly in style.
The upbeat songs like the aforementioned "Flat Duo Jets Anthem," "Wild Trip," and "Love Has Its Joke Sometimes" would showcase Dex's ability to break up chord progressions and insert little lead licks to come out here and there. What truly holds the album together most of all, though, are the terrifically written ballads. Typically in C, songs like "You Belong To Me," the bluesy "I Don't Know," the Orbison-esque "Don't Blame Me" and piano-based closers "Apple Blossom Time" and "Ask Me How I Live" could make even the most emotionless cry. Though my two favorites of those are "Don't Blame Me" and the half-cover of The Andrews Sisters' classic, "Apple Blossom Time."
Go Go Harlem Baby has all the elements of a classic album. The songs are instant, fun and at times somber yet beautiful. So why is this album often overlooked? Why didn't it become popular during its heyday? I'll answer the latter first. Like I previously mentioned, the 1990s was a very puzzling time for music. Unfortunately, retro-leaning bands like The Oblivians, The Mummies, and our very own Flat Duo Jets wouldn't gain notoriety or even fanbases until the internet's mass compiling of culture would ensue. Bands like these were considered kitsch in comparison to the era that they were emulating, and it's not just a great injustice to them, but their influencing era of music's legacy as well.
Additionally, it certainly didn't help that the Flat Duo Jets didn't really have many similar but more popular bands to tour with at the time, aside from the Cramps (who were a bit washed up at that point). As far as the album being overlooked? Well, if you're outside the realms of rockabilly, it's definitely very difficult to have an album like this arrive magically on your doorstep. But Go Go Harlem Baby is so much more than rockabilly or what would follow with the short-lived psychobilly scene; it was an album that wasn't afraid to fuse its punk attitude with its sensibility for artists like Roy Orbison and the Everly Brothers (much like their hero Robert Gordon would do half a decade earlier). It also didn't help that Sky Records didn't have a whole lot of resources or room to provide mass distribution to a band that made music that wasn't very hip at the time.
Go Go Harlem Baby's influence may have been small, but there's one musician that the album had a tremendous influence on, and that musician would become one of rock music's most respected guitarists and songwriters: Jack White. White has not only covered Flat Duo Jets songs and professed love for them in interviews, but he also recently paid the ultimate respect by offering to reissue this very album on his increasingly popular Third Man Records. Go Go Harlem Baby's reissue came out on October 18 of last year (which according to Third Man took a year and a half to release), and the first 75 records of limited edition "black and white print" sold out in a hurry.
The Flat Duo Jets' 1991 album Go Go Harlem Baby may have a slow and steady legacy of influence, but the album's clearly influenced enough people, and one day could prove to be a sleeper hit. For now, it's safe to say that the album is an "Underrated Classic," but hopefully you're more interested to check out this classic album, and spread its word as fanatically as I have.