Culture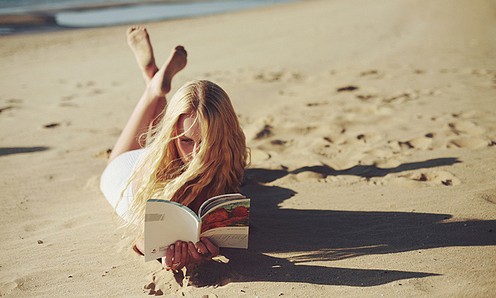 For some reason Chicago is in the 70s and I for one will not question this. Usually winter lasts until late April or early May here, so not wearing a heavy jacket for another two months is actually really awesome. One of my favorite things to do in the summer is read outside. I'm a pretty avid reader. I read on the train and the bus, but crammed up against all those people isn't really the most ideal situation to enjoy a book. Plus most of the time it smells like pee on there. So I give you…
Three summer reading settings and the best books to read at them.
1) The park – books that make you look smart
Stretching out at the park in your best hipster attire (I assume most people who read Heave are hipsters and nerds) with a good book is a great way to spend a lazy Sunday. I for one go to Wicker Park in Chicago, so I can look at cute dogs and watch people play chess while reading. But, since this park is in the hipster mecca, it's best to bring a book that'll impress.
Suggested reading:
— The Collector by John Fowles – after reading the summary on Wikipedia, this went to the top of my to read list
— Lolita by Vladimir Nabokov – I honestly think this is one of the best love stories ever written. You'll probably look like a creeper depending on what print of these you buy, but I say let your Russian novelist flag fly
— The Adventures of Kavalier & Clay by Michael Chabon- reading this while being surrounded by a city truly enhances the book
— The Wind-Up Girl by Paolo Bacigalupi – this book won a Nebula award AND a Hugo award. A sci-fi nerd must
2) The beach – trashy but awesome books and YA lit
When you're at the beach, nobody is there to just chill. You're there to get your tan on, maybe have a couple of drinks, and when the mood strikes play some volleyball. But if you want to play it cool, simple yet entertaining literature makes for the best beach reading.
Suggested reading:
— The Sookie Stackhouse series (aka the True Blood books) by Charlaine Harris – these back been a guilty pleasure of mine for the while. They're quick reads and endlessly entertaining
— The Heroes of Olympus series by Rick Riordan – these are a part of Riordan's Percy Jackson series, but better reads because instead of immature 13 year olds the protagonists are hormonal teenagers
— In the Garden of Beasts: Love, Terror, and an American Family in Hitler's Berlin by Erik Larson – this book isn't trashy, but it is the easiest read of the non-fiction family. Plus, you'll look super smart
— The Skeleton Crew by Stephen King – the pop lit god of horror writes short stories, one of which became the basis of The Mist
3) Traveling in an airplane/car/train – books that are becoming movies or TV shows this year
I love reading on an airplane. It's the perfect place to power through a book since, who wants to be the asshole on a plane with two iPads ? Side note: I seriously sat next to a person like that last week.
Suggested Reading:
— The Song of Fire and Ice series (aka Game of Thrones) by George R.R. Martin – these books are long but the structure of them make it a page-turner
— Starship Troopers by Robert Heinlein – before we're inundated by boobs and bugs again, read the original version and experience the cold, calculating method behind interstellar war
— Abraham Lincoln: Vampire Hunter by Seth Grahame-Smith – I'm not sure how faithful the film will be to the book, but I do know that Lincoln is going to kick some major ass
— The Walking Dead comics by Robert Kirkman – that way you'll know about the horrors that face you in season three