Features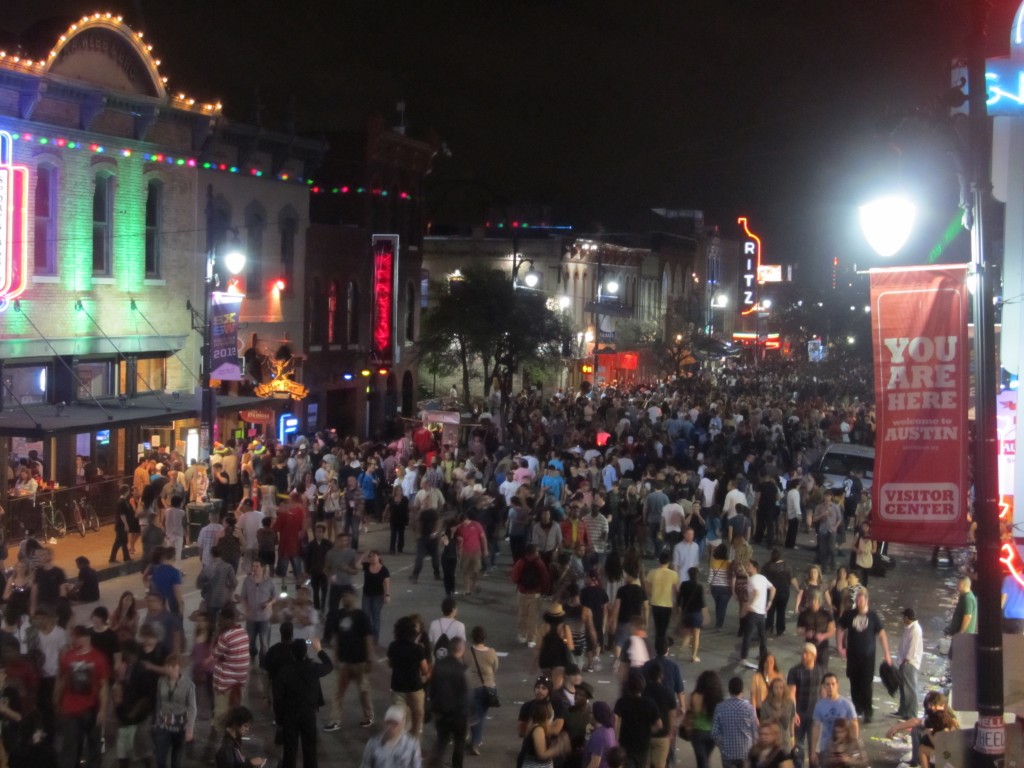 Dominick Mayer: Friday was the day in which I went against my deeply-held principles of never backing down, and backed down. I retreated to the relatively safe haven of the film festival (look for our review wrap-up for SXFilm on Sunday), and only caught one set for music. You might say I've not made the most of my music pass, to which I'll only respond that a) you're right and b) you try doing this for eleven straight days. It's also pretty hard to mentally rally around seeing more music when you fell asleep in a bar, I'm just saying.
But on to my point. The one set I did manage to catch was Astronautalis, whose set was cut short due to a scheduling error but still managed to be a great time. It's not the first time I've seen him play (being a big fan of Minneapolis hip-hop, he tends to tour with that whole crew on a near-constant basis), but it's always fascinating to see how his bizarre mixture of hip-hop, pop and alt-rock, all filtered through a general personality aesthetic somewhere between Tom Waits and a coal miner in the 1800s, translates live. Moving expediently through cuts like "The River, the Woods" and "Thomas Jefferson," he brought an energy to the cramped quarters of the Sidebar backyard like few other acts I've caught in passing or otherwise in the past few days.
Amy Dittmeier: Andrew WK is wrong – you can party too much. I awoke sore and bruised from Say Anything the night before, my head pounding and my body rebelling against me waking up and trying to be a functional human being. It took a while for me to get out of the house, and after a quick interview with the Duplass brothers (be on the lookout for that next week), I forced myself out the door and back into the musical abyss of SXSW.
The Paste and Sennheiser party promised some great bands so that was my first stop. When I got to the Stage on Sixth Idle Warship was already on stage revving the crowd up. Made up of Talib Kweli and Res, the band played a couple of songs from their debut Habits of the Heart. While I'd rather listen to Talib solo any day, the band's Fleetwood Mac medley sung by Res and Idle Warhip's track "Steady" were stand-outs of their set.  The Wedding Present, a band on my "must see" list for this SXSW, went on next. There was something about the set that didn't resonate with me. Maybe it was the lack of energy, or the sluggishness of the band. Lead singer David Gedge even forgot the words halfway through one of his songs. I was happy I finally got to see these guys live, after recently discovering them, but I didn't feel that vibe I felt listening to their albums.
Glen Hansard, that saucy Irishman, got me back into the Paste party. I wasn't sure what to expect from a solo Hansard. Was he going to play only Frames stuff, or the Swell Season, or both? Hansard instead just did whatever the hell he wanted. He confessed he was a bit hungover when he took the stage, having gotten accidentally drunk during his set last night and having an unfortunate puking accident at Bruce Springsteen. To honor the Boss he covered his song "Drive All Night," which was absolutely incredible. He brought on a saxophone player to accompany him, adding another layer to his very playful set. One thing I love about Hansard is that though his music is extremely personal and emotional, he's not afraid to have fun and inject his own brand of humor into his live shows. While playing "Low Rising," a powerful song about holding on to the last shred of hope in your relationship, he broke into a couple of lyrics from "Sexual Healing." His on stage banter was great and he really made the crowd feel like a bunch of friends rather than a bunch of strangers. Even during his closing song, an Irish traditional "The Parting Glass," he taught us the chorus so we could all sing along with him. Seeing his live shows are like seeing a good friend play, and watching him perform at SXSW was a definite treat.