Music
B*tch, I'm Miley Cyrus: Let Rihanna Reign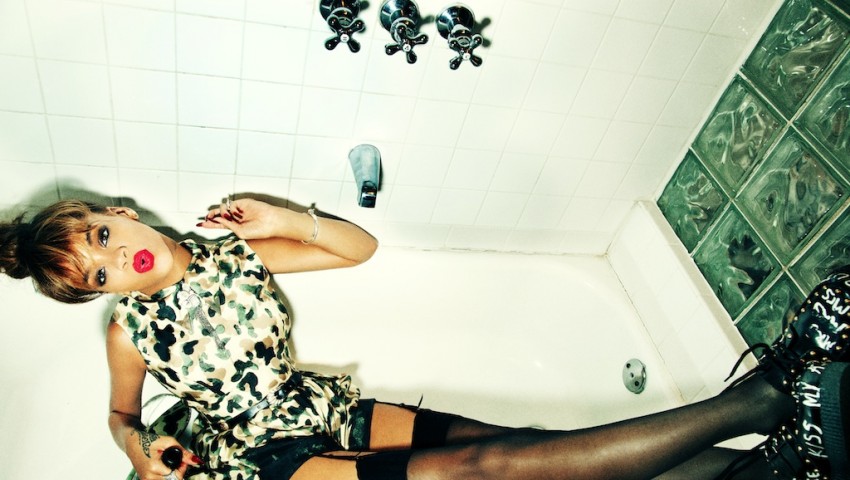 Throughout the month we've been launching several new columns here at Heave Media, including B*tch, I'm Miley Cyrus. Patrick Gill, a chubby, messy looking, white dude who is ready to tell you what is apparently good for you when it comes to pop music. It seems to work for The Catholic League, so why not do it at Heave.
It is well-trodden internet news that, according to the Nielsen SoundScan, Rihanna has become the top selling digital artist.  Coupled with this is that her single "We Found Love" has currently spent over ten weeks on top of the Billboard charts.  She now ranks among some of the most influential and glamorous divas of all time: Beyonce, Whitney Huston, Debbie Boone. On top of it all Loud has an Album of the Year nomination, that may be surprising to some but it is not unwarranted.  I now dub her Ri, Princess of China and the Dolphin Kingdom.
Let me first admit that I disliked Rihanna in her beginnings.  All I could think was "Who is this, with the way too heavy of a Soft Cell sample telling me I need to Morse Code for her rescue?" No, I didn't think she deserved her lifted beat, her place as a pop ingénue, her three amazing weaves in the video, or any rescue.  I nearly felt similarly when "Disturbia" came to light, citing Wendy O. and the Plasmatics as the birth mother of her image, a woman overlooked for far too long.  Though I did enjoy the dark pop escapade, I thought it smacked of performance punk for cash, the least punk thing to do.
With Princess Ri though, rather than suffer through the blandness of hyper-produced empty lyric'd pop tunes, she found a way to inject her life into her work without being overplayed or self-involved.  She has overcome personal situations and processed them into music that is palatable and a bit profound.
She flaunted proudly, and with tongue deep in cheek(s), her kinkster side with "S&M," she has spoken about what she wants out of her relationships in "Only Girl (In the World)."  Meanwhile, having fun and producing saucy dub jams like "Rude Boy," she also reconnected with her island sound with "Man Down," a dark ballad in which she confesses to a fictional self-defense killing of a rapist.   She has made pop music that is reflective, empowering, and helpful in providing solidarity for people working through difficult issues that they may feel alone in dealing with.  I know it seems like I am making too much out of pretty sounding pop, but a woman claiming what she wants in the bedroom and in a relationship is powerful.
Ri has also started to take more of an active role in songwriting, especially on her latest album Talk That Talk.  She does still produce fun bubble-gum. Her outing with David Guetta, "Who's That Chick," is pure dance fun times magic – yes, so magic it causes broken English.  The fact that she can do both is only a testament to her versatility and intelligence.
So Princess Ri, I love you, please keep making music.  And just a sliver of advice: don't let them make you play your native patois too hard in Battleship.