Culture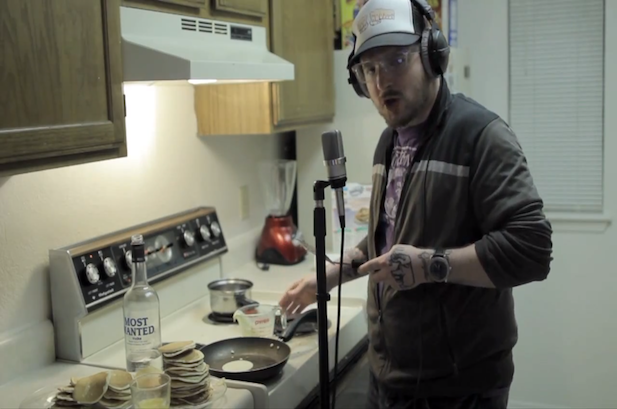 Dominick Mayer
I've been pimping Bellflower on Heave all year ever since I caught it at South By Southwest back in March. Despite not being a fan of it after my first viewing, I've caught it three or four more times since and still find myself haunted. The story of Woodrow (Evan Glodell) and Aiden (Tyler Dawson), best friends in Southern California obsessed with the apocalypse and a fire-breathing car/death machine known as Medusa, Bellflower is at once a mess and one of this year's most unforgettable movies. When Woodrow falls in love and gets seriously injured (on multiple levels), the film goes from a Linklater-esque story of wasted youth to a story of personal apocalypse taken very, very literal. This is the kind of movie that shakes you and refuses to let up. It'll be at the Music Box Theatre here in Chicago this weekend (12/2 and 12/3) at midnight, and it's also on DVD now. Do work, sons.

Amy Dittmeier
I love me some funny, quick-witted rappers and I only wish I found this video sooner. Mac Lethal posted a cover of Chris Brown's "Look at Me Now" injecting some much needed breakfast humor and general satire into it. All while making a tasty stack of pancakes. "My name is Mac Lethal and I am here to get rid of this horrible rapper problem," he wrote on his YouTube page. "I have a huge fan base behind me ready to terrorize the streets. Sign me and pay me well." Seriously, when talented guys like this are spitting words at you why would you WANT to listen to shitty Chris Brown?

Shelby Shaw
You probably like chocolate. And you were probably a small child once. So if you celebrate Christmas then you probably enjoyed tearing into your advent calendar and opening extra days before they happened just to get another sweet treat. But now there's something even better than chocolate: advent deals from The Impossible Project and McSweeney's. Get all your Polaroid instant film fixes from The Impossible Project's Advent Calendar – find today's date and see what you can get! At McSweeney's Store, discounts on books like today's 50% cut on Dave Eggers' It Is Right to Draw Their Fur and other sweet grabs from their collections are coming once a day as well. And since this is being done online you won't have to worry about someone pepper-spraying you for a 10-pack of gold-frame Polaroid film.