Culture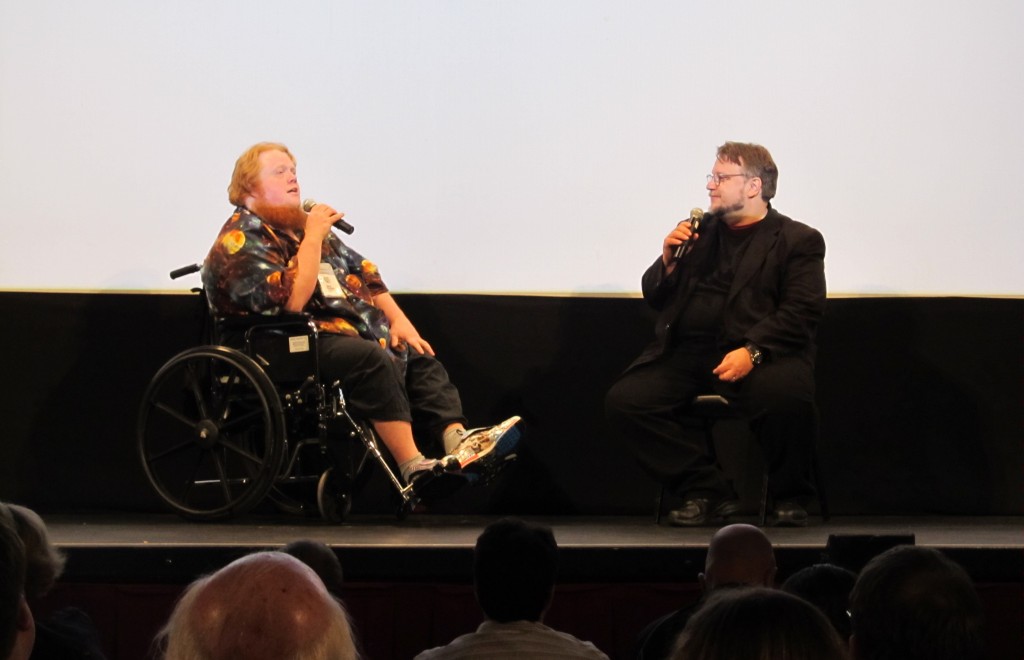 DM – Dominick Mayer
CO – Chris Osterndorf
The Dish & the Spoon
Although The Dish & the Spoon won't end up being the crowning achievement in the promising career of mumblecore queen cum mainstream character actress Greta Gerwig, the film features another fine turn from this already accomplished performer. Gerwig plays Rose, a dysfunctional woman who can't get over the sense of anger she feels after her husband's affair, when a British teenager (Olly Alexander) shows up in town and provides a suitable distraction. Although there are moments in the film that obnoxiously scream "INDIE!" right in your face, Alexander and Gerwig's performances are grounded and consistent. The Dish & the Spoon doesn't break any new ground as far as relationship dramas are concerned, but the film has a reality to it that's subtly lovely. Although it may ultimately be forgettable, it's a nice story about how even when the dish and the spoon don't run away together, they can still impact one another's lives. CO
Another Earth
Another Earth wants to be two movies, and the one it hints at is far more interesting than the one it ends up being. The one it hints at concerns the appearance of a second Earth, seemingly with not only the same planetary composition as ours, but also our same landmasses and cities, an exact mirror of our planet. On the night this appears, Rhoda (Brit Marling) is driving home, and ends up so transfixed by this image that she ends up in a terrible car accident. She ends up jailed for four years, and by the time she gets out, civilian travel to this new planet is suddenly a reality. Moments like this are when Earth really fires on all cylinders, exploring some of the same themes of metaphysical vs. 'actual' reality as Moon, another minimalist indie sci-fi film.
The difference between the two is that Earth is not only far more subdued (it's stunning that Fox Searchlight picked this up for  distribution), but is less interested in the fascinating questions it raises than in a by-rote melodrama that's been done ad nauseum. Marling is good here, but her performance in Sound of My Voice, also showing at SXSW, runs circles around this one. Her main job is to look forlorn and wan the entire film, which she pulls off capably. William Mapother (best known as Ethan on Lost) also does well as John, the burned-out, alcoholic ex-professor with whom Rhoda forges a tentative bond. The writing follows virtually every motion imaginable, from connection to the overwrought attempt at a tense emotional climax, even with the sci-fi elements of the film; if you can't suss out by halfway in what the final shot of this movie is going to be, you're not paying nearly enough attention, though that's not something to be faulted for with a film that lopes along like this one. Another Earth is a grave disappointment, incapable of embracing the more profound work within. DM
Tabloid
Hey folks, do you like to laugh? Well then you'll love the new movie from esteemed comedic genius… Errol Morris? Supposedly, the Academy Award winning documentary filmmaker did in fact make Tabloid because he wanted to remind people he could be funny. And indeed, this story of '70s tabloid sensation Joyce McKinney, a woman accused of abducting her Mormon boyfriend and trying to save him from his religion, is very funny. Of course, there are also moments in the sad, strange life of McKinney that are tragic, but it's all very fascinating, and handled with care by Morris. A few of the cuts in the film felt awkward, but it's possible this is just because all the kinks haven't been worked out yet. Tabloid takes a look at the culture of gawking through the batty McKinney and her unbelievable story. I wouldn't exactly call it a laugh riot, but coming from Mr. Morris, it feels akin to The 40 Year Old Virgin. CO
Bellflower
There's echoes of both Richard Linklater's early work and True Romance in Bellflower, one of this festival's most buzzed-about films and a strange inversion of the idea of a teenage wasteland, in that here the wasteland is as literal as you can get. The film is shot in gorgeously sun-scorched, washed out extremes of color, a tale of romance and the fury of youth that's treated with the gravity of an actual end-of-the-world apocalyptic future-shock nightmare. Woodrow (director Evan Glodell) and Aiden (Tyler Dawson) are disaffected and wild, spending their days pounding 40s, building flamethrowers and discussing their ultimate fantasy of building Medusa, the ultimate fire-breathing, loud-running muscle car/death machine in which they will rule whatever of the world is left when the apocalypse happens. By night, they're the typical young hard-partiers, and it's on one of these excursions that Woodrow encounters Millie (Jessie Wiseman). Wiseman's performance is deceptively great, as she radiates pure sexuality and coming danger before she even says a word, and when the geekily sweet Woodrow falls for her, the writing's already on the wall.
The ensuing collapse of Woodrow's world forms the spine of Bellflower, and for the most part it works, bolstered by an engaging cast and a screenplay (penned by Glodell) that generates enough empathy for a bunch of listless burnouts that the film's emotional paces, though none unexpected, hit harder than they arguably should. The film's ending, however, is not so lucky; there's an unfortunate turn into Cronenberg-esque trickery in the last 20 minutes that nearly derails the proceedings completely. There's enough genuine poignance (and one really, really cool car) in Bellflower to give a fairly standard story an unexpected propulsive energy, but the film unfortunately doesn't actually seem to trust in its own central conceit: that falling out of love is its own apocalyptic doomsday. DM
Win Win
Win Win isn't really that different from Thom McCarthy's other films. Like The Station Agent and The Visitor, it's a slice of life story, about attorney/wrestling coach Mike (Paul Giamatti) and his wife Jackie (Amy Ryan) who take in a kid named Kyle (Alex Shaffer) after he runs away from his mom and comes to town in search of his grandfather. To Mike's delight, Kyle ends up being a star wrestler, and turns his team of losers around. One of the strong points in Win Win is that it's probably funnier than McCarthy's other films, and although the directing is consistent albeit fairly standard, the script is undoubtedly the best part. Co-written by McCarthy with his childhood friend and lawyer turned Hollywood newcomer Joe Tiboni, the writing in the movie is all kinds of real and clever and touching.  The wrestling element in particular is absolutely excellent. The leads are all great, and supporting players Bobby Cannavle, Jeffrey Tambor, Burt Young, and Melanie Lynskey add a lot to the film as well. Also like McCarthy's other films, Win Win is a bit slow to start. But once it gets going, it becomes a nice little piece of movie comfort food. CO
Ain't It Cool News 15th Anniversary Screening
For the anniversary celebration of the game-changing movie news site, AICN founder Harry Knowles pushed through his recent poor health to come to the Paramount Theatre and introduce his choice for an essential movie geek film. This was Dragonslayer, Matthew Robbins' seminal 1981 fantasy film. Made as a coproduction between Disney and Paramount, this is a movie made for the family (rated PG at the time) but with some serious teeth, to use the obvious and appalling pun. There's full-frontal nudity, a character being eaten by baby dragons onscreen and a plot involving the government-mandated sacrifice of virgins by lottery in order to keep the peace. As if this wasn't quite cool enough, yet, Knowles bought out his friend Guillermo Del Toro to discuss the film. Their joy in the post-film discussion talking about this style of moviemaking that seems to no longer exist was infectious, and a perfect celebration of the spirit under which AICN came to be. DM