Features
Live review: Active Child and Chad Valley @ Schubas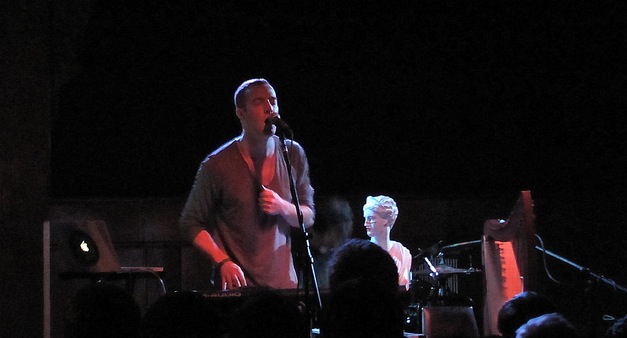 Suddenly, I don't feel very interested in Joanna Newsom, James Blake, or Antony and the Johnsons anymore. Well, maybe I shouldn't go that far. They're all pretty great. But Active Child does what all three of those artists do, at the same time, and better. Antony Hegarty was a choirboy, but later took his voice to indie rock. Joanna Newsom plays a harp and makes quirky avant-garde music. James Blake is soulful and post-dubstep. Pat Grossi (Active Child) was a also choirboy, who also sings soulfully while also playing a harp over post-dubstep beats. Head explosion!
His sold out Schubas show was a win for the venue. The wood trim on Grossi's harp even matched the arch over the stage. At times I wanted it to be the CSO though, just so I could sit and marvel at Grossi's talent. He's a hell of a singer (although, ironically, he has the voice of an angel).
The audience cheered loudest for his old songs, but I was floored by his new stuff. He shows off a little bit on that harp, giving the live audience much more flare than what's on record. More intricate and nuanced than Curtis Lane, his full-length can be enjoyed as if it were an hour of classical music. Go listen to You Are All I See if you are any kind of music fan. It's rewarding on so many levels.
Opener Chad Valley was excellent as well. Equatorial Ultravox is still my favorite EP of 2011. It was wonderful to see a chillwaver open for Active Child too. Bedroom pop takes a lot of heat for being a genre full of introverted guys who just press buttons to make cheap music. I'll admit, it is quite a contrast against a virtuosic musician like Pat Grossi, but Chad Valley's strengths are less in nimble precision and more in atmospheric texture. Chillwave is legit, don't scoff.
Anyway, I hope Schubas was just the beginning for Active Child and Chad Valley. The former needs to get to the Chicago Theater (in due time, I'm sure), and Chad Valley better be the opener for Washed Out on Ernest's next headlining tour. The amount of talent at Belmont and Southport was quite staggering this evening.