Music
Live review: Black Moth Super Rainbow and Dosh @ Metro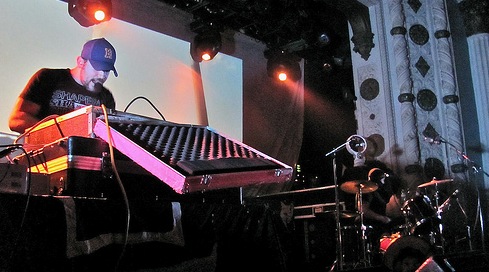 The last time I saw Dosh and Black Moth Super Rainbow was at Millennium Park. Dosh played a summer lunch set last year, and Black Moth had the same time slot in 2009. For the former, the venue was great, but Black Moth looked painfully out of place at noon on a Monday afternoon in sunny downtown Chicago. The drummer wears a black ninja suit and a bike light on her forehead, which looks very silly under sunshine.
At the Metro last night, the band looked much more comfortable and eager to play their grungy psych pop. Videos projected on a large screen behind them, but not anything trippy or zany like at Tobacco shows. Oddly dull, 10 minute shots of scenes recorded with a tripod showed a cemetery, a forest preserve trail, the front of a house, and various other docile settings. It created a pretty uneasy atmosphere, not ideal for a feel-good dance party.
The crowd looked like a lot of leftovers from the North Coast fest. The fuzzed out electronic jams of Black Moth were a perfect score for many comedowns, I'm sure. Bobbing heads bounced dreads, and arms stretched up into the projection light to make hand puppets of dogs and butterflies on the screen. The energy level wasn't crazy-high, but that wouldn't have felt right anyway.
I have to say something about Dosh though, who played before Black Moth. He is, without a doubt, my favorite percussionist. As the drummer for Andrew Bird, Dosh is not usually the focus of the live show. But Dosh has multiple solo albums of beautiful instrumental music, which he creates via looping effects. And just as Andrew Bird does at his concerts, looping is crucial to a Dosh show.
At the Metro, Dosh was the quintessential one-man band. In the past, I've seen him perform with additional musicians, which actually lowered the stakes. Playing solo, every sound made is entirely thanks to Dosh's hands. Any mistake rests solely on him. But it was hard to tell if that ever happened, as he rolled through a set of mostly new songs, surrounded by bent mirrors and complicated electronic equipment. It was difficult to determine which sound were coming from where, but it was all Dosh, and it was always jaw-dropping.