Music
Live review: Toro y Moi @ Metro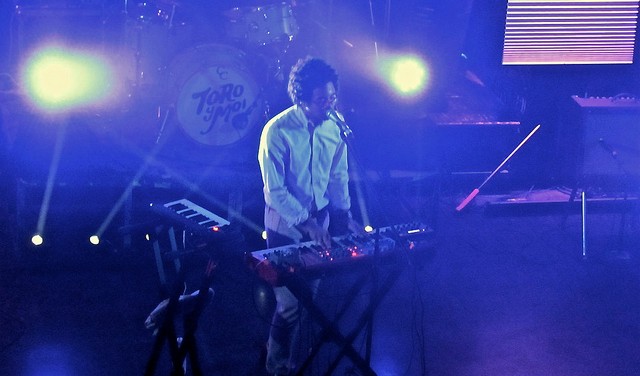 I bought a new pair of khakis a few days ago, though at the time of purchase I wasn't cognizant as to why I was doing it. After all, I haven't owned a pair of khakis in ten years. Last morning when I decided I'd wear them for the first time, it still didn't make sense. It wasn't until I saw Chaz Bundick, better known as Toro y Moi, on stage at the Metro yesterday. I was wearing my new khakis for this very moment.
Chaz took front center stage with his pastel button-down collared shirt tucked into his khakis, a little fro above a pair of glasses that could've come from Warby Parker. He was equal parts Steve Urkel and Stefan Urquelle, ambiguously full of swagger and shyness. But whatever Chaz is doing, it's really working. He emanates a mysterious cool, not overeager and not insecure. He's an artist in stride, and it's a pleasure to see him at work.
Toro y Moi was one of the first names people associated with chillwave, for better or worse. Personally, I thought it was an interesting sound from the beginning, but, as all trends do, it got tired. Great albums came out of the chillwave phenomenon, especially Washed Out's Within and Without. But after things like seapunk, the R&B and sax revivals of the past couple years, and now whatever ends up happening in 2013, chillwave is pretty much a relic. So, where does that leave one of the spearheading artists? Was Toro y Moi a fleeting trendsetter, or a capable artist with actual substance?
When he released Causers of This in 2010, most reviews of the album I saw were mixed, and critics gave his live show mostly negative marks. After all, this was the first time people heard this dreamy after-party haze of electronic stuff that rejected studio production. It was made on laptops, and it sounded like it. The live shows were the laptops. It was a weird new introverted world for indie rock — it was bedroom pop. But over the past three years, Toro y Moi has impressed me more and more with each new release. This was the third time I've seen Toro y Moi. The first was at Pitchfork Fest two years ago, then again at Lollapalooza last year. And, every time I see him live, he has taken another step towards artistic permanence. Any lingering criticisms about his weak voice can easily be dismissed. His falsetto is great, and his cadence matches the rest of his productions superbly, be it in the live show or on record.
He doesn't say much between songs. "How's it going?" and "Thanks Chicago" are maybe repeated a few times, and that's about it. Chaz doesn't joke around, he doesn't try to hype the crowd, he just plays his songs with his tight new backing band. Bass, guitar, and drums bolster his keyboards and synths, transforming a sound that was once ideal for lonely bedroom listening into a major Chicago club party. It's not chillwave anymore. It's bigger, and it's better.
Toro y Moi has adapted, but not into just another synth-pop band like Passion Pit. It's still uniquely Toro y Moi. Nothing else sounds like the things Chaz does. There's a funky vibe of a blaxploitation film soundtrack, mashed with the analog synth whirls of a sci-fi film soundtrack. But none of it sounds tongue-in-cheek, none of it gimmicky. Combine his pseudo-retro jams with his Easter-Sunday-soft visual aesthetic, and Toro y Moi becomes some kind of mystical onomatopoeia. He's hitting a sweet spot right now. It's a place you can hear on his brilliant new album, Anything In Return. It's postmodern in style, broad in creative scope, uncompromising in execution, and straight up danceable. If anything takes us boldly into the teens of the 21st century, I sure hope it's this. I'll wear khakis for it.