Music
Live review: YACHT, The Presets @ Metro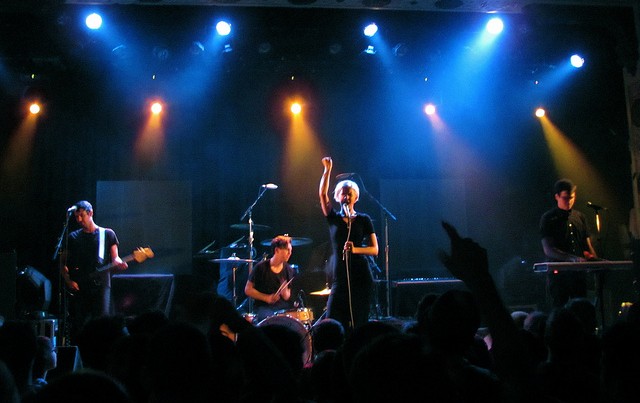 Two bands that I just don't "get": YACHT and The Presets. Luckily for me, both of them played the Metro last night, and I was there. No, I'm not being sarcastic. Whenever I hear something that I don't immediately enjoy, I take it as a cue to listen more. It's like the first time you watch Naked Lunch or Fear and Loathing in Las Vegas. You don't understand why anything is happening, but you can't dismiss it for that reason alone. So I was looking forward to giving these bands another chance in a live setting.
So YACHT. They're pretty much the B-52s of indie rock. Depending on your taste in music, that's either amazing or horrific. I lean towards the latter. It's raucous and weird, spazzy and frenetic. Lead vocalist Claire Evans does a decent amount of talk/sing, and a lot more dramatic body movements. Oozing with sexual energy, she wiggles and winks, points to everybody and extends her limbs in all directions, all the while wearing the tightest black dress the Metro stage has ever seen. This is all great, she's a hell of a performer. But sometimes it's a bit too much, to a creepy point even. During one song, Evans was putting her hand on the foreheads of people up front, pushing off like she was their faith healer. She later asked the crowd if anyone had any questions. What would David Bazan say? I can't tell how earnest it is. If it's a gimmick, I don't know what I'm supposed to take away from it. But if it's all sincere, then it's a serious case of "trying too hard."
Then there's the message of YACHT, or whatever is going on with their lyrics and banter. When it comes to songs about living your own life, loving yourself and the moment, and spiritual well-being, I just cant' shake the Switchfoot cobwebs. But with exuberance, YACHT sells this super-duper-positive message during and between every song.  The new-agey extroversion of all this is too much for me. I don't really want my forehead touched, nor do I want to ask a band a question during their show. But plenty of people in the crowd seemed fine with it. Nobody stormed off. It all seemed to be in good fun. I just didn't get it.
Then the Presets. As far as Modular bands go, this is the one I've never been able to get into. Something has always sounded off about them. Give me Cut Copy, Sneaky Sound System, or The Avalanches, and I will dance. But the Presets just make me wonder, "what's the angle here?" Imagine if Joy Division still existed, but only played in River North clubs that offer bottle service–this is something like the vibe I get from the Presets. They have all of the elements of an exciting dance pop duo, but they're just not utilizing their tools properly. Their light show must be hugely expensive, but, the stuff on the four matching LED screens just looks like images from a MacBook screensaver. It's like if Dirk Diggler had only just been an underwear model for Hanes. The Presets have so much potential, but I want to see more.
Maybe I'm not being fair. Or, maybe it's just not my thing. Either way, it's hard for me to say where these two acts belong right now in the world of music. I don't hate either of them, but I can't figure out how to enjoy what they're doing. I guess I still can't watch Naked Lunch or Fear and Loathing in Las Vegas all the way through either.