Culture
Business Casual Superstar: Inspired by Lindsay Bluth (Portia Di Rossi, Arrested Development)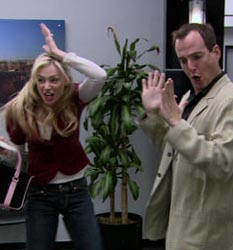 I've done a Lindsay Bluth outfit for Heave before, but she's such a great character, and from SUCH a great show, that revisiting her closet hardly seems problematic. Lindsay is something of a fashionista, after all – if you've got the guts to steal her style, you should totally go for it.
Her outfits are absolutely lovely, but it's a little difficult sometimes to turn a long, slinky dress into a work-appropriate outfit. To that end, I focused on Lindsay's pants-and-top outfits to kind of hone in on her style when she's not wearing a skirt or a dress. One outfit of hers involving jeans really caught my eye, and I just had to replicate it.
Yeah, this would absolutely NOT be appropriate for work.
Alas.

So here's an outfit that Lindsay would totally wear that IS appropriate for work:
Bootcut Jeans ……….. $15
Ruched Button Down Shirt ………. $15
Wild Rose Mindy Pump in Red ………. $29.99
Silk Tie in Eastern Red ………. $39.90
Seriously. She's worn something very, very close to it, with her hair in a high, sleek ponytail and her eyes carefully done up, and she looked great. Portia di Rossi can commit no wrong, really.
Anyway, I went with bootcut jeans in a dark wash, because those are flattering and lengthen the leg. I paired the jeans with a button down, and this is where you really have to pay attention to the kind of top you choose.
Since this outfit is so masculine in its construction (come on, there's a freaking TIE) you want a shirt that is girly. White and buttoned down and collared, but still girly. You want something that's fitted, as opposed to straight cut like men's shirts often are. You want something that will skim your curves, nipping in at the waist, and the short, ruched sleeves here definitely help. Ruching is a very feminine accent that always adds a touch of girliness to a top. That's why I went with this shirt.
Also because I really wanted to save as much money as I could on the jeans and top so I had more wiggle room when searching for ties and red pumps.
Ah, yes, the red pumps. Lindsay's were insane – super red with a super pointy toe. I toned that down a little and went with these red ones that you can totally get away with at most offices, especially with the rest of this outfit. Nothing else about this outfit is overtly sexy, so a bold, sexy red shoe won't raise eyebrows. It's not like you're wearing it with a leopard-print dress. Heck, you can wear a leopard-print dress to work – really! – but you just can't wear two sexy items together unless you want to attract the wrong kind of attention.
(I meant that in the sense of people not taking you seriously in a professional environment, but you can fill in the blanks.)
I picked a tie that had red touches and a neutral color, like that soft grey, and just generally kind of worked with the outfit. In terms of earrings, I might toss in gold or silver hoops (I'm partial to silver over yellow gold), and I'd probably put my hair either completely up in a super sleek ponytail, bangs down, or half up and teased slightly at the crown.
And there you have a lovely Lindsay Bluth outfit, all for under $100!