Interviews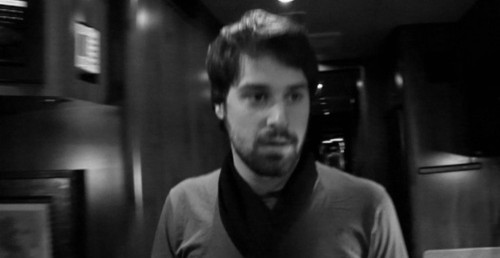 Former Panic! At the Disco bassist and Young Veins guitarist Jon Walker has taken some time off since The Young Veins went on hiatus in December. In January, Walker released five solo tracks, aptly titled Home Recordings. He chatted with HEAVE before his show this Saturday at the Beat Kitchen, opening for Empires. Check out the interview and the link for a song below:
HEAVE: Your music with The Young Veins was a departure from Panic! At the Disco — more diverse, with a lot of people noting what sounded like a Beatles influence. Does your solo work follow that pattern?
JW: I grew up on the Beatles. They are one of my favorite groups and have definitely influenced me, both artistically and personally. I think at the root, my songwriting has been guided by that classic, simple and unique pop sound of the 1960's, but I'm constantly striving to make something of my own.
HEAVE: You've released five songs via BandCamp — are there more in the pipeline? Any chance you'll have a proper album release any time soon?
JW: I'm always writing songs and I'll be performing a few new ones in Chicago this Saturday. I like the idea of releasing fewer songs more consistently, that way they are fresh for me and the audience. I am interested in releasing a full length album backed by a record label but thanks to the Internet, I am in no rush.
HEAVE: Are you nervous to debut these songs live? They seem more intimate — do you think they'll translate well to the stage?
JW: I debuted them on Chicago's own JBTV (which premieres May 21) and was very nervous! Since then, we incorporated a full drum kit to the arrangements which adds a lot to the show. The intimate lyrics have been the biggest change for me as a writer. I'm able to say what I want and figure some shit out along the way. I find that kind of honesty captivating and hope it translates well to the audience.
HEAVE: Are you looking to remain a solo artist, or would you like to form a full band at some point?
JW: I will always keep my options open but find that writing on my own has forced me to evolve as a musician and as a person. I do love working with other creative forces but for now, I want my work to be dictated by my creativity and that can get complicated by the band dynamic.
HEAVE: You recently got married — has that influenced your song-writing at all?
JW: We've been together forever. Our relationship has always influenced my songs, as well as every other aspect of my life. Love is inspiring.
HEAVE: And if I'm not mistaken, your wife, Cassie, is going to join you onstage for your Chicago show. has she been involved in Home Recordings? What is it like playing live music with your spouse?
JW: She was not involved in the recordings but when I was getting a band together for the live show, she asked to play tambourine, how could I say no? She has impeccable timing and works cheap.
HEAVE: Do you have any plans to tour beyond Chicago?
JW: Hopefully soon.
Check out Walker and Empires on May 21st at The Beat Kitchens, and listen to Home Recordings on BandCamp.