Interviews
Interview: Dale Earnhardt Jr. Jr.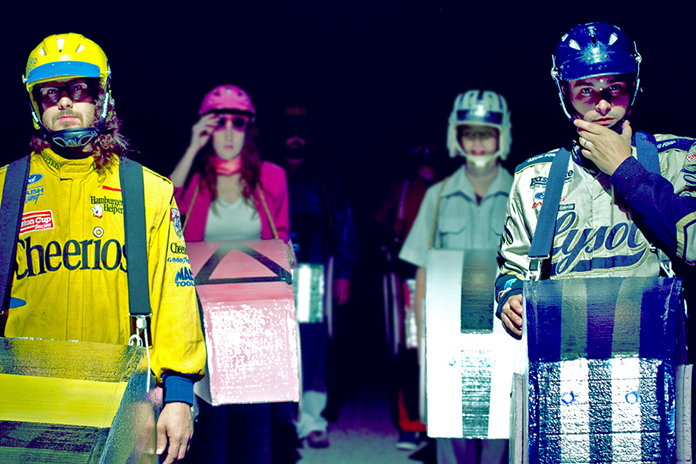 There has never been a greater contrast between a band's name and their music than Dale Earnhardt Jr. Jr. The Detroit duo's name makes them sound like they belong at some Speedway in the Deep South, and the on stage wardrobe (racing jumpsuits) pretty much solidifies the imagery. Racing music, however, Dale Earnhardt Jr. Jr. is not. Instead, they are producing some rather dreamy, whimsical tunes that are more apt for a Sunday morning drive. It's a lesson in "never judging a book by its cover," which is advice that gets thrown out in the same garbage bin as flossing.
HEAVE: How pumped up did you get for the city of Detroit with that Chrysler/Eminem commercial during the Super Bowl?
Josh Epstein: I think that everyone in Detroit is excessively proud of where they come from. Every city that we play in seems to have pockets of Detroit expats who have found each other. We are a fiercely loyal bunch and I'd bet that everyone who has a connection to the city was proud to see it being represented in a positive light.
HEAVE: You are set to release your debut full length in early spring, but are already working on a new album. Plus you've released a remix album. That seems to be a pretty quick writing/recording process. How does your process work?
Josh Epstein: We don't really have a set process. Daniel and I each have recording set ups in our homes and are constantly working. We work together from 10 AM- 5 PM when we're collaborating and the song always dictates the process. Sometimes we'll have homework assignments, but mostly we bounce stuff off of each other and then end up in the same place.
HEAVE: You guys have a pretty silly name, and you wear racing suits on stage with American flags draped around the area. But your music, to me, seems to be pretty serious. Why the contrast in presentation and music?
Josh Epstein: Writing music requires that one remain introverted for a certain period of time, but the performance of music is an extroverted thing. Music has always seemed like a strange dichotomy to me for that reason, and setting a ridiculous precedent seemed like a good way to limit the effects of preconceptions in a strange way.
HEAVE: Aren't the jumpsuits hot? As in, sweaty?
Josh Epstein: Yes! They are also hot as in sexy I am told from time to time.
HEAVE: What is the best part of doing remixes for other band's work?
Josh Epstein: Not having to fret over something in the same way that you tend to when it's your own. It's like babysitting vs parenting I assume
HEAVE: "Simple Girl" sounds too precise to be a fictional song. How much of your writing is based on real life events?
Josh Epstein: All writing stems from some sort of experience. Even complete fiction has to be filtered through one's projections. Sometimes it's tough to remember what sparked an idea, but there likely were very real inspirations in those moments.
HEAVE: Where did the video idea for "Nothing But Our Love" come from?
Josh Epstein: It came from a few talks and brainstorming sessions with our friends Cort Johns, Josh Joupi, Ian Sigmon and Justin Lawes. They made the video with us and were largely responsible for making it work. We believe that it's always a good idea to find people to work with whose talents you respect, and then let them do what they do best. We were there at every step, but someone else was driving the bus.
To get more info on Dale Earnhardt Jr. Jr., including tour dates, check out their Myspace.