Reviews
Don't panic over new Panic! At The Disco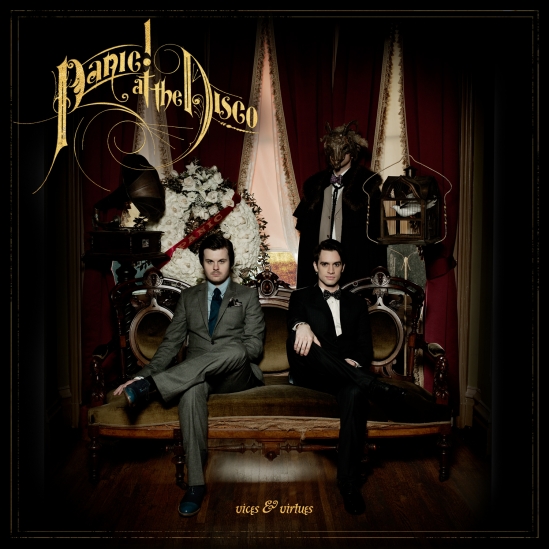 Vices & Virtues Panic! at the Disco
Release Date: Mar 22, 11
1
2
3
4
5
6
7
8
9
10
There was once Panic! At The Disco – and then there was Panic At The Disco – and then the quartet split into P!ATD and The Young Veins. It's been a tumultuous ride for the Las Vegas four since their 2005 A Fever You Can't Sweat Out went platinum. But remaining Panic! members Brendan Urie and Spencer Smith have teased fans long enough with "The Overture" and Facebook streaming, finally releasing their new full-length Vices & Virtues. The return to Fever is agreeably appreciated, but the pick-up of synthesizers amidst their band oeuvre is debatably worrisome.
Remember the first P!ATD song you ever heard, long ago before the "!" drama? Welcome that memory back with "The Ballad of Mona Lisa." Of course, as alternative as it is dare-I-say "edgy," there are those oh-so finely-tuned aspects of the music that remind you of the radio-heavy tunes that inevitably make cars of girls and restaurant lobbies want to get up and dance. Sure, there are even some distorted vocal points that remind me of the golden age of boy bands back in the day. But all that aside, I'm hooked. So far.
"Let's Kill Tonight" opens with a surprising 80s feel that conjures memories of playing Sega Genesis within a foot of the TV screen as a kid. Usual lyrics of defiance lay over background vocals sounding like a chorus of angsty rockers clapping their hands and stomping their feet in between those strange electronic verses and occasional dramatic note of a stringed instrument, such as in the 21-second closing.
A title doesn't get any cornier than "Memories." And it's Taylor Swift-esque in narrative, drenched in the electronic sounds of today's radio hits… by now I'm almost worried about the seeming lack of instruments that may be played on stage at a live show. A lot of backing tracks? But then I can't help but laugh at the lines "it was beautifully depressing/ like A Streetcar Named Desire" – every kid in high school who listens to this song will now be a little more inclined to take a theatre class. If they weren't that type of kid already. Tennessee Williams could use a little modern recognition.
"I'd rather be a cannibal, baby/ animals like me don't talk anyway" sings Urie in the opening to "The Calendar." But he doesn't really sound like an animal. I'm not sold on his sincerity until he starts singing about summer dying – but I would have liked to have believed Urie's more feral sentimentality. Let's hear something a little stronger than a love-scorned arena ballad.
Closing out the whole album, a woman begins to conduct some kids who begin to sing in French… already here on "Nearly Witches (Ever Since We Met…)" I furrow my brow. The children's song ends. Urie comes in and starts to sing brashly and boldly about apparitions and burlesque. Random noises sound in the background (eerily?) and I wonder if that's supposed to reference the ghoulish aspect of the title. Regretting never letting her go, Urie sings about a captivating gal. Nothing new. The schoolchildren's chorus comes in towards the end, dedicating each line to Mona Lisa. It's a grand exit. I'm impressed with this half of the band after their initial schism. But I'm concerned about their future – a catchy hook is one thing, but it isn't a safeguard against losing authenticity. For now, however, Panic! needs not panic.