Music
Live review: Cut Copy @ Riviera Theatre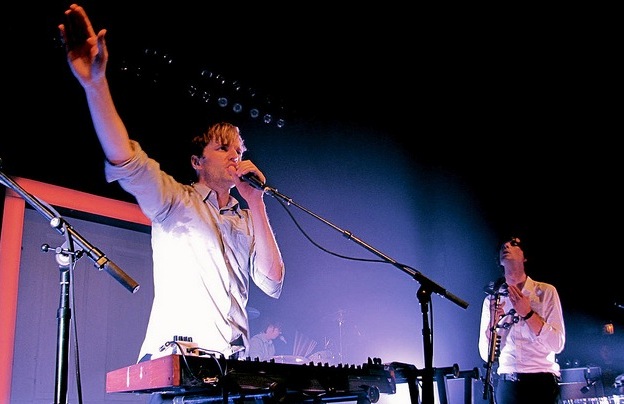 In spite of their venue, Cut Copy almost made the acoustics in the Riviera sound adequate last night. Dan Whitford's baritone sounded just as rich live as it does on record, every synth and guitar was working in perfect harmony, and the beats were unnaturally tight. It probably wasn't unlike the first time people heard Joy Division. But on this night, Cut Copy were doing their best New Order impersonation. The sound was huge, and it got warm as hell in there.
The crowd had its hands up from the front to the back, and they were all dancing too. Even up in the balcony, dancing. I even saw one girl pull a security guard over to dance with her. Not sure if that was a distraction for her friends to get backstage or what, but still, it was fun to see even the stereotypically stoic tough guy getting down to some synth pop.
When Whitford made predictions between songs like "things are about to get crazy in here," he turned out to be right every time. Lights and Music was the craziest song of the night, in a meta-ironic sort of way (lights and music certainly were on all of our minds…). Whitford sang with his arms and hands stretching all around, which got hyper-meta-ironic when he got to the chorus of Hearts of Fire ("I reach out to you tonight"). It was a feel-good show from start to finish, but Take Me Over, one of the highlights of their 2011 album, Zonoscope, was the feel-good song of night.
A neat little gimmick was the plain white door set up in the center of the stage. It was lined with LED lights, and a few songs into the set the door suddenly became a backdrop for vivid and surreal projections. The most common images were white clouds on blue skies, a sight Chicagoans are tired of dreaming of. But even though it was another damp, cold and cloudy night, spring seemed closer than ever inside the Riviera. The sights and sounds of Cut Copy helped thaw us out a bit.