Music
Live review: Crystal Castles @ Riveria Theatre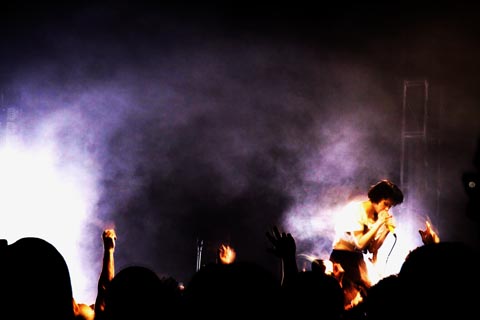 Crystal Castles with Teengirl Fantasy
The Riviera Theatre
12 March 2011
Maybe it was from the early St. Patrick's day celebrating that had started at the crack of dawn on Saturday, or maybe it was just the nature of seeing Alice Glass and Ethan Kath, the two behind Crystal Castles, that prompted so many people to arrive a little greased up and beeline straight to one of the Riv's many bars. "The only way I can see Crystal Castles is if I'm wasted," a friend told me earlier in the week. A listen to Crystal Castles (II), the duo's most recent and yet-again self-titled release, could clue you in as to why. Behavioral influences may have come about from how at the age of 14, Glass changed her name and ran away to live with drug addicts in a squat community.
I was expecting the Toronto two (with Christopher Chartrand on drums) to generate a lot of passé crowd members, ready to down some alcohol and forget everything else in a mess of strobe lights and body sweat and piercing vocal cries meshed with chest-pounding bass thuds. And I was right, except that the crowd seemed more last-minute than anything: an obscene number of girls wearing off-the-shoulder shirts, leggings, mini skirts, and stilettos. I guess you gotta look good. But no one really did.
All of this I observed from the lobby of the Riv while sorting out photographer placement for the night – it turns out that Ms. Glass has a strict aversion to photographers getting at her from front and center, so no one is allowed to shoot from the pit. After 45 minutes of waiting for Tour Manager to give the OK for photographers to shoot from the stage for the first three songs, the other photographer (much older and therefore much more experienced) handed back his photo pass. And then there was one.
Photo pass problems resolved, I made my way through the obscene amount of bar-tending lines in the lobby to go wait for backstage. Opener Teengirl Fantasy was already done by now and everyone seemed to anxiously await the headliner. It was then announced that Glass had broken an ankle [in mid January in Tokyo] and couldn't perform. "But she said, 'Fuck it!'" Cue the show to start.
With a plastic brace on her left foot, and a bright blue cane, Glass commenced incredible "fuck it" bravery, or ignorance – the woman threw herself into the crowd throughout the night and was most likely intoxicated to a point of purely not caring what she ended up doing to her injured foot [injured from a previous show in Spain]. When she was brought back from hanging into the crowd the first time, she scrambled for her cane. From the stage, I could see she needed it. But I guess that changed as her perception levels did. Being on stage was like being inside the mind of an epileptic.
I could hardly make out any of the lyrics, which sounded more like shrill banshee screams from down inside a well, or from within a speeding car driving past. Towards the end of the night, someone is surrounded by security and taken, by four guards, out of the place. Might have been a seizure. Or a drunken sprawl out of the crowd.
I realize at this point in the night that everyone is surprisingly tame, and has been this whole time. Everyone stays within their neat little designated areas even though there isn't anything roping them in on the floor.
Suddenly in a flash and a poof of smoke and light, Crystal Castles is gone off stage. Then the lights reappear. When they return it doesn't even feel like there was a break in the show – the strobes actually seem to be going faster. Crazier. Maybe the night is getting to my head finally.
All is black. Is this the end? Nope. Glass slowly oozes up and down around the mic stand for an instrumental moment before the bass and flashing lights return. The show goes on until people start to leave not even 10 minutes later.
Then everyone leaves. This has officially been the end of the show.
But wait, there's more.
People start scurrying back to their places as the band returns to the stage. Again, it's as if there was no pause or interruption. Kath puts on some crazy jagged beat with the pulsating rainbow strobes and I can actually feel the insides of my chest bouncing up and down. My throat feels the same way. I can't see Glass at this point, but Kath is lit up like a dream.
Then all is black. Again. Is this the end? People start leaving again even though some humming sound can still be heard on the speakers. But then the lights in the house come up and everyone decides this means it is officially time to go home and close their poor strobe-assaulted eyes.
Not once did Crystal Castles address the crowd or each other.