Reviews
Blood Pressures measures up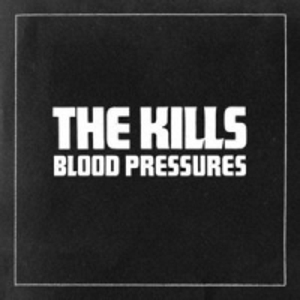 Blood Pressures The Kills
Release Date: Apr 04, 11
1
2
3
4
5
6
7
8
9
10
With all of the attention that The Dead Weather have garnered in the last couple of years, there are those who may have forgotten Alison Mosshart  was also a part of an equally heavy two-piece, The Kills. Reunited with Brit guitarist Jamie Hince, "VV" and "Hotel" continue with their fourth album, Blood Pressures.
While this trend of musicians forming 'super bands' has proven mostly successful, the special truth is when these musicians go back to their original bands and not only pick up where they left off, but to leave little room for comparisons and contrasts by their audiences.
"Future Starts Slow" immediately marks the duo's return with a thumping groove and guitar squeak that's refreshing and melodic. The way Mosshart's and Hince's voices meld together, it's obvious they haven't lost a step. The same can be said of on the following song, "Satellite." The latter song also displays range in tempo and mood within a mood. While Mosshart's punchy singing style and attitude will carry over to whichever format she's in, songs such as "Nail In My Coffin," are signature Kills music. Defiant, passionate, and catchy, "Nail" plucks away at a fervent pace. "Wild Charms" is the first we hear "Hotel" singing alone, although it is for the briefest of moments. It's a wispy little ballad, a nice break in the thunder. "DNA" follows, but isn't as inspired as its predecessors. It carries itself throughout, even lasting a minute or more than most of the songs. Perhaps the mood shift of the former song was misplaced at its point in the album.
While there is nothing new as the album progresses, as far as intensely grooving songs and great singing, it never gets stale or boring. Mosshart finally gets her turn at a ballad with "The Last Goodbye," a sweet piano driven tune. As on "Goodbye," this bundle of songs illustrates just how good Mosshart is at songwriting. Her lyrical style punctuates each verse without fluff or shock value. By keeping her words simple, they are just as believable. "Damned If She Do" compliments the former song by strumming in, not a jolt from the ballad. And then it picks up with a funk influence, and we're back into the thick of it.
Blood Pressures pretty much stay consistent with The Kills' previous albums. They give us what we expect from them and remain memorable. The amount of coolness with "VV" and "Hotel" project equals their talent. It worked pre-super band, and it's working now.