Features
Lollapalooza 2011: Friday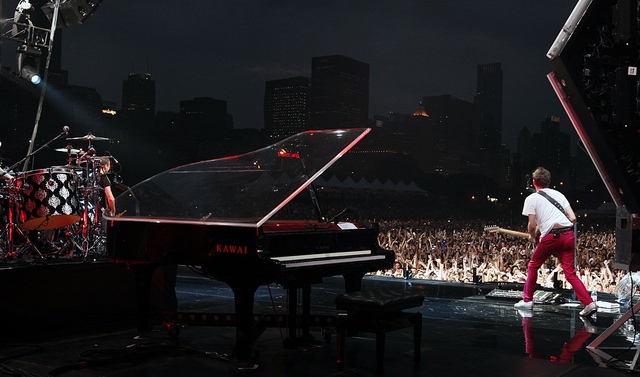 Welcome to Heave Media's coverage of Lollapalooza 2011! For the 20th anniversary of the festival, your intrepid reporters will be music editor Amy Dittmeier (AD) and associate music editor Dominick Mayer (DM).
Friday:
Ruby Jane (BMI, 12:00-12:30)
Austin native and country prodigy (she's 16, as you'll no doubt read in every piece about her) Ruby Jane is a definite talent. Though her early Friday set followed a repetitive format (plugged-in country song, Jane solos on fiddle, loud full-band crescendo, applause), there's something charming about the presence Jane already commands, with a voice resembling Kate Nash and some serious chops. Merging bluegrass and country, and even concluding with a prog-tinged instrumental jam, she made for a fine start to the weekend. DM
The Vaccines (Q Music Unlimited, 12:45-1:30)
"This is a song you can bounce to. It's a rock and roll show, yeah?" The Vaccines' set on the South main stage had trouble getting the crowd energized, which is a shame because it was pretty damn great. Frontman Justin Young is the latest in a long line of English frontmen to exude effortless cool from his first appearance onstage, but where he's distinguished is his echo-heavy vocals, which introduce an anthemic feel to nearly every song. Ranging from power pop to balladry to the occasional loving nick from their current tourmates Arctic Monkeys, the Vaccines' 2010 debut What Did You Expect From The Vaccines? is a full-on announcement of an excellent new band. Their Lolla set followed along; cuts like "Post Break-Up Sex" and "If You Wanna" left an impression and, by the end, got the crowd bouncing. After all, it's a rock and roll show. DM
Grace Potter & The Nocturnals (Bud Light, 2:30-3:30)
If you've seen Grace Potter play in the past year, as she and the Nocturnals have rapidly exploded in popularity, it's hard to believe that their show somehow keeps getting even better. It is, though, and their Lolla set was a command performance. Like a slinkier, more seductive version of Grace Slick, Potter was very much the centerpiece, but the amount of skin on display would feel gimmicky if her bluesy, brassy vocals weren't so hair-raising. It's a measure of how great the set was that "Paris," the band's big hit, was among the least rousing bits. For that, I'd look to "Medicine Wheel," which was extended to allow for a bit of chaos, in which all five band members played a drum solo and Potter flung stuffed tigers into the audience. Certainly this set wouldn't be for all crowds; this is a late-'70s rock revival through and through, and ain't nothing subtle about it. For the rest of us, though, this will go down as one of the weekend's most memorable, and best. DM
White Lies (Music Unlimited, 4-5)
White Lies crawled into my skull with their single "Death" almost three years ago, which played constantly on Virgin Radio aka the only radio station we listened to at work. Then when Ritual came out songs like "Strangers" and "Bigger Than Us" quickly became my go-to travel music. I really thought White Lies' pulsing power chords and Killers-like sound would transfer really well to their on stage performance. I wasn't expecting crazy theatrics or anything of the like. But some subdued thrashing and some staccato stage movements from lead singer Harry McVeigh would've been nice. Unfortunately that wasn't the case. White Lies' performance was boring. The five performing members stood completely still throughout the set, executing songs from their first two albums with perfect precision. I appreciated the quality they strive for with their sound, but a little walking around on stage never hurt anybody. When you're playing the bigger stages at Lolla, it actually helps. Even their performance of "Death" and "Farewell to the Fairground" failed to captivate me and pull me away from my phone or chitchat with my friends. It wasn't the best set to start my day at Lollapalooza with, but I knew some acts later in the day would make up for it. AD
The Kills (Bud Light, 4:30-5:30)
It's hard to assess The Kills' midday mainstage set without putting it in the context of Lolla 2008, in which Alison Mosshart fainted midway through the set. Possibly because of this, there was something tentative about their Friday performance, as though they were withholding beyond first gear. I was reminded of the Black Keys' set on that same stage last year; instrumentally tight, effectively fuzzy and dirty, and yet not particularly good or bad, but just sort of there. The one moment that broke through this was when Mosshart took a breather to bust out "The Last Goodbye," which cut through the oppressive sunshine and stood out as a singular, bone-chiling moment. DM
The Bloody Beetroots Death Crew 77 (Perry's, 5-6)
Perry's Stage is frightening. The grinding, bombastic music thumping from the speakers is terrifying. The sweaty, drugged out teenagers dancing like a Dionysian cult in front of me confuse me. But once I get my bearings and dodge a couple flailing limbs from shirtless boys, I start to really get into the Bloody Beetroots Death Crew 77. I was a huge fan of the Beetroots' first album Romborama but wasn't sure what to expect from Death Crew 77, a live band incarnation of Sir Bob Cornelius Rifo's work in the Beetroots. It was unlike any DJ performance I've seen in a while. Rifo wailed on the guitar while drummer Battles bashed away and his toms. Loud, in your face beats coursed through the live instrumentation and formed the perfect marriage between EDM and rock. The trio was able to command the audience, creating a veritable ebb and flow to their set. Their performance of Godspeed You Black Emperor's track "East Hastings" was a perfect example of this. It's a beautiful track, but it's a slow song. I really didn't think the Beetroots could bring the energy back up and get these people to start dancing again. But lo and behold, Tommy Tea kicked in and just like that, everyone was jumping up and down and grinding again.
It's also worthy of nothing that though I thought Perry's Stage last year had an excellent set-up, this year's version has it's charms too. The DJ stage is now a fully covered tent, which makes it easier for DJs who have a visual show (like the Beetroots) to project it with ease. Half of the fun of going to a DJ set is to see the light show, and last year's Perry's Stage made that impossible. Of course now that's there is a huge tent every person is cramming underneath it to get the full effect so it feels a lot more crowded than last year. But it's worth the sacrifice to see what promises to be a weekend full of strobe lights and video projections.
I'm sad I have to miss Skrillex's set afterwards, but if it meant I got to talk to the Beetroots after their invigorating set then I feel ok with doing that. Stay tuned for our interview with the Bloody Beetroots next week. AD
The Mountain Goats (Playstation, 5:30-6:30)
It's always a blessing to see John Darnielle and co. ramping up the punk tinges in the folk that's made them the unlikely darlings of that scene. It's even better when they take the tragic "No Children" and turn it into an uptempo barroom singalong like they did on Friday. The same could be said for much of their set, which Darnielle spurred on with his usual cockeyed wit. Dedicating "Psalms 40:2" to "desecrating a church with the one you love" and going solo on "You Were Cool" and "Cubs In Five," this was an excellent set from one of the most consistently interesting bands in rock today. And, of course, they ended on the triumphant note of "This Year," joined by Jenn from Wye Oak to add a lilt to that wonderful song's frayed twentysomething angst. DM
A Perfect Circle (Music Unlimited, 6-7:15)
I only catch the last half of A Perfect Circle's set but it jolts me into remember how talented this group it. Consisting of Maynard James Keenan of Tool, James Iha of the Smashing Pumpkins, and every modern music deity we have now, A Perfect Circle makes most of the bands at Lolla look like amateur hour. Maynard's voice rips through the air and lures listeners in like a siren. Sure this style of music isn't for everyone, much like Tool wasn't for everybody either. But you can't deny the technical proficiency and beauty A Perfect Circle projects with every note. It was nice to close my eyes, lean back and let the band's sound wash over me after being bombarded with bass at Perry's Stage. Ending with "Passive," one of the band's slower singles, might have not been the best idea (I would've much rather heard "The Outsider" as a closer instead in the middle of the set), but those last crashing notes ring in my head the rest of the night. Until Muse, that is. AD
Bright Eyes (Bud Light, 6:30-7:30)
Show of hands: Who expected Conor Oberst to come out during Lolla as one of the wildest, most exciting frontmen? He did, and Bright Eyes' set exceeded every possible expectation. Surprisingly, most of their biggest hits, in particular "First Day of My Life," were nowhere to be seen. Instead of the typical slow, acoustic-heavy jams, Bright Eyes went the full-blown rock show route, kicking off with a rendition of "Four Winds" that sacrificed just the right amount of twang. By "Lover I Don't Have To Love," it was abundantly clear that Oberst, for the first time I've seen him in a while, was having an absolute ball. The real standout moment, though, was "Road To Joy," which turned into a stomping anthem that roused the Coldplay campers from their late-afternoon malaise. I think Oberst may have even smiled a little bit. DM
Coldplay (Bud Light, 8:30-10:00)
Fantastic. That's the first and best description I could possibly offer up for Coldplay's headlining set. As Chris Martin pointed out fairly early on, this was their first U.S. show in a few years, and they came out prepared, ready and a whole lot more jovial and fun than you'd expect from a band frequently criticized for the amount of supposedly maudlin balladry they've put out. This was the setting in which to watch Coldplay, because if you've ever laughed at the grandiosity of "Clocks" or "Viva La Vida," that's because it was on a record and not with tens of thousands of people screaming along. Promising at the start that "We're going to try really fucking hard to rock your socks off," you could tell that this was a passionate affair, and in contrast to some other Lolla headliners (Green Day's lazy, premeditated set last year), Coldplay arrived ready to defend their titles as one of the biggest rock acts in the world.
This isn't to say that they suddenly took on the intimacy of a Wilco set. This was an event in every sense, rife with lasers, a light show to rival any other and even the occasional burst of fireworks. It was also a varied set, pacing out the vast majority of their hits with some fan favorites and a handful of new tracks from their coming LP, such as set closer "Every Teardrop Is A Waterfall," a very good song with a really, really terrible name. The new tracks, though, weren't nearly as notable as a plugged-in, louder-than-normal rendition of "God Put A Smile Upon Your Face" or Martin's introduction of "Fix You" including a funereal cover of Amy Winehouse's "Rehab." Aside from the occasional questionable set call (no "Lovers In Japan," the inclusion of the Phantom Planet-aping "Violet Hill"), this was a stellar set that proved that Coldplay belong at or near the top of rock's A-list, "how I know you're gay" jokes be damned. DM
Muse (Music Unlimited, 8:15-10)
I have to be upfront – I've never been a diehard fan of Muse. I've heard Black Holes and Revelations and The Resistance and a handful of songs from their older albums, and their allure has always pulled me in while listening to them, but it never had staying power in my head. Once Matthew Bellamy's voice left my ears I was back to my regular mainstay of music. Muse's set at Lollapalooza has altered this notion. I have now elevated myself to fan.
Muse started with "Uprising," their first single off of The Resistance, and automatically had every head turned on the southside of Lollapalooza onto them. Flashing the chorus of the song onto every video screen onstage, they had the crowd jumping and singing along to their revolution epic in a matter of two minutes. Muse is the epitome of a live band. Where their recorded tracks had little staying power on me before, their live versions had me swaying along to the beat and chanting along with the rest of the crowd. These guys are performers – they know how to work the stage, how to pull a listener in, and how to keep them entertained for their entire set. Everything lights up onstage. Bellamy's guitar and piano light up and shine through the dark, a series of large hexagons project live images of the band members and other imagery, lyrics crawl through the video screens. All of your senses are taken over by Muse and for the next two hours you are their slave. Which was entirely fine by me.
Slinking their way into "Supermassive Black Hole" and "Hysteria," Muse kept the hits coming and played almost all of their singles during their set. They even threw in a couple of treats like "The Star Spangled Banner," "House of the Rising Sun," and "Once Upon a Time in the West," the latter being a song I think most didn't catch. Even with songs such as that and "United States of Eurasia" perhaps flying over some of the crowd's heads, it didn't matter. The lulls in the crowd's participation were broken by songs like "Stockholm Syndrome" and "Starlight," or the random firework display. Just because Muse has to entertain us doesn't mean they can't entertain themselves. Bellamy and the band rarely addressed the crowd, unless it was to say "Thank you" or "We love Chicago." I don't need clever stage banter when I have Muse rocking in front of me. But at one point Bellamy stops thanks the crowd for attending their set, saying "We know you had options. You picked the right one." I certainly did. Coldplay had nothing on these guys. And Dominick, I will make that "how I know you're gay" joke to you later. AD
Photo courtesy of Lollapalooza's Flickr. Photo of Muse taken by Matt Ellis.