Music
Live Review: Unwed Sailor @ Schubas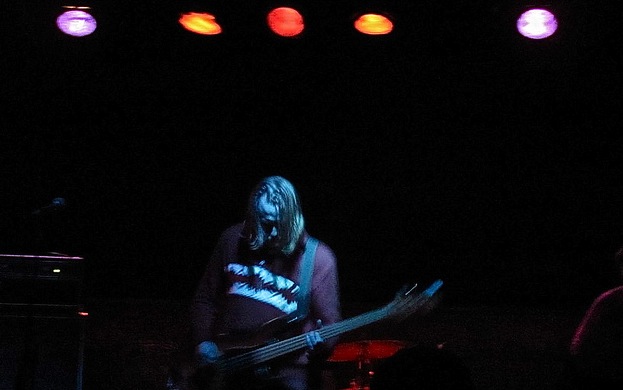 Is there a genre of music more romantic than post-rock? Not in Chicago. Post-rock is in our water here. We drink it up. It's timeless and pure, especially when it's instrumental. So it was appropriate that Schubas and CHIRP showcased Unwed Sailor for Valentine's Day, 2011. Last night I saw faces that I recognized from high school, people who I haven't seen in years (probably not since Tortoise released Standards). But you never forget your first love. And for a lot of us, Unwed Sailor was our first post-rock infatuation. We had to come out to see them all these years later.
Aside from a slightly receding hairline, Johnathan Ford hasn't really changed since 1998 when the band formed in Seattle. He's still swinging his bass wide during the crescendos, and he still isn't singing.
Unfortunately, Unwed Sailor isn't built for a live show. They never have been. Their albums vary widely in style and instrumentation–some more ambient and minimalist, others experimenting with synthy prog-rock. But in the live setting, Ford and his band just churn out the loudest songs in the Unwed Sailor canon. It's deceptively reminiscent of Explosions in the Sky, though Unwed Sailor is capable of so much more. They're closer to an instrumental Appleseed Cast.
Unwed Sailor's set was also disappointingly short, only about seven or eight songs total, without an encore (the crowd pleaded, but Ford denied us). Half of the songs were new, from a forthcoming album due this summer. Ford promised that they'd be back in Chicago in a few months, at a bigger venue. But the crowd just wanted a little more post-rock love on February 14th. Oh, the heartbreak!
Even after 13 years, Ford's music remains emotive and enveloping. But what post-rock band doesn't have similar staying power? Mogwai is still going strong on Sub Pop, Godspeed You! Black Emperor is touring again, and the Sea and Cake still sound great. It doesn't matter what year it is, Chicago embraces one of its founding genres.
Photo by Dylan Peterson