Reviews
May You Never… Pass On Dastardly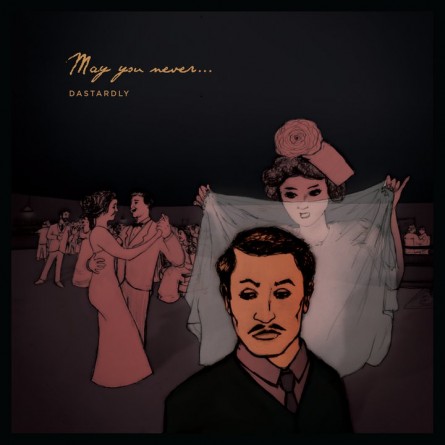 May You Never... Dastardly
Release Date: Dec 09, 10
1
2
3
4
5
6
7
8
9
10
Country isn't exactly a genre everyone is partial to (even if it sells like hot cakes and has its own hot-shots award shows), so it's understandable that you may shy away from something when it's likened to the sounds of accordions and banjos and acoustic guitars with thigh-slapping rhythms. But Chicago locals Dastardly give such sounds an astounding composure that's far more independent-musician than USA-flag-waver.
"Villain" starts and I immediately realize this is going to be an album of beautiful fusion, the likes of a mix between The Decemberists and Parenthetical Girls, an Oregon blend of dope. The harmony between Gabe Liebowitz's and Sarah Morgan's vocals lilt in awesome complimentary contrasts, adding tension and suspense to the music. "You should get yourself another hero" sings out and sets the stage for total self-critique throughout the album. It then falls into a jam reminiscent of a Sega Genesis game – the kind that you would pretend to be sick for just so you could stay home from school to play. It's definitely a strong opener. I'm hooked.
That contrasting harmony comes back in and keeps me captivated on "Exercises in Self Loathing," which, with a title like that, only strengthens the themes of the album. When Morgan isn't present, electric twangs of guitar strings replace her. And it works. And it's egalitarian. I realize now that this is certainly Americana music but it's certainly the sound of America that today's globetrotting melting pot can listen to and simply feel good whilst doing so.
Slowing down three songs in, "Creepy" delivers a punch at the current invisible state of one's self, or is the memory of a neglected childhood. There is a quieted angst surfacing in this song. "I'm creepy/ out of the circle" – who couldn't relate to that? The background builds up like an engine revving, you just know it'll come to this point where it lets go and flies. It soars. In a flat kind of way, but it still takes off.
On "Crystallized," Morgan holds throughout without her male's counterpart. A hokey kind of tune, of growing older and growing old in the heart, it's short. But it quickly bursts into a group effort that's as catchy as it is no longer hokey – but it resorts back to its Americana roots for the final chord.
Upping the hokey on "Middleground," the climax of the album strikes with a peppy tune and emotional lyrics about not being mainstream enough, but getting caught in the awkward gap between misunderstood musician and just getting enough press. In the grander scheme of things, it's quite the ballad. It even breaks into an a cappella cry for sympathy for those in the bizarre purgatory between success and failure. The dramatics kick in along with the self-deprecating jabs at being an outcast artist who isn't the tight-jean-wearing crowd pleaser. We can't always get what we want, even in fiction.
But finishing up the album calls for a memorable ode. "Traffic" wails like an angsty, frustrated, emotional teen who moved to the south and started writing country. It feels wrong, but the song is still playing. Quick staccato strings throw in an Italian essence and I'm being hit by several dissimilar genres all at once. Does it work? I can't tell. After three minutes, the song is still playing to my disbelief. Maybe it does work. Maybe this is the new Americana. Maybe this is the future of indie folk. Or maybe we'll just never know.