Reviews
Movie Review: Tiny Furniture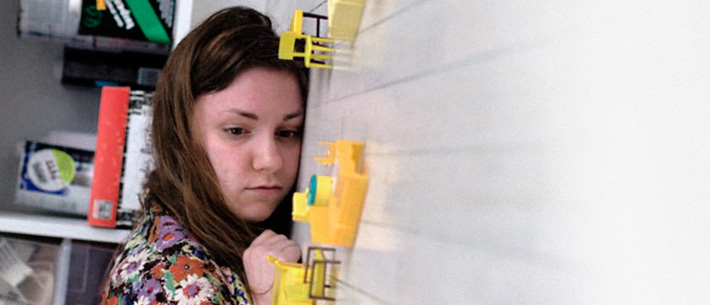 Tiny Furniture Dir. Lena Dunham
Release Date: Nov 12, 10
1
2
3
4
5
6
7
8
9
10
Tiny Furniture is an intimate film.
The winner of the 2010 SXSW Festival's Best Narrative Feature Prize, it also comes off as intensely personal. How much writer/director/star Lena Dunham based the film off her own life isn't clear, but clearer is that Dunham is baring her soul here, putting herself on the line in a way many filmmakers lack the courage to. Part of the film's autobiographical feel also stems from Dunham's decision to cast her actual family members as her family in the movie.
The story revolves around Aura (Dunham), who comes back to her New York home after college, without any idea of what she wants to do with her life, and little motivation to figure it out. It's a bare-bones piece of work, and the naturalistic acting (probably a result of casting mostly inexperienced and non-professional players) of the film's performers sometimes borders on rigid and unconvincing. However, most of the time it works, and it's definitely refreshing to see characters that aren't weighed down by the constraints mainstream Hollywood usually imposes on big stars.
In short, most of the film feels remarkably real. Dunham in particular is almost needlessly exposed. It is truly a fearless performance, and although she occasionally seems to be saying, "look at me," just as the immature Aura might do, at the end of the day she's earned the right to do so; this is unequivocally Dunham's work of art, and she might just be a young auteur in the making. Speaking of works of art, the film also has a somewhat postmodern feel; between what seems to be a self-referential narrative, and the tiny artwork Aura's mother Simi makes in her white-walled apartment, this movie is occasionally too smug for its own good. However, a gracious dose of humor saves Tiny Furniture from being too full of itself, as does a terrific performance by Jemima Kirke, playing Aura's batty friend Charlotte. Kirk's presence is so strong it's as if she's been acting in films since birth (she hasn't.)
Unfortunately, Tiny Furniture is somewhat meandering, and by the end it's hard to feel truly satisfied. But for showing an utterly raw courage, Tiny Furniture is worth seeing, if nothing else because Dunham's film is likely to be the most personal any director has made this year.