News
Kanye mashes 11 artists on track, is he mad?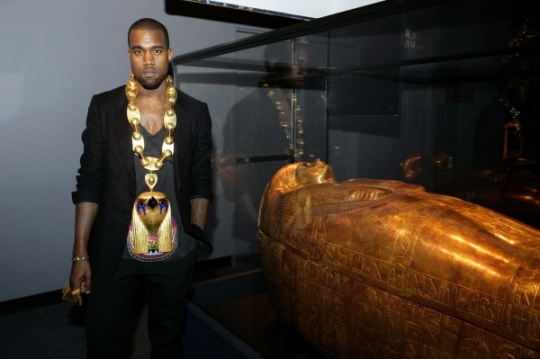 11 artists, one track? And that's not even including 'Ye! Sounds like some terrible desire that applies to an unidentifiably small amount of people on the planet. The song, "All of the Lights," from Kanye's upcoming My Beautiful Dark Twisted Fantasy hit the web and listeners have since been attempting to identify each individual contribution. What's to keep all these artists from clashing styles? Are you ready for the list?
John Legend, The Dream, Ryan Leslie, Tony Williams, Charlie Wilson, Elly Jackson, Alicia Keys, Fergie, Kid CuDi, Rihanna and Elton John. Oh and Kanye West. Those are all the artists on the track. After a few spins a few thoughts come to mind: 1. What happened to four of the artists? 2. Man, Fergie's verse really messes with the tempo and feel of this song 3. Wow, this feels like something epic 4. I feel like Yeezy could have added a few more artists… here, here and here. Joking aside, if you have watched Kanye's 35-minute "Runaway" video than surely this song comes as a familiarity but to be honest, this probably isn't even close to the finished version for the album.
Since album leaks are nothing new, growing is the practice of artists providing a same basic track to throw leakers off their mark previous to release. Kanye spoke on Ustream this week to answer question about the album and certainly, he had something to say about his finish copy of My Beautiful Dark Twisted Fantasy. "I just feel like people who leaks the songs…are really hurting the fans the most," Kanye expressed on a Def Jam DJ conference call. With so many artists missing full verses on this leak, surely a more drawn out version will be included on the album. Here's to hoping Elton John gets to share some of his wisdom in the form of a verse.
In addition to answering questions on the album via Ustream, Kanye toyed with a deluxe version of his newest album in hand. Among all the gold on red printed were five inserts of different cover album artwork, including a controversial one that was blurred out — something Kanye spoke about before on his twitter. Looks like 'Ye went big on the final production of his print work on the album.
Have a listen to "All the Lights" below. My Beautiful Dark Twisted Fantasy hits shelves November 22.
Media
Audio clip: Adobe Flash Player (version 9 or above) is required to play this audio clip. Download the latest version here. You also need to have JavaScript enabled in your browser.