Music
Crate Digger Lesson 9: New Wave Plastic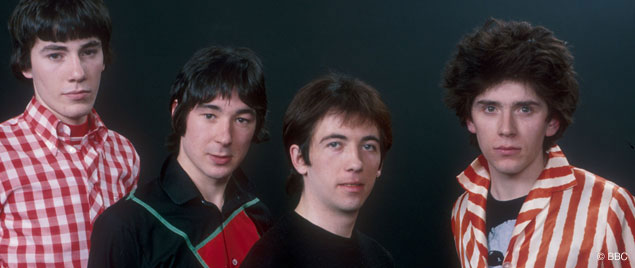 The big New Wave movement of the late 70s and early 80s was the last great surge of vinyl product as an audio format. Next came grunge, which sadly, coincided with the emergence of the digitally compressed sound waves of CD's. As Ric Addy of Chicago's Shake Rattle & Read Books & Records put it, "CDs are like looking at a sunset through a screen door." I think he was quoting Neil Young, actually. Anyway, Neil and Ric are describing the digitization of analog sounds. Producer Ken Dabek describes analog guitar solo sound waves (if visible) as a toddler scribbling wildly in mid air in 3D, so his mad artwork would not be limited to the flat dimension of a wall, but be apparent in mid air- and in color! The digital sampling forces these wild 3D sound shapes into the rigid stair steps of CD compression rates. So while we can enjoy the histrionics of a Jimi Hendrix solo, or lush layers of feedback of Led Zeppelin on vinyl, we have to settle for the pick guard crunching "I Am One" by the Smashing Pumpkins on CD or MP3. Drag.
So New Wave records offer some of the best guitar crunch available. A lot of New Wave combined synthesizers as well, for a really hot mix when done well (see 20/20's Cherie). A lot of punk and New Wave vinyl is getting pretty pricey pretty fast, so look for anything by the Sex Pistols, Clash, Dead Boys, Runaways, Stooges, Ultravox, New York Dolls, Dictators, The Boys, Buzzcocks, The Teardrop Explodes, 999, Plimsouls, Gary Myrick & The Figures, Shoes, Pezband, Off Broadway, Nervous Eaters, Starjets, Genya Raven, Lou Reed, Scott Wilk & The Walls, B-52's, Devo, Elvis Costello, Nick Lowe, Dave Edmunds, Ian Dury & the Blockheads, Pearl Harbour & The Explosions, Blondie, Ramones, Nina Hagen, Lene Lovich, XTC, Split Enz, Oing Boingo, Cheap Trick, Rank & File, Lone Justice, Shakin' Street, Comateens, and T. Rex. These are just a few of the great artists whose work released on vinyl really pops and explodes off of the turntable. As with many genres, the earliest records often tend to be the best releases by these bands (compare the punk energy of Cheap Trick's debut to the synthy wash of Dream Police for an example). Not that the later records are all bad (Dream Police has some great tracks), but overall, they tended to submit to record company pressure over time to produce big hits. Even a hit machine like the Cars went from the energy of Best Friend's Girl to the synth dirge "Who's Gonna Drive You Home" in a few short years.
So now, how about a New Wave dance party!
20/20

Gary Myrick & The Figures

Nervous Eaters

The Boys

The Runaways

Buzzcocks

Starjets