Music
Crate Digger Lesson 10: Prog Treasures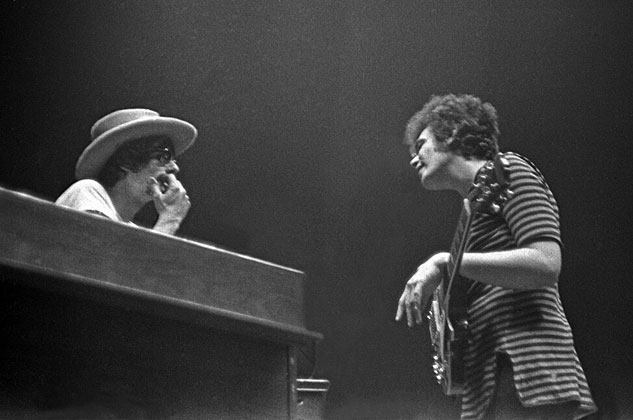 Digging through the racks is like diving for sunken treasure. You have a limited window of opportunity to flip through the racks, pick some potential purchases, and choose the gems worth purchasing. The strangely curious oddities that you may stumble upon may beckon like a siren's call, only to leave you flat once the needle drops into the first groove.  The standard rules of selection always apply: year of release (60s and 70s over 80s & 90s), gate fold over single jacket (more artwork & info inside), poster or lyric sheet included (in decent condition) and intriguing cover art. Of all of these, intriguing cover art is often the best indication of a cool album.  I came across an example of this the other day at Hard Boiled Records in Chicago. This record had a psychedelic kaleidoscope design, and seemed to be simply entitled Music. Song titles on the LP were equally off kilter, like "Mother's Red Light," "Everybody's Got (And You Don't Know)" plus "The Bag I'm In," which I assume is the Fred Neil song (which it was)- Fred Neil's most famous for writing "Everybody's Talking" from Midnight Cowboy.  So I did some quick on-line research (the reliable All Music Guide is always a great place to start) and found that this was actually a Buzzy Linhart band LP.
So I am excited to say that I have discovered a new artist, hippie rocker Buzzy Linhart, and I quite pleased by the music. Some real psychedelic jamming is what you get on "Mother's Red Light," and their version of Neil's folk classic basically reinvents the song. 
Buzzy was a product of the early '60's New York folk scene in Greenwich Village, hanging around with Dylan, Hendrix, John Sebastian, Tim Hardin and Fred Neil.  Buzzy put out five great LPs from 1969 to 1974, full of bluesy folky hippie rock, with a lot of experimentation (like the moogy End Song on his 1969 debut LP, buzzy). Look for any Buzzy Linhart records, usually priced low because not too many are hip to how hip Buzzy is!
One talented producer/songwriter/singer/ keyboard/guitarist  who put a ton of great albums is Al Kooper. His great late '60's albums like I Stand Alone, Easy Does It & New York City (You're A Woman) cover ever genre form gospel, blues and even country, in Al Kooper's Brian Wilson meets Phil Spector symphonic grandiose pop style. Kooper's work is always compelling, different and sounds like nothing you've never heard, but almost seems like you know it by heart immediately. Most tracks sound like they written on a keyboard, (Al's best known for his organ intro on Dylan's  "Like A Rolling Stone" in 1965, one of the greatest opening licks in rock history) In other words, he wrote and recorded instant classics! Pick up an Al Kooper record American pop that was jazzy lounge, bluesy Americana, and stadium worthy anthems all rolled into each song.
Another under recognized master musician in the late, great John Martyn. John is revered by musicians worldwide, but never broke through on US radio, therefore  he sold minimal LPs stateside. But he put a lot great bluesy jazzy folk-rock, mostly on the Island label. Martyn's music is deep core soul music, constructed from his mesmerizing deep vocals and innovative heavy handed fretwork.  He was one of the first to bring world music into his unique art form, recording the Road To Ruin record with Lee Scratch Perry in 1970. And in the 80's his One World Lp is often cited as the first trip hop album. Recently, Chicago's premier rock record producer, Jim Tullio, has been putting together an all-star tribute record of Martyn's great songs. The Cure, Swell Season, Snow Patrol , Donovan and Beck are just a few of the great artists contributing their takes on John Martyn songs. Look for it spring of next year.
And the late great Tim Buckley is an under recognized genius who put out a bunch of amazing albums, mostly on Elektra records. He started out as a folkie, but by his third & fourth LPs he was developing a unique sound beyond categorization. His first two, the self- titled debut and Goodbye & Hello are classic folk rock, a little like an amped up Nick Drake, but with voice that could reach all octaves. By Happy Sad, Starsailor and Greetings From LA, Buckley was much more like John Martyn, combining thrashing acoustic guitar work with deep soul-searching vocals.  And yes, by the way, he is the father of the tragically deceased Jeff Buckley. Obviously massive genre defying talent ran deep in their DNA. They both are missed, but their music lives on forever. If your nimble fingers touch any of these vinyl treasures while flipping through the bins, make them yours! Your turntable & your ears will thank you forever!