Culture
"New Girl" review: "Prince"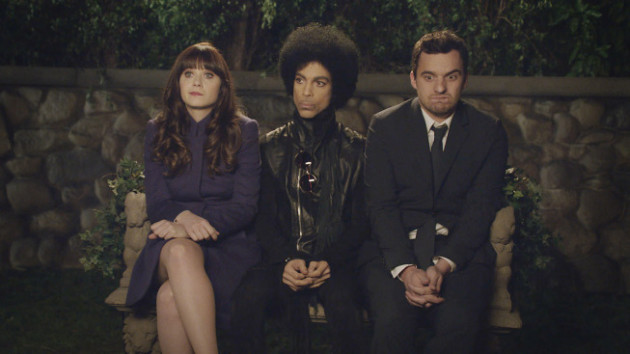 I hope enough people were able to stick around to watch last night's New Girl, considering how the Super Bowl lacked…how should I say…suspense. If they did, they saw a pretty funny episode, as well as proper pronunciation for the word "panties."
Jess and CeCe's good fortune (if you call almost geting hit by a SUV good fortune) turns into an opportunity to party at Prince's house…and react awkwardly after Nick tells Jess he loves her. The general idea of a character with commitment issues isn't original in TV. When Jess gives the finger guns to Nick after he declares his love, it just reminds me of the episode of That 70s Show where Eric says "I love cake" in response to Donna's same proclamation.
It sets things up for uber Prince fans Nick, Schmidt, Coach, and Winston to crash Prince's party, via Schmidt's Ford Fusion (Ford logo getting some paid screen time). The quartet have to get past a large doorman (another trope done before). You really have to question the Purple One's security if Coach and Winston can "Fire and Ice" their way in, even if Schmidt and Nick hilariously could not "Ham and Cheese" on a whim. Rehearsal is important.
I like how organically Nick and Jess' relationship has evolved. This doesn't seem like the type of show that would allow them to have a huge, hurtful argument that would damage things beyond repair. We see that again here after Nick tries to rescind his "I love you" but Jess (with help from a very funny and game Prince in a great montage set to his "When You Were Mine") overcomes her fear to return those three big words. It's been entertaining to see them meet, deal with and come closer after each challenge. This Tuesday's episode could be the biggest one yet, with an ex-girlfriend of Nick's reentering his life.
The scenes at Prince's house, where most of the night's action took place, were the most enjoyable. Nick manages to "trojan horse" with some models inside, while Schmidt very Schmidt-like through some high hedges. This is the second episode in a row Coach and Winston are teamed up and they do funny work here with the security guard, and reacting to a drunk Nick annoying two sexy models away from them. Since this is the Super Bowl episode, we're treated to a few celeb cameos, although I only recognized Dodgers pitcher Clayton Kershaw 'cause he identified himself (Jess was not impressed). I also didn't know until after the show that the two models were Victoria's Secret's own Alessandra Ambrosio and Ana Beatriz Barros, although I'm sure a decent segment of the male population did.
Of course the night's biggest guest star (no, not Ford) was very recognizable. The pancakes Prince eats with Jess was a nice wink to the famous Chappelle Show bit, proving the self-admitted fan of the show was capable of poking fun at himself. He also performed a new song that Jess and crew joined him on stage for in one of those "Only on a TV show" moments that even they couldn't believe happened. Zooey Deschanel, however, should lay off the funkier grooves and stick with the M.Ward, department store sound system stuff.