Culture
"New Girl" review: "Fired Up"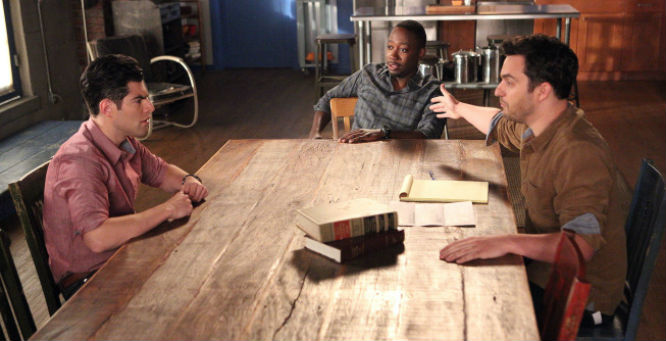 It's always very funny to see Jess at work at her comically underfunded high school, and to get opportunities like we did in this episode to see Curtis Armstrong (good old Booger from Revenge of the Nerds) as the overwhelmed Principal Foster and Brian Posehn as one of the other teachers. The state of that fictional public school in L.A. would probably be funnier if it wasn't mostly accurate, I assume.
When there's an opening at the school for a new volleyball coach, Jess gets Coach the job and he's an instant hit with the kids. After encouraging her to ask for the vice principal position from Foster, she gets it but then has to carry out the unwanted task of firing the newly hired Coach Coach (title and name, naturally) due to budgeting. This is the first Jess and Coach paring since her initial, ill-fated attempt at friendship in "Basketball" earlier in the season. I really enjoyed the comedic work between Damon Wayans Jr. and Zooey Deschanel in this episode, with the crying scene in the bar being especially enjoyable. Those two actors, like most of the cast, will do any thing physically possible to sell a joke and it's always most appreciated.
This main story in the episode wasn't the funniest part, but did progress somethings for the long term. Similarly to "Basketball," Coach and Jess' friendship is tested. She got the promotion she had waited for, but at the expense of her students and the person who fired her up to get it. The solution of renting out the seldom-used library to cover the cost of rehiring Coach was, or course, appropriate for the school's dire situation, but showed how much of a difference make she can be as a more influential school official. Another step in growing up and embracing responsibility. And lack of sleep from the extra work, as evident from the episode's last scene during the credits. And Coach works at Jess' school now, while she's the vice principal.
We got a chance to see Nick dust off his lawyer skills to comically inept effect as he takes Schmidt's case, when some guy injures himself in the storefront in which Schmidt put all of his stuff from his old apartment. Still odd that a guy can walk off the street, enter a place on his own that he thinks is a business, and then sue when he's injured.
Winston, a.k.a Courtroom Brown, was particularly funny throughout this episode as he tried to assist on the case. Whether it was playful piano playing, giving the silent treatment to Jess, or the great stuff as the fake attorney, Lamorne Morris was enjoyable. I've always liked Winston despite the consistent troubles with giving him a better purpose for being on the show. I think the writers may have found something this season. As we learned two episodes ago, he's a screw-up, but there are so many screw-ups trying to figure things out in their late 20s and earlier 30s (me included). Each person represents someone at this age period who've gained varying degrees of success, actually. Every show needs a screw-up who gives out his business card after winning a case that turns out to be a baseball card.
Nick's utter disdain for the profession of attorney (repeated here and in greater detail in "Clavado En Un Bar" from earlier this season) may mean this won't lead to him pursuing the career in the long run. But he and Jess did make a good "power couple," and his quick thinking to avoid a $20,000 settlement for Schmidt to pay was ingenious. Weaselly but ingenious  Plus, it could mean it's not the end of Courtroom Brown.