Culture
The Hipster's Cookbook: Zucchini Gone Wild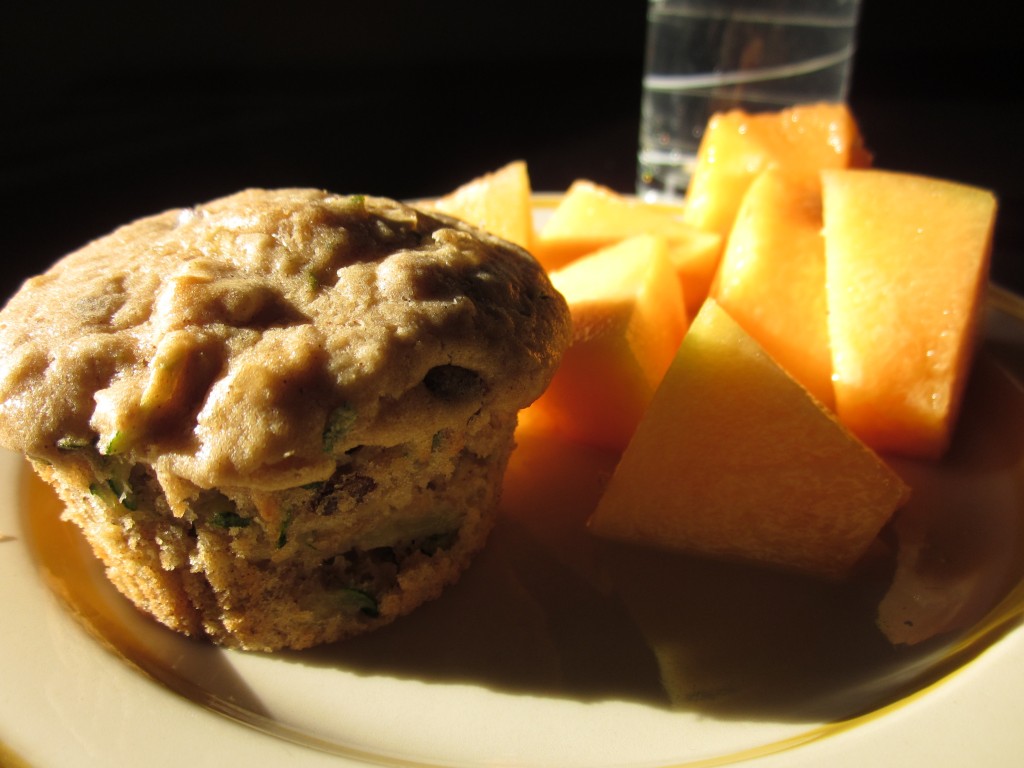 Every week in The Hipster's Cookbook, Meghan Bongartz shows you how to make delicious food on a tight budget.
Several months ago, I more or less won the garden lottery. As someone who grew up with a huge yard and garden and now lives in a rental apartment with no yard, one of the great tragedies of my life is that my ability to grow my own food is limited to what can be planted in pots on my front porch. One of the other great tragedies is that I live in Wrigleyville, which means that anything that I manage to grow on my porch is in danger of drunken baseball fans throwing it in the middle of the street. I was ecstatic, then, back in April, to learn that my name had been drawn for a community garden plot at the park I frequent.
The other gardeners warned me that there's a lot of stealing from the garden plots; some people interpret "community garden" as "anyone from the community can pick whatever they want." I didn't care. I was going to be growing things! In the dirt! Also I mostly intended to plant heirloom tomatoes (yes, I'm obsessed), and my logic was that because they are orange and purple and green instead of the traditional bright red and are frequently misshapen, people would not want to pick them. The really odd thing is that this strategy appears to have worked. I haven't noticed any tomatoes go missing from my garden.
Aside from the tomatoes, I did feel that I needed to take advantage of having a real garden plot in the ground by experimenting with a few other things. I tried eggplant and serrano peppers, both of which produced decently. I also planted okra, which I have no idea how to grow and was therefore not overly crushed when it died because of the zucchini. You see, I put a single zucchini plant in the corner of my garden, and it started growing. And then it kept growing. I am not exaggerating when I say that there were days when I thought it had doubled overnight. It took over the space where the okra had been and made its way into the garden path. And this was just the plant itself. When it started producing, I suddenly had a lot more zucchini than I had ever thought I needed. I sautéed a lot of it, made zucchini lasagna, and gave some away.
But then the baseball bats happened. Sometime in June or July, the zucchini stopped being normal-sized vegetables and started being the kind of thing you could really hurt someone with. It wasn't because I was waiting too long to pick them, either. I would pick literally everything in my garden and come back the next day to zucchini as long as my arm. At this point, I gave up on any sort of creativity and just made a whole lot of zucchini bread. I gave loaves to family members and friends and ate plenty myself. Fortunately, the zucchini plant gave out right around the time when I just couldn't keep up with it anymore. That being said, I haven't picked zucchini in a few weeks, and there's still some left in my fridge.
Zucchini, like carrots, are magical in that you can put them in cakes and breads and pretend that that makes them healthy because they now contain vegetables. I'm not sure how healthy zucchini breadactually is, but it's plenty delicious. It's been far too hot the past couple of days to have my oven on for the hour that it takes a loaf of bread to bake, but I was craving something a little sweet and feeling like I could stomach zucchini again, so I decided to go with muffins instead. They still use plenty of zucchini, but they bake for a lot less time. They're also a much more convenient size for munching on, and, realistically, I don't want to have to wash the bread knife.
——
Zucchini Walnut Muffins
1 cup flour
1 tsp baking powder
½ tsp baking soda
¼ tsp salt
½ tsp cinnamon
½ cup firmly packed light or dark brown sugar
6 tbs unsalted butter
2 eggs
1 ½ tsp vanilla extract
1 cup whole milk
1 ½ cups shredded zucchini
1 cup oats
¼ cup chopped walnuts
¼ cup dried cranberries
1) Preheat oven to 350 degrees F. Line a muffin tin with baking cups or spray lightly with cooking oil.
2) In a small bowl, combine flour, baking powder, baking soda, salt, and cinnamon. Set aside.
3) In a large bowl with an electric mixer, cream together sugar and butter until fluffy. Add eggs and vanilla and beat until smooth.
4) Stir in half the milk, followed by half the dry ingredients. Scrape down the sides of the bowl and repeat with remaining milk and dry ingredients.
5) Add zucchini, oats, walnuts, and cranberries. Stir until combined.
6) Spoon batter into muffin tray (this recipe should fill 12 muffin cups, possibly with a little leftover). Bake at 350 degrees F for 20-22 minutes, or until the tops are golden brown and a toothpick inserted into the center of a muffin comes out clean. Let cool slightly before eating.