Culture
The Hipster's Cookbook: Desert Island Foods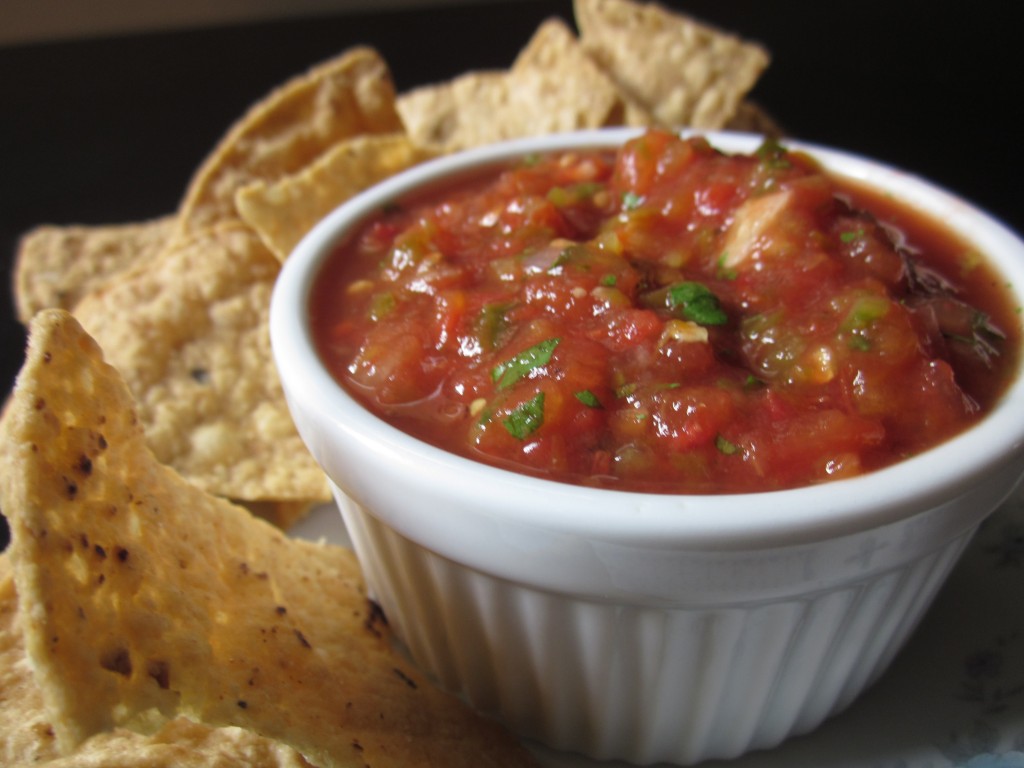 Every week in The Hipster's Cookbook, Meghan Bongartz shows you how to make delicious food on a tight budget.
I have a feeling that I've said that at least a few different foods were my favorite here at one point or another. Eggs and cheese come to mind, and probably several different kinds of fruit as well. I really like a lot of foods, so I wasn't lying. I also quickly get tired of eating the same dish too often, so each day usually brings a different food that I want to eat more than anything else.
Salsa, though, is my desert island food. If for some horrible reason I could only eat one food for the rest of my life*, salsa would be it, and I think it would take a pretty long time for me to get tired of it, for whatever that's worth. If I really were stuck with salsa as my only food until forever, obviously I'd hope to get tortilla chips included on the deal–and I'm going to go out on a limb and say that they go together so well that they're practically one food–but I've also eaten salsa with a spoon straight out of the jar and it wasn't the worst thing. Salsa is truly the perfect food: versatile enough to be eaten as a snack, a relish, or a lazy day meal, and ranging in flavor from sweet to smoky to spicy so that there's something for every palate and occasion. Fruit-heavy salsas made with peaches, mangoes, or pineapple pair well with fish or chicken. Salsa verde is fantastic as the base for enchiladas or chilaquiles.
My favorite, though, is always a traditional tomato salsa that I can scoop up with tortilla chips – again, because this is a perfectly good meal as far as I'm concerned. I shudder to think of the percentage of my grocery spendings that have gone to salsa over the years (actually, I don't because this is not something to be ashamed of), and I've accumulated a list of preferred brands and styles. Of course, in the end, none of the store brands hold a candle to homemade salsa. Fortunately, I have an overabundance of tomatoes right now, so I've been making a fresh batch of salsa pretty much every week.
I've been experimenting with what kind of tomatoes I've been using, and I've found that smaller plum tomatoes work best because they have less liquid. It takes longer to cut up a ton of tiny tomatoes than a few large tomatoes, so I've been using a quart of Juliet tomatoes (which are larger than a cherry tomato, but not by a lot) plus a couple of medium-sized slicing tomatoes. Anaheim peppers are mild as far as hot peppers go, but do have more heat than bell peppers. The jalapeno and serrano peppers will add a nice kick. I prefer to use the grill to roast the vegetables because it doesn't roast my entire apartment at the same time, but you can also oven roast them on a large baking tray.
* I can't think of any scenario where you could only eat one thing for the rest of your life. No one's food allergies are that bad. Maybe if you survived the initial horrors of the apocalypse, but food supplies were decimated and you were pretty much stuck with the Spam left on the shelf at the grocery store until that ran out and you died? Sorry, this is all I can come up with right now.
——
Roasted Tomato and Pepper Salsa
1 ½ quarts fresh tomatoes
2 Anaheim peppers
1 jalapeno pepper
1 serrano pepper
1 onion
6 cloves garlic
Juice of 1 lime
2 tbs white vinegar
1/3 cup cilantro
Salt and pepper to taste
1) Preheat grill to medium high flame (or oven to 425 degrees). Slice tomatoes, peppers, and onion in half. Leave the seeds in the peppers for hotter salsa, or remove them for a milder flavor. Peel the garlic. Don't touch your eyes.
2) Line the grill with a sheet of aluminum foil. If the foil isn't heavy duty, you may want to double layer it. Place tomatoes, peppers, and onion on the foil with the cut side facing down, and place the garlic near the outer edge of the grill where it won't burn. Roast in the covered grill for approximately 20 minutes (probably longer if you're oven roasting), or until char marks begin to appear on the vegetables and the skins blister.
3) Remove vegetables from heat and transfer to the bowl of a food processor fitted with a standard blade. Add lime juice, vinegar, cilantro, salt and pepper.
4)Process until the salsa reaches a consistency that is fairly smooth, with some chunks remaining, about 10 seconds. You may want to use the pulse setting on the food processor to avoid processing too much.