Culture
The 2013 Emmy nominations, in review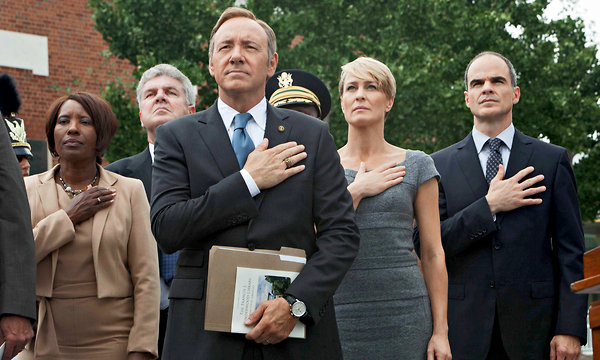 Heave mainstay and Los Angeles transplant Chris Osterndorf chose to break down the Emmy nominations announced this week, and some are testing better than others.
Testing Well
Drama:
-The members of the Academy of Television Arts & Sciences are so well known for getting stuck in the same voting patterns, it's refreshing to see them embrace new blood (and a new means of distribution) with Netflix's House of Cards. Earning much-deserved nominations for Outstanding Drama Series, Outstanding Lead Actor and Actress in a Drama Series (Kevin Spacey and Robin Wright) and Outstanding Directing for a Drama Series (David Fincher), Netflix's first outing in original content stands as a resounding success, at least as far as awards are concerned.
–The Newsroom is often a hard pill to swallow, but Jeff Daniels is always great on it. He rightfully takes his place this year alongside the other leading men in the drama category.
-For all of the acclaim lauded on Homeland last year, one of its most talented players in Mandy Patinkin was snubbed. Thankfully, the Emmys corrected their mistake this year, and he's right where he belongs in the Supporting Actor field.
– Game of Thrones' lovely Emilia Clarke finally makes a splash in the Supporting Actress category, and it's about time. One of the problems with Game of Thrones (and it's not a bad problem to have) is that despite the gigantic ensemble, everyone is so good in their roles it's hard to figure out who to nominate. But as Daenerys Targaryen, Clarke is a fan favorite who embodies the spirit of strong women the show has become synonymous with.
-If you were a Freaks and Geeks fan (and if you've seen the show, how could you not be?) and you also watch Mad Men, chances are you did a little bit of a double take when Linda Cardellini, a.k.a. Lindsay Weir, showed up in the AMC drama's season premiere. As Don's new conquest, Sylvia Rosen, Cardellini shows just as much fire as she did as Lindsay all those years ago, but in a completely different way. Her nomination for Guest Actress was dead on.
Comedy:
– Louie has been nominated for Outstanding Comedy Series. There is a God.
-Although the new season of Arrested Development elicited a lot of reasonable frustration, I was entirely happy to see the show get at least one major nomination in the form of Jason Bateman's nod for Lead Actor. Really, you could've nominated anybody from Arrested's perfect ensemble, but Bateman may have had the toughest job of all this time around, and his performance is definitely worth praising.
-On Girls, Adam Driver plays one of the strangest, saddest, most unlikeable, and occasionally even downright despicable characters on television. His arc on HBO's most controversy-laden comedy was nothing short of harrowing this season. But he's always brilliant at what he does. To see him nominated as Supporting Actor in a Comedy is a little weird, since more often than not he's "depressing funny" as opposed to "haha funny."  But nevertheless, he belongs for the compelling and complex work he continues to show us.
-Yes, The Office may have been well past its prime this season. But Greg Daniel's nomination for writing "Finale," the show's successful sendoff, was fitting and just.
Movie/Miniseries
-The movie/miniseries categories are usually just a chance for the Emmys to shower movie stars who've deigned to grace our TVs with their radiant presence in unrestrained adoration. But I have to admit, as far as movie stars on TV go, you can't get much better than Michael Douglas and Matt Damon in Steven Soderbergh's Behind the Candleabra. Both the movie itself and both its stars got nominations for gaying television up in the most glorious way. Also, American Horror Story pulled in a ridiculous amount of nominations again, and while this year's Asylum was a little much at times, I can't knock Ryan Murphy's gutsy, go-for-broke craziness.
Jumping the Shark
Drama:
-Alright, I can't say I held out much hope for a series nomination, but I was still crossing my fingers that Hugh Dancy and Mads Mikkelsen might get recognized for their outstanding work on NBC's delicious Hannibal. It would've been too much to expect both of them to get a Lead Actor nod, but even to see one of them up there would have quenched my thirst to see this fantastic new show get recognized. Alas, it looks like I'll have to wait till next year.
-In addition to Hannibal, the Emmys left out quite a few other notable drama contenders this time around. I only watched the pilot of The Americans, but there was quite a fervor surrounding this FX drama going into awards season. So to see it get nearly shutout is more than a little noticeable. Another drama that can't seem to make a dent is cable juggernaut The Walking Dead. Don't get me wrong, I have a very complicated relationship with this show, and I'm rarely able to describe it without using the word "overrated." Nevertheless, this is a classic example of the odd habits the Emmys get stuck in. Certain popular shows continue to get all kinds of love from voters (I'm looking at you Big Bang Theory/Modern Family), while others they turn up their noses at. And as long as we're on the subject of popular shows, I have to say I'm shocked that Fox's freshman hit The Following didn't get thrown a bone either. This is another one that I didn't even really care for, but the fact that Kevin Bacon couldn't even scrounge up a Lead Actor nomination is just puzzling.
-I know that Showtime's Dexter isn't quite as hip as it used to be, but to not even see Michael C. Hall get a nomination this year genuinely surprised me. After seven years, he's still doing outstanding work as America's favorite serial killer, and that would be a tough thing to accomplish for even the most gifted actors.
-While I haven't watched this show, everyone is saying that Tatiana Maslany is the second coming on Orphan Black. Her failure to garner a Lead Actress nomination proves that even in a post-Game of Thrones world, the Emmys are still reluctant to recognize more genre-based entertainment.
-One of the more bizarre things about all the love for House of Cards was the one award it didn't get nominated for. As troubled Congressman Peter Russo, Corey Stoll was nothing short of a powerhouse in the show's first season. Yet he's noticeably absent among the contenders for Supporting Actor.
-None of the nominees for Outstanding Writing for a Drama Series are bad choices, however I was surprised to see that Mad Men didn't make the cut this time around. At the very least, "In Care Of," their stellar season finale, should've earned them a nod. Although it's hard to argue with choices like Homeland's "Q&A," Breaking Bad's "Dead Freight," and Game of Thrones' "The Rains of Castamere," better known as the "Red Wedding" episode.
Comedy:
-Um, where the hell is New Girl? Somehow, Zooey Deschanel managed to eek out a nomination last year for playing the most annoying character on television. Yet this year, when the show really came into its own and the writers toned down Deschanel's quirkiness and worked to foster the ensemble, New Girl is nowhere to be found. Besides a nod for Outstanding Comedy Series and a Lead Actress nod for Deschanel, Jake Johnson deserved to be included here for his excellent work this season in the Lead Actor category. Even Max Greenfield couldn't get a repeat nod this time around for playing the loveable/hateable Schmidt, who's the kind of over-the-top character the Academy loves in supporting categories. Sorry Emmys, you're going to have to put a dollar in the douchebag jar.