Culture
Live review: Twelfth Night / Thirteenth Night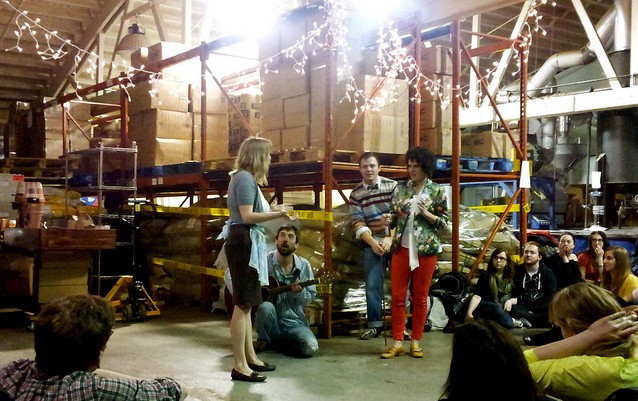 If you live in Chicago, there's a good chance that you took a Second City improv class at some point. Who didn't, right? We (by "we" of course I mean us writers, musicians, actors, artists, servers, bartenders, baristas, DJs, dog walkers, post-college-whatever-the-hell-we're-doing-in-Chicago-stillers) live here, so we have to take advantage of our comedy scene. Improv is one of our city's proudest pastimes. SNL is still handpicking them from here, iO still splits our sides, and The Onion brought their headquarters back from that overrated city of New York. We are the comedy city, and if you were at the Metropolis Coffee warehouse on Monday night, this would've been even more obvious.
This free event celebrated Shakespeare, Chicago style. It was BYOB, with a pinata, free shots of Koval whiskey, the rich aromas of freshly ground coffee, and free pork rinds. And this was all before the shows even started. Just another Monday night in Chicago I guess.
The first troupe, the Back Room Shakespeare Project, performed Twelfth Night, a comedy I had not seen before. Real quick, full disclosure, I am not a Shakespeare scholar. Not even close, really. I enjoyed Taming of the Shrew back in high school, but it's been a few years since I've read or seen anything by old Bill. All I hoped for on this night was that I wouldn't hear some cheap joke about something "to be or not to be" or a Montague/Capulet rift. Thankfully, these troupes weren't lazy.
Surrounded by burlap sacks of coffee beans, the actors embraced Shakespeare's comedy with equal parts irreverence and homage. Cross-dressing, star-crossed lovers played their roles with postmodern self-awareness and broken modern English. Busting down fourth walls was a part of the fun, with the actors delivering their immortal lines like some weird mix between Patrick Stewart at Steppenwolf and your drunken roommate complaining about the latest episode of Project Runway. The story held true to Shakespeare's original version, a wild comedy of errors that ends happily with love and kisses. But the next show took Shakespeare's other dramatic mask and made a giddy mockery of that frowny face.
The Improvised Shakespeare Company has been going for a few years now,  and this was my first time seeing them. I know, it's taken me way too long. I know. But you were all totally right. This is the smartest, quickest, most jaw-droppingly hilarious improv group you'll see in this city. If Ross Bryant isn't rich and famous in a few years…well, never mind, he will be. But for now these guys are ours, the pride and joy of Chicago. On Monday they improvised a direct sequel to Back Room's rendition of Twelfth Night entitled, "Thirteenth Night: Tax Nightier" (the "Tax Nightier" part came from an audience suggestion to start the show. I suppose because it was April 15th…tax day. Except…night. So…nightier. Anyway). The all-male cast makes up limericks in matters of seconds, none of which ever fall flat. As they steadily build a plot, the archetypes of Shakespeare are magnified into what eventually becomes a surreal dreamworld of androgyny, incest, revenge, heartbreak, and tragedy. It's stunning to watch it all come together.
I'm not giving anything away here, but "everybody's gonna die!" Even the taxman who came to Malvolio's party to collect the annual debts, greeted by a pile of corpses and a guilt-ridden antagonist holding a knife at his own chest. How does it all come to this classic Shakespearean end? Pure improv. That's what makes this troupe so remarkable. And writing about it does no good. This was visceral lucidity. The one request the actors made at the beginning of the show was to not record any video. They reminded us that this was the debut performance of Thirteenth Night, but also the final performance as well. It was an event that only we would experience for this brief moment. We had this one chance to laugh at it, so nearly 200 of us did just that.
Luckily, the Improvised Shakespeare Company still performs every Friday night at iO. Shakespeare buffs and philistines alike can marvel at this insanely talented troupe's take on the bard every weekend. But Monday night was special. It was a night to celebrate Shakespeare, local coffee, rainy tax days, and Chicago's best and brightest in improv comedy. Why celebrate all those different things at the same time? Because, it's improv in Chicago and the first rule is always say "yes," and." Thanks again, Del Close. Whether we're in the midst of some bizarre comedy or a painful tragedy, we're only in the moment for a little while, until we're on to the next moment. And we'll say "yes, and" to whatever that one is too. If those Second City classes taught us anything, it's this. And so we laugh and have fun even on a tax day, even on a Monday, even when it's rainy. This is just our scene around here.