Culture
Heave DIY: Costume Apathy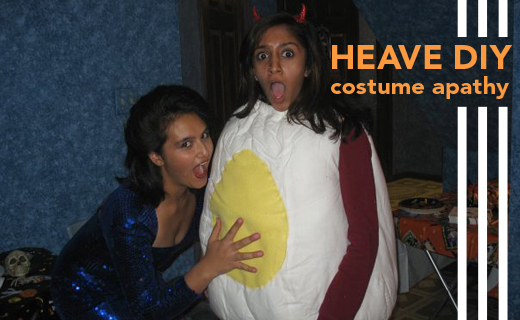 Halloween ennui hit me at age 13 and hasn't let up since.
High school parties typically involved a bunch of girls dressed up in someone's garage, while the guys scoffed at our every move. Themed day-drinking extravaganzas were a regular occurrence at my university, so Oct. 31 was nothing special in college either. Still, I refused to buy costumes off the rack.
Thus, I've mastered the art of the copout costume: the mildly socially acceptable ensemble compiled from random objects at the last minute. In lieu of a tutorial, I bring you a retrospective of my most apathetic costumes in history with tips on how to recreate them:
I had this blue dress from a family friend's communion or something. I obtained the Viking helmet a few months prior for a French class presentation in which I was the comic book character Asterix. But that disco shirt…I don't know, I found it at a thrift store and really, really wanted to wear it. Of course Viking princess would have been more effective without it. Was it more creative than my friend's dead bride outfit? Yes. Was it a hindrance to my candy-obtaining ability? Yes. Was it worth it? Yes.
Try it yourself: You'll need three props or items of clothing with no relation whatsoever. Like, mullet wig, hammer pants, rhythmic gymnastics ribbon. Camouflage, tube socks, Wayfarers. Roll with it.
Fairy has got to be the most halfhearted Halloween costume in existence. It's basically wings plus whatever you feel like. Case in point: As sophomores in high school, my three best pals and I went out as a regular fairy, a punk fairy, a Steeler fairy and a Tina Turner fairy. When we descended on an unguarded bowl of candy left on someone's porch, we yelled "fairies attack!" Hilarious.
Try it yourself: Really though, wings plus whatever you feel like.
This one was actually clever and intentional, albeit extremely simple. I printed the "P" from a computer and stuck it to a white tank top about five minutes before leaving for this garage party. I also wore sweatpants.
Try it yourself: Go big by making two gigantic cardboard letter Ps, affixing one to your front and one to your back for three-dimensionality. I'd also suggest wear a solid-colored unitard instead of sweatpants because, come on, you're already copping out.
I use scare quotes because this wasn't even a costume. It was a nickname I earned sophomore year of college for the way I dressed and acted pretty much every weekend. In fact, this photo isn't even from Halloween. Anyway, my costume on Friday of Halloweekend junior year was merely an overdone up version of my then typical weekend outfit: black top, black pencil skirt, knee-high boots, heavy black eye makeup, big hair, padded bra. When I showed up to a party where girls were actually trying to be Snooki, my lack of enthusiasm was met with looks of disgust.
Try it yourself: We're on season six – surely you know the drill by now. And surely you know that this "costume" is no longer relevant or funny. Next.
I did try for the second half of the weekend. I thrifted a sequined dress and metallic shoes, puffed up my hair (again) with a glittery headband and had a friend paint colored squares across my face. Some people didn't get it but, if you haven't noticed by this point, IDGAF.
Try it yourself: Sequins. Face paint. Glitter. More sequins. Metallics. More glitter. Just pour it out on the floor and roll around it in. You want to find sparkles in ungodly places the next morning.
But I wasn't always apathetic about my costumes. If you're feeling creative and inspired, here are a couple of my favorite handmade ideas that are fairly easy to recreate:
Deviled Egg
My grandfather actually constructed a three-dimensional egg that I slipped over my head and slid my arms through. He put a lot of time and care into making it, and I was extra gentle with the apparatus when I first wore it in sixth grade. As a junior in high school, however, it was super fun to chest-bump everyone.
Simplify: Don a baggy, plain white sweatshirt and affix a circle of yellow felt to your chest. Add red tights, devil horns and a tail. Done.
Fire
Before the deviled egg came a gold crop top and flared pants, part of my Scary Spice ensemble. The year after, I added flames and a cape.
Simplify: Lamé outfits are pretty easy to come by these days. Peruse American Apparel and your friendly local thrift store for gilded options, then deck out your finds with red and orange paint. Don't forget the cape!
Heave asks: What are you dressing up as for Halloween?