Music
Though they've cleaned up, Thee Oh Sees haven't lost their edge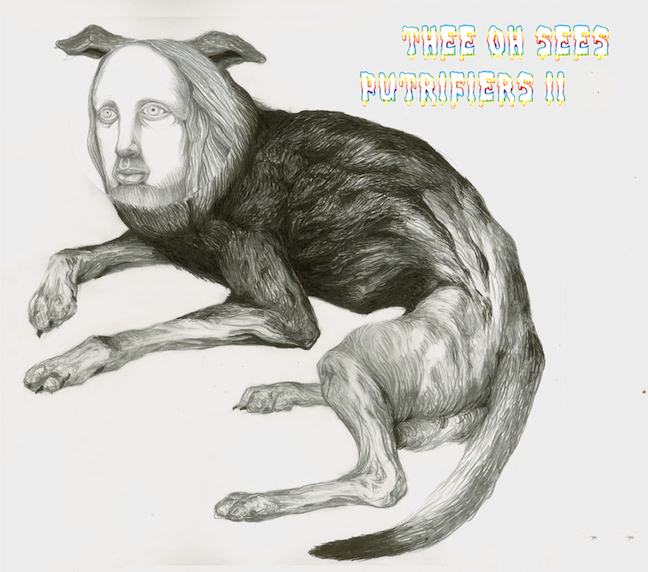 Putrifiers II Thee Oh Sees
Release Date: Sep 11, 12
1
2
3
4
5
6
7
8
9
10
When a notoriously raw and rackety band cleans up their production, it can certainly subdue the album they're providing cleaner production on. It happened with The Strokes' First Impressions of Earth, and it most definitely happened last year with Dum Dum Girls' Chrissie Hynde-biting Only In Dreams. Having a more professional sounding release can be a turn-off in a lot of cases, and can certainly destroy a lot of the character that a band most famously exudes. For the tenth album by Thee Oh Sees, Putrifiers II, that is totally not the case. And though there's no Putrifiers I, there's a whole slew of terrific and raw Thee Oh Sees albums that have led them up to this moment. Putrifiers II is a rare scene in the modernity of music fitting in impressively with this retro-leaning band. Thee Oh Sees have managed to produce a record filled with the future's musical mode-of-operation in looking back.
The album starts off with a mind-bending minimalist classic "Wax Face." The song's repetition works incredibly well as it sounds as if the chorus of "19th Nervous Breakdown" went a little too hard on an acid trip. The album lets you know its Magical Mystery Tour-influence with "Hang a Picture." But just because the song has an obvious "Fab-Four"-outer shell, "Hang a Picture"(as well as the whole album) is deeply rooted in the same style of play Thee Oh Sees have always relied on: writing strange pop songs that could fit into practically any late-20th century decade. The third track is one that either John Cale and Lou Reed will be incredibly proud of, or want to file suit against, because "So Nice" perfectly encapsulates the early-Velvets viola-dissonance of tracks like "Black Angel's Death Song" and "All Tomorrow's Parties." It's a real beaut of a song, and though it may be Velvet Underground sounding, it has terrific production value, and the viola creates a pacific atmosphere over John Dwyer's echoed vocals.
The song wonderfully transitions into the synth minimal noise of instrumental "Cloud #1" before the album kicks back into high gear with "Flood's New Light." "Flood's New Light" has Phil Manzanera-like guitar, and has an excellent chorus of "ba-ba-ba"s that go against Dwyer's falsetto terrifically. The album's longest song is its title track, a song that experiments with song structure, production value, and is one that has a gigantic bridge. It starts off slow and spacey in the verse, but when that bridge kicks in, your face melts from shuffling power-chord-noise that would make Ty Segall jealous. "Will We Be Scared" is as close to ballad territory that Thee Oh Sees could ever get into, and the song has equal parts atmosphere of Tommy James & The Shondells and Deerhunter. In fact, the combination of Dwyer's occasional falsetto and slapback vocals eerily is reminiscent of both Tommy James and Bradford Cox.
The last three tracks recall two bands: Cream and Broadcast. The latter in experimentation, and the former in all around sunshine psyched-out vibes. "Lupine Dominus" is one of Dwyer's finest showcases of his ability to make his guitar howl like hurricane-wind. With that combined with very Broadcast-like electronics, the song is sure to be a live-trip. "Goodbye Baby" has a very summer of love feel, and is perhaps the only song on the album that could be a hit. It's layered on top of wonderful strings, Beatles-y synths, and a wonderful varied vocal display by Dwyer and Brigid Dawson. The last song "Wicked Park," definitely recalls Freakbeat experimentation, and easily could be a recognizable track in a Pretty Things record, a late-Byrds album, or even in one of Nilsson's more minimalist moments. It's a very pretty display of baroque psychedelia, and closes out Thee Oh Sees most immediate and well-performed album to date.
It's very interesting to look back at all the ground the band has already broken in garage rock, and now as they incorporate baroque instruments (both wind and stringed), they seem to be at their most brilliantly productive and experimental. Putrifiers II is an album that should have came out 45 years ago, but having it today feels just as exciting and vibrant. In a day and age filled with partisan politics, a torrid economy, and an increasingly falsified indie rock, Thee Oh Sees' Putrifiers II invites you to spark up, sit back and escape into a musically transcendental experience. An experience filled with thought-provoking escapism and a push to ignore your worries and relax over some beautiful baroque-jubilation.