Culture
Monday Morning Roundtable: Vice Presidents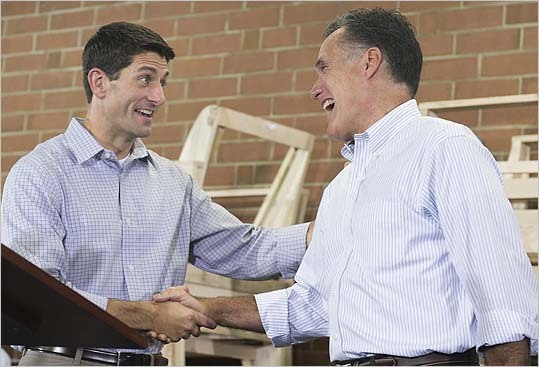 This week, the Heave staff was asked:
If you could pick a Vice President for your POTUS campaign, who would it be?
Quinn McGee
Mayor McCheese. He is one of the longest-running mayors in history, and has been dealing with burglar problems for a long time, so he would be valuable in helping deal with rising crime rates.
Calhoun Kersten
Are we actually trying to be politically relevant? Because instinctively, I want to say Oliver Queen (a.k.a. Green Arrow), because he's a badass and has political experience as mayor of Star City. Plus, who wouldn't feel safer with a master archer in the White House?
Cory Clifford
Josh Watkins
Cormac McCarthy. Watkins/McCarthy 2012: For a more brutal, soul-crushing America.
Chris Osterndorf
Speaking as a Wisconsinite, I can say that Paul Ryan is a smart pick, if not surprising. Chances are he can only improve Mitt Romney's (slim) chances, all the while establishing himself as a presence leading up to 2016. Personally, though, if I'm running for president, I want someone who's really going to shake things up. Someone who's going to be always exciting, if not always politically correct. So, I hereby announce Kanye West as my running mate in 2012. He's liable to make a few gaffes, but he's hard-working enough to win people over in the end. Plus, I just really want to hang out with Kanye West.
Michael Alexander
Without question, Chris Rock. He's politically aware, conscious of current social issues and can always break tension with a "yo mamma" joke. Need further proof of his qualifications? Watch Head of State.
Johnny Coconate
Batman, because he has the money and would put the other guy in the hospital.
Meghan Bongartz
Leslie Knope, obviously. She's already politically successful, and it's been established that she's the closest thing I'm going to find to a clone of myself. It'll be the most productive four years ever.
Dominick Mayer
We hear every day about a lot of American heroes, sung and unsung alike. How many of them, though, have the practical, street-level experience necessary to get things done at the national level? My co-runner in 2016 will be former horse cop Gettin' Lucky. Known in short as O'Leary to the Chicago police force, Gettin' Lucky came from humble beginnings as the youngest colt in a family of seven. His widowed father served during the infamous Democratic National Convention riots, but worked tirelessly to make sure Lucky would get the chance to study horse law at Northwestern. After rising to the rank of lieutenant in only three years, Lucky's promising police career was cut short when he was nearly sent to a glue factory due to a clerical error. He is the kind of hero America needs, now more than ever.