Culture
Wavefront Music Festival 2012: Saturday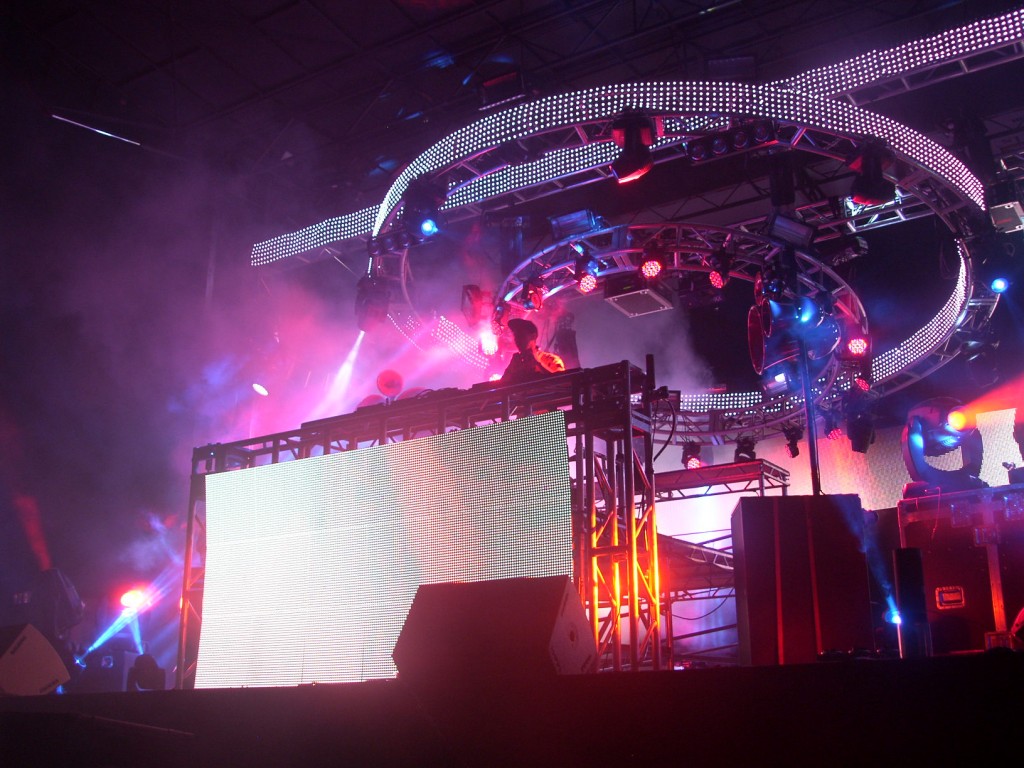 Welcome to HEAVEmedia's coverage of the inaugural Wavefront Music Festival, on Montrose Beach in Chicago! We've been out all weekend taking pictures, catching sets and doing some high-quality people watching, and we're thrilled to share now. Check back Monday morning as well; we'll have day two of the festival covered then. Your correspondents are:
Dom – Dominick Mayer, features editor
Dez – Desiree Mitchell, staff writer
Kalendr + Inphinity (South Stage, 1:15)
There really wasn't much going on at the 1 o'clock hour when I had arrived, but it seemed as if the South Stage had most of the draw, so I checked out Kalendr + Inphinity first. For the most part, they had more of a house-y sound, and seeing as Chicago is basically the home of house, it was a no-brainer that everyone else flocked to this stage. They dropped a sweet remix of Empire of the Sun's "Walking on a Dream," which is an easy crowd-pleaser. This was a smart move, because people almost immediately start dancing along to that track. We get excited as we start to hear the female vocals of Red Carpet's "Alright" looping for a few moments as the boys mix into another booty-shakin' track. Later on, they go into a trancey breakdown that slowly progresses into a harder track that is more uplifting and high-energy. When the beat finally drops, the breeze starts to pick up. On this hot, sweaty day, it couldn't have been any better than that. If nature is on your side, it's a surefire sign that you're doing something right. Dez
VisionQuest (North Stage, 2:30)
For those that wanted to avoid all the fist-pumping top 40 remixes that other DJs were spewing out, VisionQuest was the place to be. I immediately recognized them when I saw the Michigan sticker on their Macbook, and got a little excited. This Detroit-based collective banged out several original-sounding tracks that consisted of synth-heavy minimalism. They opened with vocals chanting "Love is a crime" looping on end, followed by a bass-heavy beat pumping through the speakers. Soft, cooing female vocals followed as they transitioned to a rather house-y tune. This liquid-cool track was definitely appropriate for the summer heat. Sweat drenched bodies (mostly shirtless may I add) were littered around the stage. The bass just vibrates through your body. This is my first time checking them out, and I already love them. The four guys on the decks (with Seth Troxler along with his three buddies Ryan Crosson, Shaun Reeves, and Lee Curtiss) definitely made a great start to my day. Moving on! Dez
Special E.D. (Local Stage, 3:00)
Local duo Elias Younan and Daniel Maric are Special E.D., specializing in the sort of  hard house music for which our fine city is renowned. That said, as house goes, and while solid, the duo has very little to distinguish them or keep things memorable. The most exciting moments in their set came courtesy of their live-produced vocals, and in their heavy attack, which moved the small but energetic Local Stage crowd to dance. (I'll talk a bit more about the Local Stage in a bit.) Overall, this was solid midday stuff, but like so much of Wavefront's first day, it felt more like capable background music for a nightclub than anything distinguishable. Dom
Art Department (North Stage, 4:00)
After meeting some rad people, I couldn't really peel myself away from this stage. It seemed to have the most interesting artists on board, and since my new buddies were well-versed in Art Department, I figured I'd give them a whirl. This time around on the North stage was a duo that hails from Canada. Jonny White and Kenny Glasgow caught the attention of a sizeable crowd, banging out tracks that sounded as if they came straight from the 80s and early 90s. Bringing back the old school with a vengeance, people were shaking their asses like they just didn't care. The party was now in full swing. They did a great throwback sampling a lick of an Erykah Badu track "On & On." My friend nudges me when he hears the guys mix in the Droog track "Unhinged" with a slight delay spliced with vocals from another track. I hear Art Department is doing an after party at Smart Bar later on in the evening. Guess who's going to check that out? Dez
Sultan & Ned Shepard (South Stage, 4:00)
For an audience who was clearly all in to party for an entire weekend, it's hard to imagine a more fitting set than the one Sultan & Ned Shepard put on. Full to the brim with Top 40 samples, including one utilizing Adele's "Set Fire To The Rain" that brought the house down, this was pure party music with recognizable stuff that even a casual listener not particularly aware of the EDM world could get into. The fact that their attack is absolutely relentless probably didn't hurt either; this was pure bass-heavy, arena-ready techno. After a while the samples started to feel a bit pandering, though, especially given how each track followed a general pattern of song climax, sample, buildup and then expansion into a new track that, for the most part, would totally drop the sample. At that point it felt like a bit of a cheap pop to invoke Red Hot Chili Peppers (twice) or Adele, but this likely offered little to no distraction for the wild, fist-pumping crowd. Dom
MSTRKRFT (South Stage, 6:45)
The most anticipated act of my day was, yet again, a Canada-based duo. Seeing them a few months prior at the Mid for a free show thanks to Bacardi Plus did not do MSTRKRFT much justice. It was a terribly packed and uncomfortable experience. Being outdoors makes all the difference. The crowd was hella unruly during the entire set, to the point where the gate partition that separates the backstage crew from the main crowd was about to collapse onto the press pit in front of the stage. For starters, MSTRKRFT opened up with a perfectly remixed version of "Vuvuu," a track familiar to any longtime listener of the group and one of my all-time favorites. As the main riff started to slow and build tension, the crowd just went wild. When the drop finally came, it was absolutely nuts out there.
The group went back and forth between their usual arsenal of tracks and a handful of perfectly decent dubstep tracks. Once they got hold of Nero's "Crush on You," everyone was completely blown away. They managed to make the original sound like crap in comparison. Personally, I'm impressed with all that multi-tasking that's going on up on the decks. Smoking a cigarette, drinking a beer, and mixing sick-ass music all at the same time? Damn, you got me there! Every single one of MSTRKRFT's drops and build-ups were met with great anticipation. They addressed the crowd with "Yo what's up Chicago! We are MSTRKRFT." No one else that I saw at the festival ever addressed the crowd directly. Something as simple as that definitely puts a personal touch to a performance. With a little bit of metal, a little dub, and a whole lot of glitch, I left that set with a huge smile on my face. Dez
Boyz Noize (North Stage, 8:30)
As soon as I saw Boyz Noize's setup, I was pretty impressed. Deviating away from the typical Macbook set-up, I saw him flipping through a giant book of CDs as he carefully selected a variety of tracks familiar and new, including the Prodigy classic "Smack My Bitch Up." When the sun finally went down, everyone was fully immersed in the pyrotechnic light show that came fully equipped on the Boys Noize stage. It was also about this time when everyone got out of hand. There was a wave of glossed-over eyes and kids trying to hop the fence attempting to get to the stage. Some succeeded, some failed. It was one hell of a show, despite the fact that it was basically a DJ set, rather than a Boyz Noize performance. Dez
Other observations:
-If Wavefront aims to continue for a second year, or expand, they need to restructure a few things. For one, not only are there no water stations (at a dance music festival), but outside water is banned even in closed containers, and getting it inside the park will run you $4. There's also the matter of the side stages; the Local Stage is hidden so deeply behind the VIP area by the North Stage that it's impossible to see, and if you're watching a set there it gets soundly drowned out if you're standing even a bit to the side of the stage. The Solar Beatz Stage, meanwhile, is right near the entrance and crammed into a corner so inconspicuous that there was virtually nobody there all day.
-There's also the VIP section. Not only is unlimited alcohol proving to turn Wavefront into even more of a bacchanal than your average outdoor dance festival, but VIP access also meant, for much of Saturday, that wristband holders could also go into the backstage and photo pit areas. While this added to the wild party atmosphere, it also proved to be more than a bit of a mess, especially when you factor in media members trying to manuever around guys shotgunning cans of 312.
-That said, Wavefront is otherwise set up really well. The stretch of Montrose Beach being used (near Wilson) has a big ridge separating all the food and merchandise tents from the stages, and the North and South stages are divided enough that there isn't much audio bleeding until you're right between the two.
-Attendance was really weak in the early part of the day, but by headliner time the festival was packed. That's a reflection of a lineup that featured an early part of the day heavy on DJs unfamiliar to those who don't actively listen to a lot of electronic music. That's not meant as a value judgement, incidentally.
Coming tomorrow: James Murphy DJs, A-Trak appears in Chicago for the second time in three weeks with Duck Sauce and Eric Prydz overcomes his fear of flying to bring "Call On Me" and other things to Chicago. Also, pictures!