Features
Wavefront Music Festival 2012: Sunday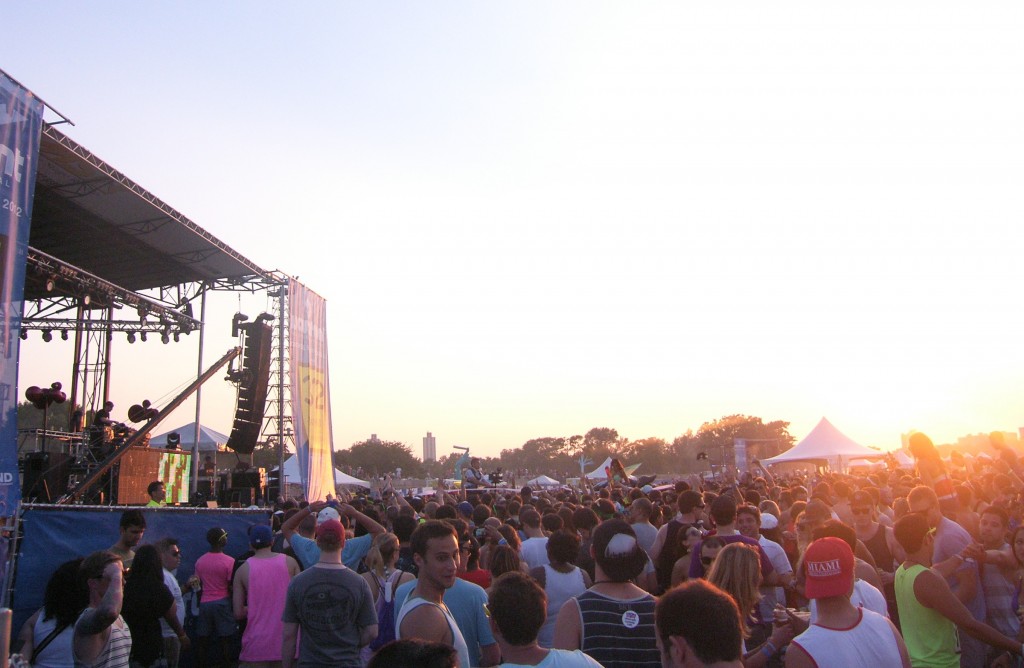 With the past weekend's first installment of the Wavefront Music Festival behind us, we've been able to finally take a breather and stop dancing long enough to bring you coverage of the second day of the festival, a day that saw a start, stop and later start thanks to the massive storm clouds which rolled through Chicago in the early afternoon. Because of this, Shit Robot, James Murphy and others were never able to take the stage. We toughed it out, though, and have coverage and some pictures to bring you for the rest of the day. Your correspondents are:
Dom – Dominick Mayer, features editor
Dez – Desiree Mitchell, staff writer
Danny Daze (North Stage, 3:00)
One of Wavefront's masterstrokes of planning their first year was to organize the two main stages stylistically, with the more high-energy, pop-friendly acts on the South Stage, and the more atmospheric, mellower DJs on the North. Among those was Danny Daze, whose concoctions were deceptively simple, while showing a flair for subgenre-hopping flourishes. Daze's songs pull in everything from twinges of ambient, airy rhythms to tribal-esque drums while allowing the samples to go on for longer than so many ADD-riddled modern DJs. Luckily, the day two crowd was much larger in the early afternoon than the first, which granted Daze a sizable audience for a strong set. Dom
Lee Foss (North Stage, 4:00)
The engagement on the crowd's part continued strong on the North Stage from Daze into Lee Foss, who inhabited similar genre-defying style if to slightly more mixed returns. Both crowd and light show (considerably stepped up for the earlier acts from Saturday) fit Foss' compositions, which foregrounded a constant and pounding bass thump, along with some funk basslines and some of the propulsion of disco, among other things. There were also several bursts of synth that helped to offset the nonstop bass-heavy attack Foss employed to keep things loud and moving. While solid, there also wasn't anything too distinctive about the set to distinguish it from others over the course of the weekend. Dom
Chris Lake (South Stage, 4:30)
Before I get into this review, I'd like to add as a side note that during Chris Lake's set, I managed to witness the first arrests I've seen all weekend. I was pretty annoyed since his music doesn't warrant unruly behavior whatsoever, but I digress. Anyway, Lake's set was just beautiful. On top of having two separate sets of dancing ladies to provide a visually appealing distraction to the audience, the weather was just perfect for outdoor festival dancing. Lake's set opened up with "Stand Alone,"a track released earlier this year on an episode of NCIS: LA.
During the breakdown, hundreds of hands went flying up in the air. We got a nice throwback to the old trance sound in this moment, with sustained piano chords coupled with heavy-over female vocals. Just as the beat almost disappeared, the tension built in preparation for the next track. Lake's summer anthem "Sundown" made an appearance in his set putting everyone in an uplifting mood while concertgoers sang along to the beautiful melody. Taking us by surpise, Lake began closing down his set with his own rendition of MGMT's "Kids." Although this song has been chopped and sliced in many different ways, he opted for a more high-pitched synth sound palette and throws in a set of male vocals that are more suited to the EDM crowd. The crowd seemed to just eat this up by the earful. Dez
Benoit & Sergio (North Stage, 5:00)
A perfect cooldown from the dance-demanding artists on all stages in the early part of the day, DFA-signed duo Benoit & Sergio brought their lush electro-pop to the North just in time to offset the sights and sounds of dancing girls and utter cacophony on the South Stage. With cavernous Euro-style synths at points and a generally hazy aesthetic, they managed to create the closest thing to an intimate environment that Wavefront saw all weekend, appropriate given the sensuous nature of their music. As if to come out in support, the sun ducked behind the clouds for much of Benoit & Sergio's set. If the general feel of much of Wavefront as each day went on was that of a riotous house party, Benoit & Sergio were more akin to a classy soiree, without being anywhere near as boring as that sounds. Easily one of the weekend's best sets. Dom
Mario Florek (Solar Beatz Stage, 6:00)
If there was a single act Sunday that felt out of place on anything but the largest stage with the most riotous crowd, it was local DJ Mario Florek, who's been around the festival and "local support" circuits a few times, and is about due. His material is custom-made for a breakout, moving from balls-out raver jams to some of the more rock-influenced material of the weekend; one song in particular featured a melody line remarkably akin to the guitar line from Bloc Party's "I Still Remember." With his produced pianos and strings, and a general wall-of-sound style, Florek is a somewhat old-school but nevertheless incredibly fun DJ to catch live. Dom
Nadia Ali (South Stage, 7:10)
Because there were some scheduling changes due to the weather earlier in the day, Nadia Ali's set got thrown in right after John Dahlback. It certainly was a real treat to see the most recognized voice of EDM live and in the flesh at Montrose Beach. Ali performed "Is It Love," "Feels so Good" and "Rapture," among a few others. Her sequined dress was just gorgeous and her voice captured the hearts of every concertgoer as she beckoned the crowd to sing along to her closing track, "Pressure," Nadia's sixth single to date as a lead artist. Dez
Eric Prydz (South Stage, 7:30)
Notorious for missing out on American tours due to a fear of flying, Swedish DJ Eric Prydz finally made it to Chicago after over a decade of putting out a series of inimitable techno jams in the most riotous tradition. Moving through decades of style, from robotic new-wave synths to the pianos so often associated with 90s crossover techno, Prydz delivered an entertaining 90 minutes of jams so good that I heard far fewer cries of "When's he going to play 'Call On Me'?" than initially expected. While definitely excessive in terms of sound and a lack of restraint, Prydz's set was nevertheless more disciplined and refined then, say, the Eurotrash hedonism of Steve Aoki. (That's meant as a compliment on both counts, to clarify.) His finale brought the house down as well, including a remix of Daft Punk's classic "Harder Better Faster Stronger" followed directly by another of M83's "Midnight City," which garnered what may have been the single biggest crowd pop of the weekend. It's unknown when Chicago will see Prydz again, but one can only hope it won't be too long. Dom
Duck Sauce (South Stage, 9:00)
Duck Sauce was introduced with a giant inflatable duck lit up internally, followed by a flickering of a storybook tone. Then the quacks came, chanting "Duck Sauce." There was fog, four separate LED light displays (including the DJ booth) and pyrotechnics bursting from the stage. This is what we were all waiting for. Obviously, everyone wanted to hear "Barbara Streisand" right away. This is no big secret. But if you think about it, if Duck Sauce opted to open up with their main track, what would be the point of sticking around?
The big opener dropped with "Good 2 Me," a nice house-y tune  with stuttering transitions. A solid added touch was when they chopped up the main vocal track and mixed it into the next tune. Every transition and drop was well-planned. Duck Sauce makes you work for the drops, and they hold onto the transitions forever. I kind of enjoyed that; it's what made their live performance so top-notch. They even gave the audience an opportunity to howl at the moon during "Big Bad Wolf" by throwing in a few moments of silence during the howling part. By the end of the set, the festival's fireworks were going off, and yes, they closed with "Barbara Streisand." Everyone was flipping their shit during this track. Hell, even I was, and I couldn't have been any happier to leave Wavefront with the long-lasting memory of Duck Sauce imprinted in my brain. Dez
Other observations:
-Day two was much less chaotic, but the tradeoff for this was a security force that sort of just ignored pass levels of clearance and didn't let anybody get away with much of anything. Still, the festival was probably safer for it.
-The "nightclub on the beach" feel is really an interesting angle for a new festival to take, one which Wavefront should keep up next year if they aim to continue. With better beer, mayhaps? (Still, 312 isn't anywhere near the worst beer available at a Chicago festival. That honor goes to Pitchfork, with its Heineken sponsorship.
(Want to see more? Check out Heave's Flickr page for pictures from throughout Wavefront weekend.)