Music
Underrated Classics: Helen Love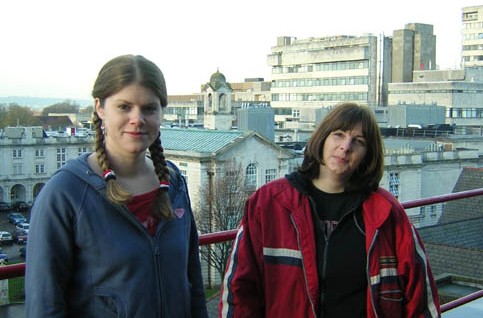 The 1990s might be the weirdest culture patch of the twentieth century. It was as if everyone thought "before we reach the year 2000, let's reflect on everything we did in the past, and make it crazy, ugly, twee, noisy, fun, angry and romantic all at the same time." And I think a lot of Americans often think that 90s music in the UK was kind of boring in comparison to the crazy gangsta rap and noise rock that we had here. But please, give the Brits some credit,as they were just as much a part of expanding the capabilities of music as Americans, if not a little more so. One type of music in particular that would change music forever is the experimental nature of one of the indie-universe's sweetest genres, twee pop. One twee band that seemed to push experimenting to the kitschiest limits was Welsh band Helen Love.
Helen Love consisted of singer-songwriter/Joey Ramone obsessive Helen Love, keyboardist and guitarist Sheena, bassist Roxy and additional keyboardist Mark. The band had the consistency and simplicity of The Ramones, the cheesy cheekiness of late-80s/early-90s video game music and the "twee-as-fuck" spirit of heyday bands The Field Mice and Heavenly. Featuring samples, drum loops, Sonic The Hedgehog-like keyboards, a handful of chords and simple, child-like topics, the early songs of Helen Love were too weird to conquer the world, but just amazing enough to garner a modest cult following in the UK in the 1990s. These early songs, consisting of singles and an EP, were compiled under 1994's Radio Hits.
Obviously a sarcastic title, Helen Love's first official full-length release features 12 tracks of silly, fun and '77-spirit-type bubblegum punk. Starting out with the noise-pop and sarcastic  "Formula One Racing Girls," Helen Love immediately critiques the times in a funny way with "I bought these boots to make you happy/I strapped them up to turn you on/Now I don't care about you/Got my Huggy Bear T-shirt on." Following are two of the first of many Ramones-like tracks; first is the dreamy "Riding Hi." It is a wonderfully twee track that promises "it's great to be alive." The next track, "Joey Ramoney," is a cutesy love song to Joey Ramone, from Ramones subject "Sheena." And it even ends in "Hey ho! Let's Go!" and "Gabba Gabba hey!," in rockin' Ramones fashion.
Following is the best track on the album, the awesomely campy but sweet-hearted "Greatest Fan." The song's a truly great diary-like confession to someone's favorite celebrity, which talks about the time she "Saw you on Top Of The Pops/I drew the curtains and turned the lights off/I kissed the screen till my heart nearly stopped." The next two tracks are very much associated with one another. "Punk Boy" and "Punk Boy 2" are simply about what they're titled. The first one is a question authority jam about whether or not someone's dating a "real punk boy," the next one just as cartoonish but much more of a tender song to the "punk boy," begging him to "pour a little sugar on me."
Another great track is "Love; Kiss; Run; Sing; Shout; Jump!" This one characterizes "Sheena" once again, but this time she takes on the role of BFF (best friend forever), enticing Sheena to "fall in love with a pale boy until the autumn comes." "Rollercoasting" is an incredibly fun song, with awesome references. Helen starts the song out with "I got the MC5, Suicide, Nancy Sinatra and Neil Young live/I got Heavenly, Peggy Lee, Captain Beefheart and the Vaselines;" then starts the second verse with a similar "I got 'Stephanie Says' and 'I'll Be There', Bikini Kill and the Marvelettes/Undertones, Rolling Stones, Sandra Bernhardt and Joey Ramone."
Another Ramones-referencing song is the aptly titled "Rockaway Beach For Me, Heartbreak Hotel For You." It features awesomely Jesus and Mary Chain-like feedback, and some terrific bass. "Summer Pop Radio" and "So Hot" are two short but blast-filled songs. "So Hot" is very sexy, where "Summer Pop Radio" has a classic '85 quality to it. The final track is the wonderful forlorn love song "Golden Summer." The chorus nails it and eventually brings it home with "Six weeks out of time/With nothing on my mind/But you and me/And a golden summer, beautiful and free."
Now sure, Helen Love weren't groundbreaking like their 90s peers Huggy Bear or Ride, but Helen Love is truly the almost-perfect definition of pure, anti-growing-up, cheeky bubblegum punk. Helen Love have a certain quality to them, that you would think considering the surprising pop hits of the 1990s could have made them a huge hit. Radio Hits is the first of many awesomely similar albums from Helen Love, ending with the most recent, It's My Club And I'll Play What I Want To. Helen and Joey Ramone would duet on a BBC Radio 1 session, covering "Punk Boy," and Helen would provide backup vocals on his posthumous final album, Don't Worry About Me. Radio Hits and Helen Love might just be a goldmine waiting to be found for now, but they're too catchy a band, and are bound to find a huge following sometime soon.