Music
Underrated Classics: "Sunshine Smile"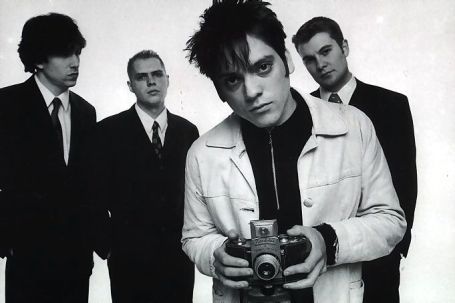 What is it about certain songs that make them have a certain "cinematic" feel? One could argue that the songs need to have an epic style to them, but that would contradict the simplicity of, for instance, the beautiful folk songs of Nick Drake that are used in many films. I think this "cinematic" feel can certainly be subjective to the scene the song is supporting; after watching Lost In Translation many years ago, I've always had an affinity for naming noise pop or shoegaze songs cinematic. Whether the song is blithe or scathingly noisy, the aforementioned genres of music hold an inner spirit of cinematography where the essence of being the unsung hero of a film is felt just by listening to them. There is one song in particular, that not enough people have heard and that hits me with gusts of cinematic wind every time I listen to it. This song is "Sunshine Smile" by Adorable.
Adorable fit the trend of early-90s British indie rock, where a certain baggy-meets-noise element seems to fall into place with every note.  Their first single "Homeboy" was released in 1990 on Trolley Records, and has that groovy-yet-noisy feel. After gaining some notoriety around their hometown of Coventry, they recorded a 12" of "Sunshine Smile." The single was intended to be released on Pat Collier's Money To Burn label, but it sadly did not work out. Fortunately, after a positive review of the song by NME, popular indie pop label Creation Records picked up the single and released a re-recorded version in 1992.
"Sunshine Smile" has that typical 90s style of soft-loud-soft-loud, etc., but in a much more beautiful way than your average grunge or Suede song.  Each verse has thumping bass, quiet feedback guitar and dreamy cymbals that compliment frontman Piotr Fijalkowski's voice wonderfully. The lyrics are very playful and pretty despite the dissonance that the chorus brings. Each verse ends with beautiful words of "She's got a sunshine smile/the kind that warms of the corners of my cold room/she's got a sunshine smile/the kind that makes you forget again."
And while the explosion in the chorus of repeated "Sunshine Smiles" certainly generates great excitement, it's the post-chorus that truly makes the whole song shine. The guitar breaks away from its fuzz, and transforms into graceful notes that one could easily hear in a House of Love or Jesus and Mary Chain song, if those bands played a little bit faster. In it he passionately sings, "And then she said/'if I'm gonna be someone else/I'd rather be somebody else with you'/that's exactly how I felt." Nearing in at five minutes, the song gets really epic as the notes from the post-chorus play out the track, while the rhythm guitar gets more and more chaotic and noisy.
Adorable was a really great band, and though "Sunshine Smile" never made it onto an album of theirs, it's still their most famous song. The song reached the top of the UK indie charts, and was at one point NME's "Single of the Week." Despite their debut album Against Perfection receiving quite a bit of acclaim and selling fairly well in England, Adorable never had a chance to show the potential they had of being a popular band. After releasing one more album, the band split onstage during a show in Brussels in 1994.  Front man Piotr Fijalkowski has been working on a project with Terry Bickers of The House of Love, but not much has been heard about it or about the other band members. Unfortunately, "Sunshine Smile" never moved past the UK indie charts either. Every time I hear the song, I bring myself to the question, "If I showed this to Sofia Coppola, would she love it enough to put into one of her movies?" I think so! At the end of the day, "Sunshine Smile" is absolutely an underrated classic, but hopefully some awesome director will use it in a magnificent scene, and make Adorable a retroactive force to reckon with.